72 Hour Kit List: 30+ Essentials for Your 72 Hour Emergency Kit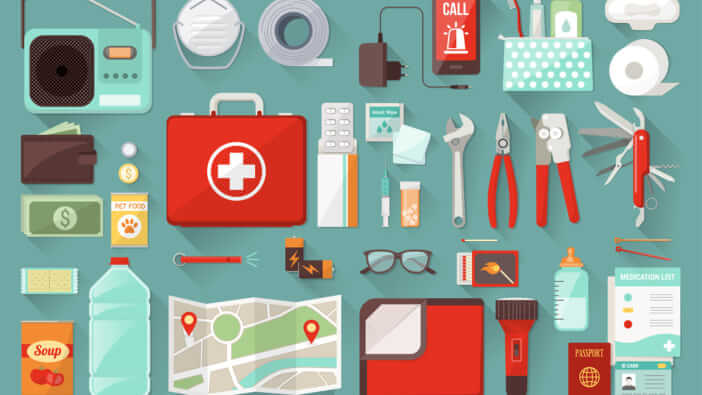 Disclosure: As an Amazon Associate, this site earns from qualifying purchases. Thank you!
If you ever find yourself in an emergency that will leave you without access to your home or vehicle, you will need a 72 hour kit list.
There are quite a few different emergencies that could happen where you need to grab your 72-hour emergency kit and head out the door (or be stuck in your car). 
The point of the 72-hour emergency kit is to ensure that you can survive at least 72 hours without having to return home immediately, and will hold many useful items that will be necessary for your health.
Recommended Items for 72-Hour Emergency Kit
First of all, you'll want to have some survival gear in your 72-hour emergency kit. This gear can typically involve a radio of some sort, a charger, water, protection, and sleeping gear.
Additionally, you'll want to make sure you have the necessary toiletries as well. You'll want toilet paper, toothpaste, and soap, among others.
Finally and most importantly, you'll want to make sure you have first aid items. Without first aid items, you can easily be injured, get an infection, or even worse in the event of an emergency that will keep you out of your home for some time.
What Should You Put in a 72-Hour Emergency Kit?
Below is a 72 hour kit list of the recommended survival gear essentials for your 72-hour emergency kit:
2-Way Radio
When shopping for a radio to add to your 72-hour emergency kit, check for Am, Fm, and NOAA settings. Also, look for one that is rechargeable. 
Charger / AM/FM Radio
Having an AM/FM radio that can double as a charger will be very helpful, as you can keep flashlights, radios, and phones running. When looking for one, make sure you grab one that has a crank recharger, a USB port, and a flashlight as well.
Cell Phone
In most cases, you will use your cellular device for this. However, it wouldn't be a bad idea to have a backup phone in case something happened to yours.
Headlamp
During an emergency, the ability to use your hands to work rather than having to hold a light is crucial, especially if you are by yourself. A headlamp can solve this issue, but make sure you have a rechargeable one that has multiple different brightness levels.
Multi-Tool
You can use a good multi-tool in any situation, but it is especially helpful in a 72-hour emergency kit. Make sure your multi-tool has at least two blades, pliers, a saw, a file, a screwdriver, and a can opener.
Fire Starter
Sometimes, you need fire to stay warm or cook food, but starting a fire may not always be the easiest option. Making sure you have a good fire starter on you can help. Be sure to grab something like a Ferro rod, or a pack of lighters.
Paracord
Paracord is one of the more versatile items you can have in your 72-hour emergency kit. Although, it's recommended that you have at least 100 ft. You can use it for crafting shelter, creating traps for hunting, attaching gear to your body, or even making a perimeter around your location.
Camping Tarp
If your gear gets wet, it can be damaged. You can easily put a camping tarp over your shelter to keep yourself dry and off the ground, which will prevent you from getting sick and having damaged gear.
Sleeping Bag and Sleeping Pad
Be sure you have a lightweight sleeping bag that provides a decent amount of warmth and is water resistant. Also, pack either a foam or reflective sleeping pad that will help keep your body heat in and prevent you from getting too cold.
Tent
Be sure to have a tent packed that is big enough for two people so that you have room for yourself and another, or even yourself and your gear.
Water Bladder
It's recommended that you carry as much water as you can handle, so be sure to get a large, lightweight water bladder that is durable and will hold up.
Hand Saw
A hand saw will be required to collect firewood and make tools, weapons, and shelter. It's best to fight a lightweight one with a sturdy blade that is portable and can fold up to be put in your pocket easily.
Duct Tape
Be sure to pack a trusted brand of duct tape that is 2-3" wide. Flattening the roll can make for more space.
Maps
Make sure to keep maps of your area or evacuation locations in your 72-hour emergency kit so that you don't end up in places you aren't familiar with.
Zip Ties
These can be used as fasteners for nearly anything, and are a great addition to your 72-hour emergency kit. However, you should make sure you have a decent amount of them, and that you carry zip ties that are at least one foot long.
Batteries
Make sure you have extra AA and AAA batteries for any devices you have on your that require them, especially radios flashlights.
Personal First Aid Kit
In this kit, you'll want to ensure that you have bandages, medicines, ointments, and salves. If possible, choose a first aid kit that is compact enough to fit in your pocket so that it doesn't take up too much space in your 72-hour emergency kit.
Toiletries Kit
Your toiletries kit should involve camp soap, toothpaste, deodorant, wet wipes, a toothbrush, and any feminine products you may need.
Extra Clothing
Make sure you pack compact, warm, and water-resistant clothing for up to 3 days. Be sure to pack underwear and socks, a base layer, shirts, pants, hats and gloves, an insulated jacket, and comfortable footwear for each day.
Wool Blanket
It often gets chilly at night, so make sure you have a blanket packed that is large enough to cover you and your area, and warm enough to keep you from getting too cold.
Food
In the case of an emergency, you might not always have time to prepare food on your way out the door. The best way to solve this problem is to pack non-perishable foods that you can store in your 72-hour emergency kit for some time.
Energy bars, trail mix, and dehydrated meals are a great idea along with a backpacking stone and some stove fuel for any food that you forage. 
What Is a Mormon 72-Hour Kit?
A Mormon emergency kit is prepared by members of the Church of Jesus Christ of Latter-Day Saints to help families and congregations prepare for any situations that could require them.
They plan to keep families prepared and safe in emergencies, as well as plan for how to stay safe during potential emergencies.