11+ Alabama Tornado Facts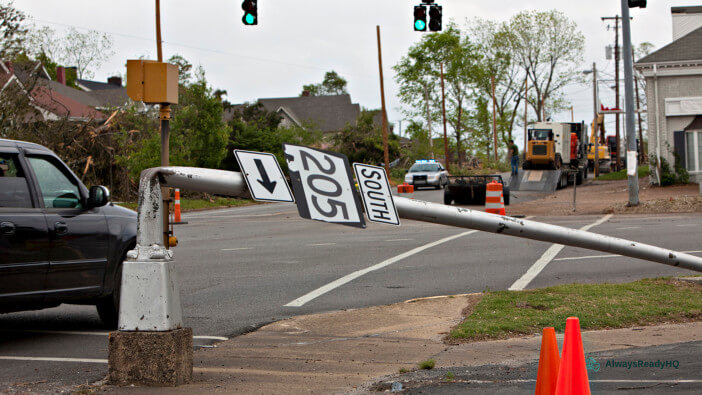 Ask any Alabamian where they were on April 27, 2011, and a pang of sadness will come over their faces as they tell you about the day they lived through hell.
Alabama was part of the 2011 Super Outbreak of tornadoes that swept through a large portion of the country, but no doubt Alabama took the worst hit — three times that day. That's why we're going through 11 tornado facts, to honor the bravery of the survivors and the lives lost that day.
Disclosure: This site earns commissions from listed merchants at no cost to you. Thank you!
FACT 1: Every storm will now be compared to April 27, 2011
62 tornadoes hit across Alabama that day, 15 of them in Marshall County. 247 lives were lost. Some people made it to their safe space with seconds to spare, others didn't make it in time.
The storms started with a pre-dawn series, with another line of storms moving through at lunchtime leaving the worst of the storms for last as they tore through hundreds of miles of Alabama well into the evening. 13% of the city of Tuscaloosa was destroyed.
Out of the rubble came the perseverance and humanity of the people in Alabama. It's their day to live in infamy.
FACT 2: April is the most likely month for an Alabama tornado
The National Weather Service compiled data from 1950 through 2020 to show the months most likely to get tornadoes in Alabama. April is by far the #1. Here are the Top 5 and the number of tornadoes since 1950.
April: 553 tornadoes
March: 238 tornadoes
November: 279 tornadoes
May: 238 tornadoes
February: 171 tornadoes
FACT 3: Tragedies at Thanksgiving
National Weather Service data shows Alabama is the most likely state to have a tornado during the week of Thanksgiving, followed by Mississippi, Texas, Louisiana, and Arkansas.
It ranks #5 on the list of states to most likely have tornadoes during the two-week period around Christmas and New Year's Day.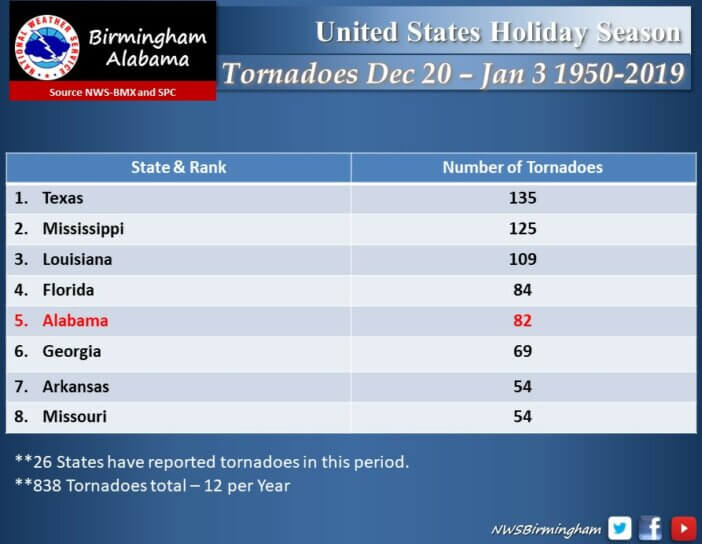 FACT 4: Alabama has the highest number of F5 tornadoes
The highest rating on the Enhanced Fujita Scale is an EF-5. Alabama is tied with Oklahoma for the number of EF-5 tornados to hit the state since 1950. 1974 and 2011 are the years with the most EF-5 tornados reported.
EF0: Minimal damage
EF1: Moderate damage
EF2: Considerable damage
EF3: Severe damage
EF4: Devastating damage
EF5: Incredible damage
FACT 5: The majority of Alabama counties have been hit by major tornadoes
Alabama has 67 counties statewide and 47 of them have been hit by an EF4 or EF5 tornado since 1950. Tuscaloosa, Jefferson, Morgan, and Madison have each gotten 6 or more powerful tornadoes.
FACT 6: An Alabama tornado most likely to hit at dinnertime
A tornado can hit any time of day or night, but there's one time of day history that shows us tornadoes are most likely to hit in Alabama. That's right at 5 pm (Central Time Zone).
| | |
| --- | --- |
| 5 pm | 219 |
| 4 pm | 192 |
| 3 pm | 162 |
| 1 pm | 159 |
| 2 pm | 154 |
What's particularly scary about that Top 5 frequency is that it happens between the time school's let out and people are just getting ready to leave work to head home.
FACT 7: Alabama isn't even in Tornado Alley
Tornado Alley has long been considered the area in the Midwest and Plains where tornadoes are most likely to hit, most likely to be destructive, and most likely to hit with brute force.
Traditionally, these are the states of Nebraska, Oklahoma, Kansas, North Texas, and the Dakotas.
Dixie Alley is the moniker for the places in the South most likely to get hit by tornadoes, and was first heard in the 1970s. Dixie Alley includes Arkansas, Mississippi, Alabama, Georgia, Tennessee, and Louisiana.
FACT 8: Most Alabama homes don't have basements
Basements are one of the safest places to be in a tornado, so why don't most Alabama homes have them?
First, let's look at the soil of Alabama. In the northern part of the state, you'd be digging through limestone to build a basement. That costs a lot of money and extra work, which the average homeowner and contractor aren't going to want to do.
Second, look at the southern end of Alabama. After a few feet, or a few inches in some communities, you hit water since it's a coastal plain.
In the middle, you've got Piedmont soil, which would better adapt to a basement, and this is the area where homes are more likely to have basements.
You still need to be cognizant of how deep the groundwater is, which can limit how deep you can dig before hitting the water.
In any region, you've still got the concern of flooding since Alabama gets so much rain. Dealing with a flooded basement is something no homeowner wants to risk.
Tornado Shelters
The solution across Dixie Alley is to build a home with a tornado shelter, either in the sturdy walls of the home or outside the home and just a few feet under the earth's surface.
FACT 9: Alabama tornadoes inspired several books
Those who live in tornado-prone areas are thick-skinned as they know every day of spring could bring a life-changing twister.
Everyone is well-trained in tornado safety, much like West Coast residents know exactly what to do in an earthquake, Floridians know what to do in a hurricane, and East Coast residents roll their eyes at any less than a foot of snow.
While Alabama tornadoes will always have their place in history, they've also got a place in literature as well. Those who've seen the monster tornadoes have been inspired to write about them.
The Storm and the Tide: Tragedy, Hope and Triumph in Tuscaloosa – Lars Anderson
"On April 27, 2011, a powerful tornado ripped through the heart of Tuscaloosa, Ala., leaving 53 dead and a path of unimaginable devastation. In the aftermath, Alabama coach Nick Saban and his football team went out into the community, sharing its grief and aiding in the recovery. Together they forged an unbreakable bond, and in a place where Saturdays are dedicated to Crimson Tide football, "Let's play for Tuscaloosa" became a rallying cry, an emotional touchstone that transcended the playing field."
A Generational Storm: The Tornadoes that Hit Alabama April 27, 2011 – John A. Potts
"There is always life after tragedy, it doesn't matter if one is killed in the process or left behind to tell about it. God takes us through things in life to make us stronger and to test our faith. Many times, when we go through storms in life, we come out better on the other side. I'm not just talking about a tornado, hurricane, or other weather-related events, but spiritual storms, such as illness, money problems, family issues, and job problems, etc. But the key is to go through the fire and come out on the other side as "pure gold". Some people asked, "Why did this have to happen to me? " If you are asking why me, that means the storm left you here to help someone else along the way and to tell them how God protected you in the midst of your storm. Many people's lives were going great before the tornados struck that April, spring day, and some were not. Just think about the story of Job in the Bible (Job chapter 1-42). Job had everything going for him. He was the richest man in the east, had 10 children and all the livestock you can name, So God let Satan test Job, but didn't let him take his life. It is God, the Lord Jesus Christ, whom keeps us protected. Amen."
Tuscaloosa Strong: A story from the worst tornado outbreak in US history – Sarah K. Compton
"On April 27, 2011, I was huddled under a mattress in the smallest condo ever made, listening for the last noise I'd ever hear. Follow me and my boyfriend-turned-fiancé during and after the storm as we dodged police barricades, a fanatical, chainsaw-wielding student, and an overwhelming sense of denial and insignificance in the presence of nature's fury to help get the town – and my life – put back together. Ultimately, this is a story of resilience, acceptance, and hope in the face of unstoppable forces and making the choice to have a positive impact when life kicks you, and your town, in the teeth."
Alabama's Most Dangerous Storms: The 10 Deadliest Weather Events in Alabama History – Paul Dughi
"216 tornadoes touched down in just one day. It was the largest and one of the deadliest tornado outbreaks ever recorded. 324 were killed. 3,000 were injured. It was the costliest on record for tornado damage at $10.2 billion.
'All the walls went. You're thinking, this is it. This is how I'm going to die.'
Over 4 days, this powerful system spawned more than 750 tornadoes across more than a dozen states.
'It was a nightmare unlike anything else.'
Read this story and others in Alabama's Most Dangerous Storms: The Top 10 Deadliest Weather Events in Alabama History."
FACT 10: At one time, the National Weather Service couldn't keep up with all the tornadoes
On April 3, 1974, Alabama was facing a super outbreak of storms and tornadoes. There were so many developments happening so quickly, and keep in mind the technology back then wasn't even close to what we have today, a rare blanket warning was issued. The National Weather Service issued an hour-long blanket tornado warning for 15 counties.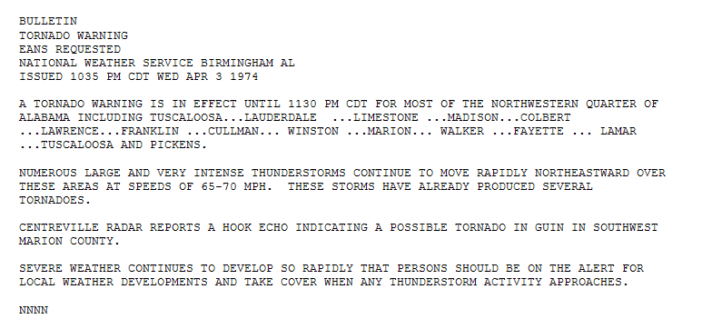 FACT 11: Residents love Alabama more than they hate tornadoes
Some people might see devastation like a tornado and decide to move, but Alabamians are people who love their state and when the worst happens they focus on rebuilding, not relocating. Within three months of the April 2011 tornadoes, $22 million was donated to help impacted communities.
As tornadoes continue to impact Alabama, governors will keep walking the dreaded span of destroyed property, promising hope in the midst of horror.
With tornado season upon us, your donations to the Alabama Red Cross are welcome.