When is Hurricane Season in Florida and What Should I Expect?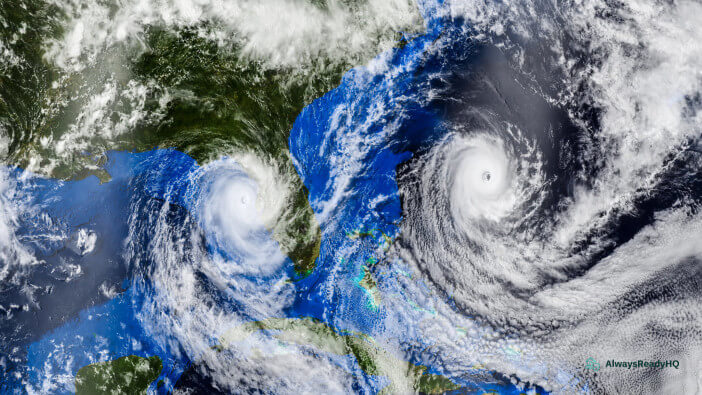 Hurricane Season in Florida starts June 1 and runs through November 30, but there's also a mini-hurricane season within that time span. It's when the tropics are most ripe and active and it runs eight weeks from mid-August to mid-October.
Disclosure: This site earns commissions from listed merchants at no cost to you. Thank you!
Why is Hurricane Season so Long?
All tropical storms in the Atlantic Ocean start to build near the equator. Three basic elements are needed for a tropical system to form, and two of them only happen during certain times of the year.
Warm Water: Water temperature needs to be over 26°(C)/78°(F), and water starts heating up to that sweet spot around June 1
Minimal Wind: Wind shear can tear apart a developing tropical system, and the winds calm down in July and pick up in December
Large Body of Water: Think of a tropical system like a car. The warm, moist air and water (aka Thermodynamics) of a wide-open ocean is the gas that fuels the system, turning it into a hurricane.
By December, those winds are picking back up over the Atlantic Ocean, the water temperatures are cooling down, and there's no more gas for the proverbial hurricane tank.
How Do People Plan for Hurricanes?
Planning can happen any time of year, but many Floridians wait until the sales tax holiday that kicks it off, generally held around Memorial Day weekend, right before the season starts.
The first step is to plan a Hurricane Disaster Supply Kit. There are many iterations of it out there, but the official Florida recommendation for a disaster kit includes: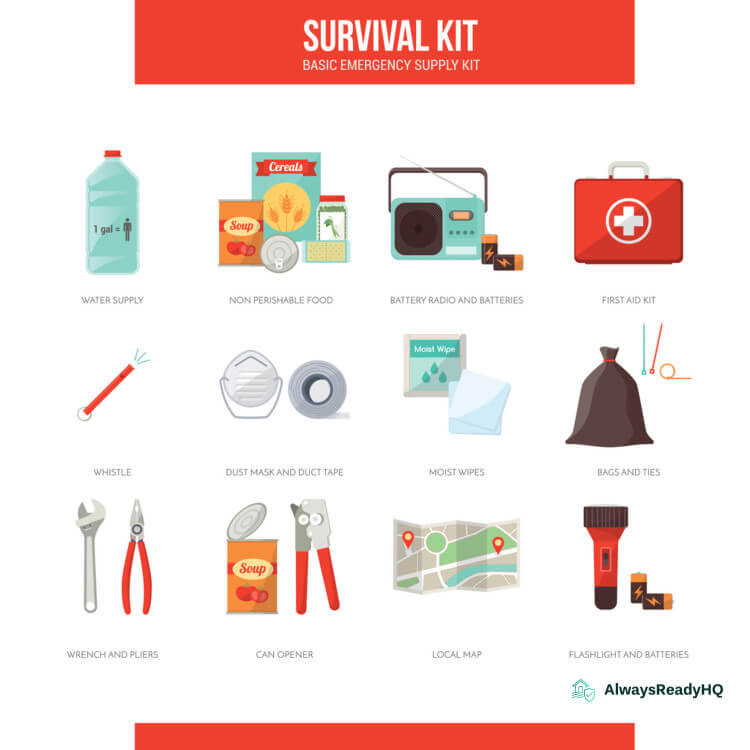 Basics: Flashlight, battery-operated radio, cash (since ATMs and Credit Card machines might not work after a storm), cordless phone charges, and two-week supplies of medication
First Aid: Bandages, scissors, medical tape, anti-bacterial ointment, burn ointment, thermometer, petroleum jelly, sunscreen, cotton balls, tissues, soap, tweezers, safety pins, headache medicine, etc.
Documents: Store any critical documents in a fire and flood safe box. This includes documents like medical records, insurance information, social security cards, birth certificates, marriage certificates, banking information, and an extra set of keys.
Food & Water: Everyone needs 7 days of shelf-stable food and drink (like Gatorade and water) for each person in their family. Be sure to buy non-perishable food and don't forget the can opener. You'd be surprised at how many times people have forgotten the can opener. Paper plates and napkins with plastic utensils are also needed.
Clothing: Keep sturdy rain boots, a reliable water-proof raincoat and hat, and several extra sets of clothing stored away. Don't pack sandals or flip-flops as there might be sharp or hazardous items on the ground after a storm.
Phone Number List: Store 1-800-342-3557 in your phone now. That's the state of Florida emergency hotline. FEMA and Florida 511 are both great apps to have on hand to check emergency information and traffic conditions. Add any emergency phone numbers for the city or county where you'll be visiting.
Pet Care Items: Food and water for 7 days, strong leash and collar with the name and contact number attached, medical records, microchip information, bowls for water and food, and medication.
Homeowners also have to plan to either install hurricane shutters on their home windows and doors or get plywood matched to the specific specs of each window and door to be boarded up in advance of a hurricane.
Generators are also popular for anyone living in hurricane country, and if you wait until a storm is approaching, there's a big risk the items will be sold out.
I can tell you from firsthand experience, the aftermath of a hurricane during a power outage is so humid and hot, I'll never go through another again without the investment of a generator (in addition to basic bug out essentials).
What Should I Expect during Hurricane Season?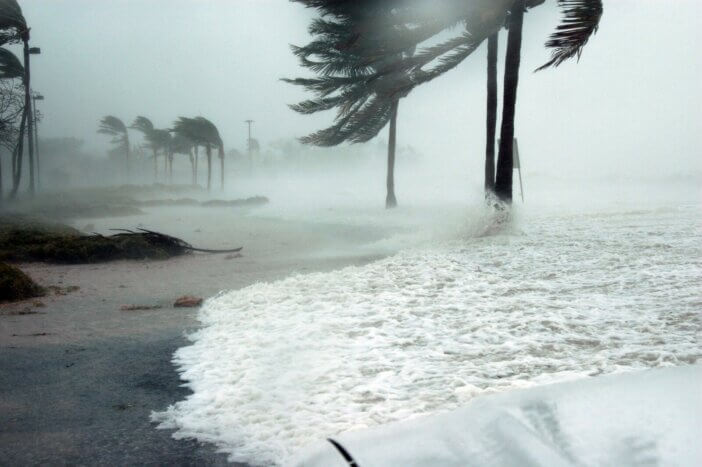 There's a lot of "hurry up and wait" when it comes to an approaching hurricane. Broadcast meteorologists will start talking about the tropics daily, and when a storm initially forms it's quite literally up in the air as to where it will go.
Is it going west? North? South? Hurry up and wait to find out. When is hurricane season in Florida the worst? When you aren't prepared. Put that wait time to good use.
Know Your Zone
You'll hear this a lot in communities. Knowing our zone means knowing what level of evacuation zone you are in. Each community will have a map on its emergency management website that details Zone 1, 2, 3 or Zone A, B, C.
Voluntary Evacuations: Evacuations are first done on a voluntary basis. This is when a storm is approaching that might not be too strong, but strong enough that officials encourage people to leave.
Mandatory Evacuations: This is when people must leave their homes. While law enforcement isn't going to drag someone out of their home, they will do their best to convince an unwilling person to leave. Should someone decide to stay, they will not have access to emergency help until after the storm passes.
Get Supplies Early
Have you ever seen a winter storm approaching and all the milk and bread fly off store shelves? That's what happens in Florida during an approaching hurricane, only weeks ahead of time instead of a few days.
Two weeks before Hurricane Irma hit south Florida, you couldn't find water in any grocery store along the Suncoast.
Stock up as early as possible, buying a little at a time and put away for safekeeping.
Should You Stay, Shelter, or Speed Away?
One of the biggest questions residents or visitors have as a storm approaches centers around if they should stay put or leave. If you leave too early, you might risk the storm taking a turn and not even impacting your community.
Wait too long and you might run out of gas on a bumper-to-bumper freeway for hundreds of miles. Stay put and you might get hurt in a storm, stuck in a flood, or face weeks without power or clean water.
Make a decision as a family about what your cut-off point is for evacuating. For some people, it's a storm higher than Category 2; for others, it's Category 4. Others might choose to leave 48 hours before the storm hits land.
What Do the Hurricane Categories Mean?
Hurricanes are ranked on the Saffir-Simpson Hurricane Wind Scale, but they are generally referred to as "Category" or "Cat".
Category 1 (Cat 1): Winds must be sustained at 74 mph to be a Cat 1. 95 mph is the limit.
Category 2 (Cat 2): Winds must be sustained at 96-110 mph.
Category 3 (Cat 3): This is now considered a major hurricane. Winds are sustained at 111-129 mph.
Category 4 (Cat 4): Winds must be sustained at 130-156 mph. This is considered a catastrophic storm.
Category 5 (Cat 5): The highest and worst category. Winds must be sustained at over 157 mph. Expect mass destruction with a storm in this category.
Explain the Hurricane Map with All the Colored Lines On It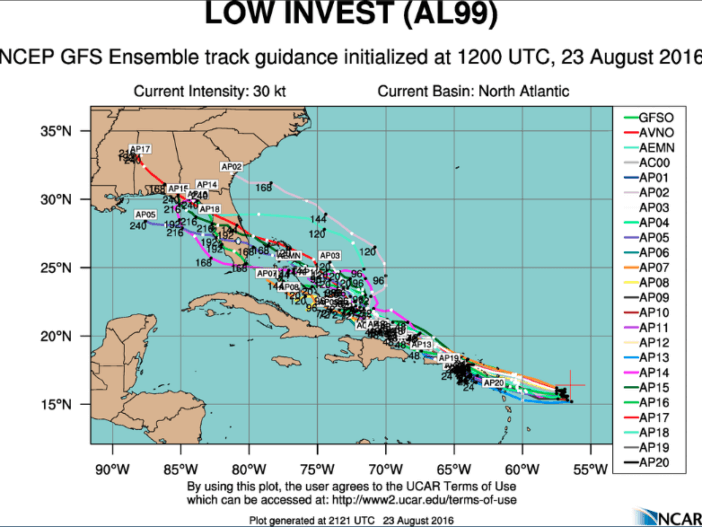 When a storm is approaching, meteorologists will show a map of the state with a bunch of different colored lines going in various directions.
This is called a Spaghetti Plot. It shows the possible track of the storm based on different weather prediction models.
Two of the most popular and referenced models are the GFS and Euro models, both including government-run data inputs.
They show the track that is predicted by the specific models. Generally, they all go in the same direction, with specific differences.
Spaghetti models change as updated forecast reports come out and when hurricane hunters get new data inside the eyewall.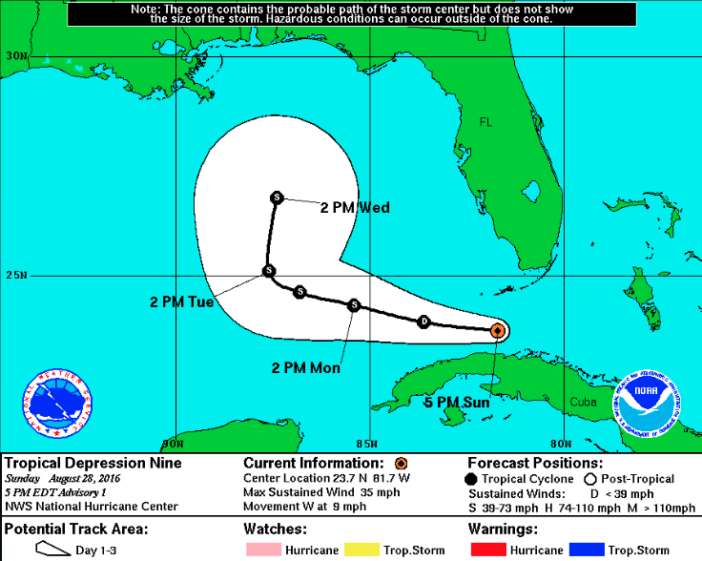 The forecasters then blend those projections into the Cone of Uncertainty – the most familiar hurricane projection.
Why Do Some People Stay Home During Hurricanes?
The same reason people in the Midwest like to get videos of tornadoes or the same reason people in Colorado don't cancel school when a foot of snow falls — It's just part of life.
Those who have lived in Florida have seen dozens of storm models and predictions that change at the last minute or fall apart. They aren't going to evacuate because they feel luck is on their side that it "won't be that bad." Houses are even built differently in Florida than other areas (and they don't get snow).
I've even seen people throw keg parties on the beach in advance of a storm.
What Is the Biggest Risk During a Hurricane?
With all the talk about winds, we might think that would be the biggest risk to life and loss during a hurricane. It's not. The storm surge is by far the most deadly part of any hurricane.
Storm surge happens when the churning winds of a hurricane force seawater onto land. This could leave water on land up to 30 feet high, especially if it happens during high tide or king tides.
The right side of a hurricane is known as the most dangerous side, as it has the highest winds, rain amounts, and storm surge. It's also referred to as "the dirty side" of a hurricane.
What Should I Expect when a Hurricane is Coming to My City?
During hurricane season in Florida, you should always keep an eye on the tropics through your favorite weather app or from local meteorologists.
Weather apps are great for giving you information, but the experience of a local meteorologist can better interpret and explain that data to you.
You should also follow the National Hurricane Center on Twitter for immediate updates as new information comes in.
This is when you'll also start seeing the "Cone of Uncertainty" in the weather models. This is a range of distance from where the storm might track within that cone.
The line in the center of the cone is not the central point of the storm. The entire cone means a storm could follow any path within that cone.
I suggest, as soon as you see your community in the cone, start filling up gas tanks in family vehicles as often as possible. Gas can quickly run out in communities as a storm gets closer. Be sure to tune into official sources for any civil emergency messages as well.
I'm in a Florida community that isn't on the beach. I'm safe, right?
Not necessarily. While hitting land takes a lot of power away from a churning hurricane, storms can go hundreds of miles inland before being dropped down to tropical storm level and can still have enough strength to cause floods and spawn off tornadoes.
Even though Lakeland, Florida, is 65 miles from the closest beach, Hurricane Irma still hit it as a Cat 1 storm in 2017.
How Do Hurricanes Get Their Names?
A global organization called the World Meteorological Organization (WMO) chooses the names of hurricanes. This has been standard practice since 1953, when only female names were used to name storms. In 1978, male names were added to the mix.
The storm name lists are pre-made and rotate every six years, starting alphabetically with a male or female name, and then switching genders as the list goes down the alphabet.
Any Hurricane Names Ever Retired?
A hurricane name can be retired if it causes great life loss and extensive damage. The retirement could be forever, or at least 10 years. A country can also petition the WMO to retire a storm name.
The Top 3 Worst Florida Hurricanes Ever
Hurricanes can be ranked as the "worst" by damage done or lives lost, and those statistics aren't always synonymous.
The most destructive Florida hurricanes by lives lost are:
Hurricane Irma, 2017: 87 killed
Hurricane Michael, 2018: 50 killed
Hurricane Frances, 2004: 48 killed
The most destructive Florida hurricanes by damage done are:
Hurricane Irma, 2017: $50 billion
Hurricane Andrew, 1992: $47 billion
Hurricane Wilma: 2005: $21 billion
Stay Connected
When is hurricane season in Florida easier to handle? When you're educated about the safety precautions and risks. You want to get your information from official sources: