How To Build an Emergency Bag For Cars To Get You Home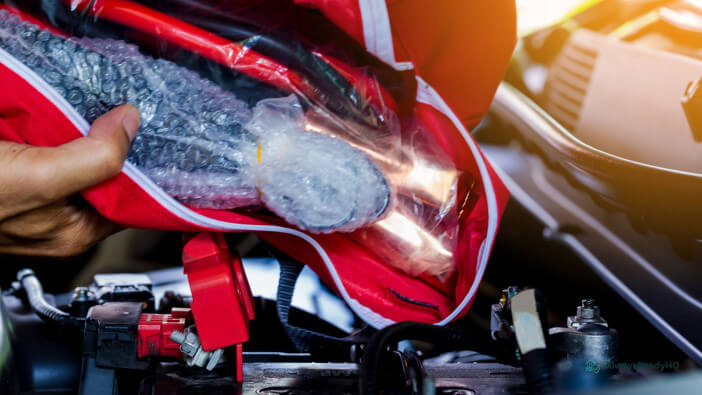 Disclosure: As an Amazon Associate, this site earns from qualifying purchases. Thank you!
Are you and the adult drivers in your family prepared for a roadside breakdown? According to the AAA, of the millions of motorist roadside assistance calls they receive, dead car batteries and flat tires lead the pack.
So, jumpstarting a dead battery or reinflating/changing a flat tire are the immediate fixes to get you back on the road and home safely.
Also, according to the National Safety Council your vehicle should have an emergency bag for cars similar to your at-home emergency kit, and you should check the kit every six months for expired items. You'll need that kit if you have the bad luck of being stranded without cellphone service or roadside assistance.
On the other hand, good luck, as the saying goes, is where opportunity meets preparation. That preparation can give you the peace of mind to know that you're ready when that inconvenient breakdown occurs.
You can have that peace of mind if you can affirmatively answer the following safety prep questions:
First Things First: Your Emergency Bag for Cars
You can shop online for emergency car kits with a variety of price ranges, along with tools that are suitable for your local conditions.
Sale
HAIPHAIK Car Emergency Roadside Kit- Safety Kits for Cars, Car Jumper Cables Kit 11.8 Foot (Upgrade) 124 Pcs Car Tool Kit,Tow Strap, Folding Survival Shovel
【What you may need】: This roadside assistance kit, includes the necessary tool box, multi-function shovel, advanced jumper (11.8 foot), tire repair tools, traction rope, survival whistle, flashlight,gloves, etc.124pcs items can maximize your safety in the event of a breakdown or accident.
【Safe and durable】: UL certified jumper cables are safer and more reliable than other non-UL certified cables. Four huge alligator clips provide excellent grip. The clip is coated with non-conductive rubber. The surface of the reinforced cable is made of high-quality PVC, which is anti-freezing, anti-cracking, and non-tangled.
【Car repair tool box】: Small, compact, suitable for any place, but it contains the basic tools for emergency vehicle maintenance in an orderly manner. Each kit has a separate place. The sturdy plastic case can withstand pressure and keep DIY tools , clean and safe Convenient and light, you can easily carry it anywhere.
【Multifunctional shovel】 four-wheelers, off-road vehicles, RV camping, truck drivers, motorcyclists. Be prepared for any situation! In addition, this small shovel can be easily stored in your vehicle to help you dig tires or break glass in an emergency. The included storage bag allows you to carry a shovel for any outdoor adventure.
【Small and convenient AAA emergency rescue kit】: This emergency rescue kit is light and compact, and can be placed in the back seat, trunk or even the spare tire compartment to handle emergencies. This is a very good gift for car owners who have bought a car for the first time and drivers who are not fully prepared.
If you're willing to spend as much as $51.99, the American Red Cross, for example, offers a car survival kit on line.
Your check list for a do-it-yourself Get Home Bag
Or you can save money on overpriced survival gear kits and build your own. Here's a list of items you'll need to include:
Here's what you should know about each item in your get home bag for car emergencies:
Jack and lug wrench
One rite of passage for an experienced driver is knowing how to fix a flat tire. Nowadays, some cars are equipped with "run flat" tires and other new cars don't come equipped with a spare tire. Many come with a small-sized spare tire with a travel range of 500 miles at a top speed of 50 MPH.
For cars with spare tires, you'll find the jack and lug wrench usually nestled packed with your spare tire in the trunk. The next time you clean your car's interior, why not remove and inventory your tire changing tools?
A dab of WD-40 might be in order for that scissors jack. Try fitting the lug wrench over one of your tire lugs. Do you need arms like Dwayne Johnson to use the tool? If so, you might want to replace that knuckle buster with spare tire lug wrench that your teenaged driver can handle.
You should refer to your owner's manual and take time to learn where the tools are located and how to use them. A family training session with the family on how to change a tire might be a great opportunity for "safety bonding."
Also, be sure to check your tires for tread wear. Uneven wear could be a sign of wheel alignment problems and require servicing. And don't forget to check the tire pressure in your spare.
Jumper cables
Learn the steps for jumping a dead battery and be aware of the hazards. Consumer Reports advises that if you must jump-start your vehicle on your own, follow your owner's manual carefully. When in doubt, seek help.
If your car battery is three years old, or if your car has sat idle for extended periods, you should have the battery checked, serviced, or replaced. Go online and search for mobile jump-start and battery installation services. They will usually come to you within an hour and save you the cost of a tow.
A cellphone and charger
In an emergency, a cell phone is indispensable. You should include a cell phone charging kit for plugging into the power terminal inside your car. Program your cell phone with emergency numbers to call for help if you are stranded.
Flashlight
For a nighttime emergency, a weatherproof, bright flashlight is also a must. Look for a flashlight that has a flexible, magnetized mounting attachment. That will free your hands while you work in the dark. Include spare bulbs and long shelf life batteries in your kit.
First aid kit
Your emergency pack should include a first aid kit to treat minor cuts and burns as well as injuries requiring major bandaging. You and your family should invest some time and get some basic first aid training in how to use what is in the kit.
Your first aid kit should have cotton bandage rolls, bandage tape and scissors; antibiotic ointment; flea and tick prevention; latex gloves, isopropyl alcohol and saline solution. Including a pet first aid reference book is a good idea too.
Fire extinguisher
An auto engine fire can quickly spread from the engine compartment and destroy the vehicle. Include a multipurpose dry-chemical fire extinguisher to quickly douse a small fire before it gets worse. (Obviously, if your engine catches on fire, you won't be able to drive the car home. However, no safety equipment list is complete without a fire extinguisher.)
Road hazard warnings
Warning devices should include a battery-powered flashing light, flares and brightly colored traffic triangles. Consider purchasing reusable LED flares.
Sale
USB Rechargeable LED Road Flares Emergency Lights-Roadside Warning Car Safety Beacon Flashing Disc Flare Kit with Magnetic Base for Vehicles & Boat | 3 Beacon Disc Pack
✅VEHICLE SAFETY:LED Road Flares Emergency Lights, A safety Kit you must have for cars, trucks, boats, vehicles, marines or motorcycle emergencies. In case to keep safe when you in accident. A wonderful gift for friends and families put in their vehicles
✅9 DIFFERENT EMERGENCY FLASHING MODES - Each LED Safety flare light has 9 flashing modes for different SOS rescue signals both for marine and road emergency use. They can also be used for recreational activities such as camping and hiking; It is also perfect for failed vehicle traffic warning, police road mark, surface float and maritime salvage identifier etc.
✅RECHARGEABLE DESIGN:Why we choose it. You never need to worry no batteries in hand, batteries are ran out, dead batteries etc. It is rechargeable design with 650mah Li-battery inside, also one USB charging cable included. You can charge it even at home or in your car. Pls note indicator is red when charging, it'll be green when it's full charged. The most exllent is can standby more than one year.
✅WATERPROOF, CRUSHPROOF & MAGNETIC: Each LED road Emergency Flare Light is coated with a waterproof material to ensure electronic safety.These roadside safety lights are made of super strong industrial engineering plastic PC and ABS. Our roadside lights can withstand 30 tons of vehicles. Solid neodymium magnets allow you to attach emergency flares to the side or back of your car or truck. Folding hook and flashlight mode are provided for hands-free use, working under the hood or replacement.
✅AFTER-SALE SERVICE: Our emergency light is guaranteed to provide a safer road tripIf there is any issue about our product, please feel free to contact us. We will try our best to help you solve this problem. Fast response and action within 12 hours.
Tire pressure gauge
You should check the pressure of all four tires as well as the spare tire at least once a month. If your car has an automatic tire pressure sensor, remember to reset after you have changed the tire. (Check your owner's manual.)
Gloves, clean rags and hand cleaners
Changing a tire or handling engine parts is dirty work. Gloves, clean rags, and hand cleaners can prevent soiled clothes and dirtying up your car's upholstery.
Registration and Insurance Papers
If you are pulled over or are involved in an accident, you can expect a police officer to ask to see your auto registration and proof of insurance. You should store those documents in a readily accessible location so that you can produce them on request. A car registration wallet or organizer will keep you from having to root around nervously during an already stressful situation.
Add the items below for long-distance driving:
Winter driving precautions
Include the following if you plan to drive during winter conditions:
Heavy Snow Conditions
If you live in or are traveling to an area where heavy snow conditions are common, add the following to your car emergency kit:
What to do if you get stuck
If you get stuck in a snowstorm or blizzard conditions, get well off to the side of the road. Stay put unless you see a building nearby. Conserve fuel. Turn off the engine and restart it just to keep the heater operating.
Be aware of the danger of carbon monoxide buildup when your engine is running. Stay hydrated. The more you drink, the warmer you will be.
Finally, turn on your hazard lights and place flares and warning triangles near your car to alert traffic and rescuers. You could still be hit after you have pulled over, so keep your seatbelt fastened.
Also, subscription to a road-side rescue service can be a great help in both travel planning and peace of mind while on the road away from home. You should keep the auto-club card and roadside assistance number handy.
You've Got Your Kit–Now What?
Once you have assembled your own roadside emergency kit, you'll need to place it in the trunk of your car in an easily accessible container. A backpack works well, but even a cardboard box will do.
The idea is to keep everything together so that you can grab it in a hurry. You'll also need to inventory and rotate your food items at least every six months.