Hurricane screens are translucent, and made from lightweight polypropylene fabric. They can be permanently mounted and rolled out of the way and quickly deployed in case of a hurricane. However, they exist as part of a spectrum of hurricane home protection.
If you live along the Gulf or Atlantic coasts, you're no stranger to hurricane season. You know that hurricanes are capable of causing catastrophic damage to coastlines and can reach several hundred miles inland.
Hurricane-force winds can surpass 155 miles per hour with heavy rainfall that can bring flooding continuing many days after a storm.
When the meteorologists issue a hurricane/tropical storm warning, you will have about 24 hours to react. The warnings will give you what you need to know about the specific threats, and you might be subject to a mandatory evacuation order.
Or, if you take the proper precautions, you might be able to ride out the storm in a well-protected home.
Protecting Your Home Against Hurricane Damage
Before the hurricane arrives, you can fortify your home's entranceways and windows against the high winds and airborne debris of hurricanes with the following:
Hurricane shutters: FEMA recommends shutters, because they "offer the best protection for windows." Hurricane shutters are permanently installed and are impact resistant. They come in roll-down, accordion, and Bahama-style shutter varieties and in a variety of weather-proof materials.
Heavy plywood coverings: A second, albeit labor-intensive, option is boarding up your windows with heavy (5/8") plywood, "cut to fit and ready to install." The problem with plywood is that it is only good for a single application, and it takes just as long to remove as it does to install. Of course, some windows can't be covered with plywood because of their size or location.
Impact windows: These specially made windows are designed to withstand hurricane force winds and flying debris. They operate like regular windows and are available in many styles and tints. They are expensive and can add several thousand dollars in construction costs. Some brands tend to turn yellow with age and the thicker glass can distort the view.
Hurricane screens for windows and open areas can be a better, more convenient alternative to the foregoing.
What Are Hurricane Screens for Windows?
Where shutters or impact windows are not practical, because of the presence of large windows or lanai spaces, hurricane screens are a less expensive addition or alternative.
Hurricane screens are translucent, and made from lightweight polypropylene fabric. They can be permanently mounted and rolled out of the way and quickly deployed in case of a storm. Some roll-up hurricane screens can be automated through motorized controls.
What Are the Benefits of Storm Screens?
Hurricane screens protect your home from flying debris and heavy wind-driven rain. They are designed to absorb and distribute the wind and impact load across the entire screen and mounting points. Hurricane Screens are rated to withstand winds of up to 276 miles per hour.
Using a hurricane screen to surround your outdoor structures—walkways, patios, balconies, etc.— protects equipment and outdoor furniture.
While affixing hurricane screens is not a do-it-yourself job, professional installers can deploy them quickly and ensure that the screens are mounted securely.
Hurricane screens are not secure storm barriers, however.
Protecting Your Family During a Hurricane
Hurricane shutters, reinforced windows, or screens can absorb and deflect high winds and pelting rain, but they offer no protection against tornadoes or wind forces that can take down a home.
However, you can prepare your home and ride out the glancing blow of a hurricane by taking commonsense precautions.
For example, FEMA recommends the following:
Before the Hurricane Strikes:
Trim the shrubs and trees around your home.
Clear and unclog your home's rain gutters and downspouts
Bring in outdoor lawn furniture and items or anchor anything that cannot be brought inside before the high winds hit.
Stay tuned to the radio, TV, or internet weather warnings.
Set your refrigerator thermostat to the coldest setting, keeping the door closed, so that the refrigerator will preserve your food after the electricity goes out.
When told to do so, turn off utilities.
Turn off propane tanks.
Store drinking water in the bathtub, jugs, bottles, and cooking utensils.
Have a supply of water for flushing the toilet.
Top off your car's fuel tank.
Have a professional home builder inspect and fasten your roof to the home's frame more securely.
Check your emergency supplies (See the next topic…)
Emergency supplies inventory suggestions
Following a hurricane, it could take days before electrical power and utilities are back up and supplies are available. To shelter in place, you must have food, water, and emergency supplies:
Consumables: Assemble an emergency supply survival kit. The kit consists of non-perishable food (with a can opener) and bottled water (and maybe some Gatorade). Don't forget pet food supplies and toys along with extra water.
Emergency medical and tools: You need a complete first aid kit along with your prescription and over-the-counter medications, as well as contact lens supplies and spare eyeglasses. It includes a portable, battery powered radio, as well as a flashlight with extra batteries. You will also need adjustable tools to turn off the gas and water in case of pipe ruptures.
A portable cookstove: A camping stove with sufficient can be a vital alternate cooking source during the power outage. Avoid indoor barbecue grills and the attendant carbon monoxide dangers. Keep a fire extinguisher handy.
Miscellaneous: Stock extra clothes, warm blankets, and heavy shoes. Have extra cash ready in case ATMs are down or local stores are unable to process credit cards.
Finally, have a fully charged cellphone handy. Emergency crews typically give priority to repairing downed cellphone towers and restoring emergency communications. In any case, unless it is absolutely necessary, don't use your phone. Communications should be kept open for emergency services.
What to do when a hurricane strikes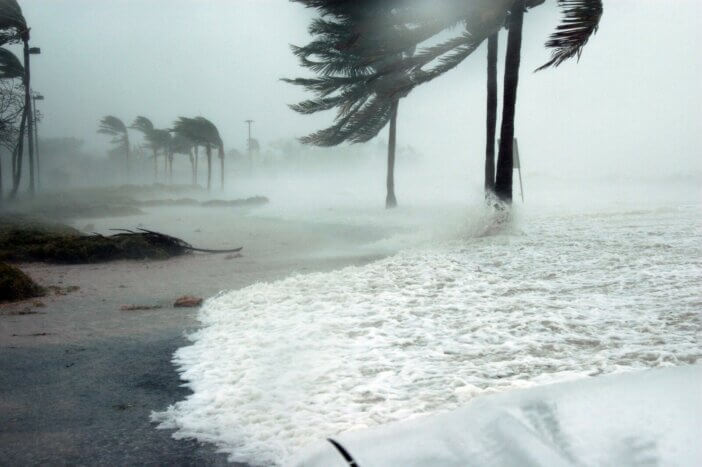 Take shelter in an interior safe room of your home—a closet or bathroom. The room should be on the lowest level of your home. Stay away from windows, glass doors, or skylights.
Note: See FEMA's comprehensive guide, Taking Shelter from the Storm, for the planning steps you should take in preparing your safe room.
If flooding is a threat, shut down your home's electrical power at the main breaker. If the power goes off, shut down your major appliances to prevent electrical surges when the power is restored.
Remember: Stay in your shelter until you are certain that the storm has passed. Pay attention to storm alerts and status reports on the Emergency Broadcast System.
What to do if you are ordered to evacuate
If ordered to evacuate the storm area (example for Florida), have a plan ready. The best choice is to make advance arrangements with friends or family outside the storm area. Remember that public shelters are for those who have nowhere else to go. Your best choice is to make advance arrangements with family or friends outside the storm area.
Public shelters are for those who have nowhere else to go. If you must go to a shelter, take the following into account:
A special-needs shelter cannot provide extensive medical care–only medical monitoring.
Bring your own food and snacks. Shelters may not be able to set up feeding facilities during the first 24 hours of the storm emergency.
Bring sleeping gear. Pillows and blanket supplies may be limited at the shelter.
Bring reading material, cards, games, etc., to pass the time. A battery-powered radio and flashlight along with extra batteries will come in handy for listening to storm broadcast status and having a light source if the shelter loses power.
Most shelters cannot accommodate your pets. For other than service dogs, make alternative sheltering plans if you have a pet. If the shelter allows pets, don't forget pet food.
What to do after the hurricane
Be careful when surveying the damage outside your home. Be on the alert for downed power lines, damaged roads, unstable trees, as well as porches or chimneys that could collapse without warning.
Again, if the phone service is working, it is likely overloaded. Stay off the line unless you need to report hazardous situations to rescuers. Also, do not drive unless absolutely necessary (and then, only with a car emergency kit). Rescuers need a clear path to distressed areas.
If you must leave your home, leave a written message informing family and friends of your location.
Let's Recap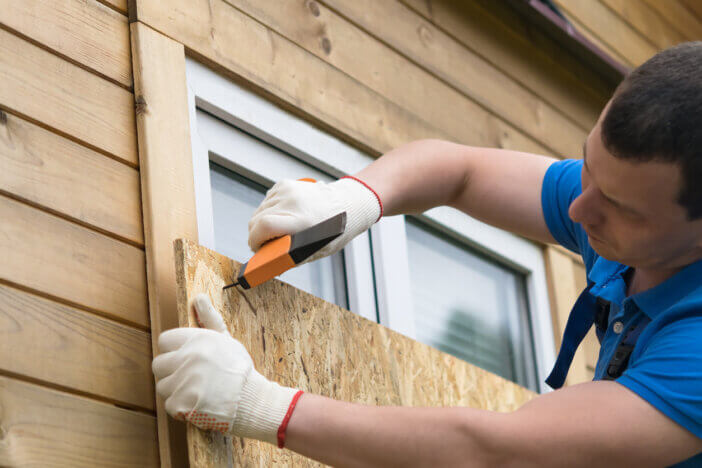 You can protect your home from hurricane damage with shutters, heavy plywood, and impact windows. A less expensive alternative is hurricane screens. Hurricane screens are easy to deploy and can withstand high winds and pelting rains.
Shutters, plywood, or screens do not offer absolute defense against hurricanes. You must take positive steps before, during, and after a hurricane to keep your family safe.
You need a sanctuary with emergency supplies to ride out the storm and keep safe during the days that follow the destruction of a hurricane.
If you are ordered to evacuate the hurricane area, make sure you have a place to go. If you go to a shelter, take along sleeping and food supplies, and remember that shelters are not equipped for extensive medical care.
After a hurricane, be careful to avoid downed electrical lines, road hazards, and dangers of external damage to your home.
Unless absolutely necessary, don't drive or use your phone. Emergency services need clear roads and open communications to help in their recovery efforts.