5+ Things To Do If Heat Goes Out In Winter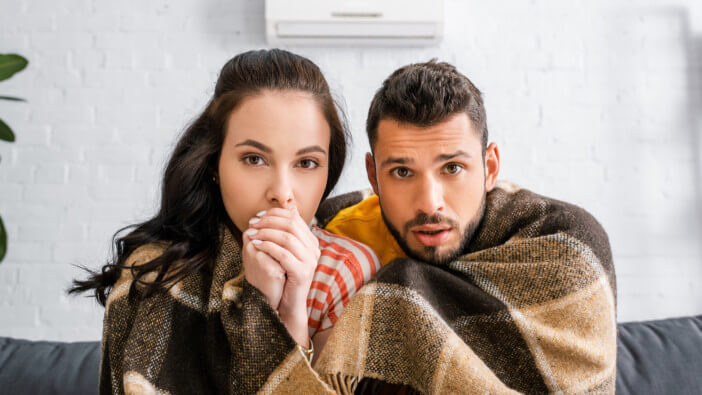 Disclosure: As an Amazon Associate, this site earns from qualifying purchases. Thank you!
One-third of all Americans have come face to face with extreme weather in recent years. It stands to reason that a good chunk of those weather emergencies include frigid and dangerous winter conditions.
We've seen recent proof that power grids can fail when we need them the most, and dying of hypothermia becomes a real threat.
Let's look at what you need to do if heat goes out in the winter so you aren't left in the cold.
How long can a house go without heat in winter?
The scariest part of losing heat in the winter is that it only takes 8 to 12 hours for a home to start losing heat. It will continue to cool gradually over the span of a couple of days.
5 Things To Do If Heat Goes Out In Winter
Whether it's a utility outage or a malfunctioning heating system, you have zero control over when the heat goes out. But you can ensure you're ready for the unexpected.
Turn Off the Gas
Without fail, a heating system takes its last breath when it's super cold.
If a furnace or gas ran heating system fails, shut off the gas to prevent it potentially deadly carbon monoxide poisoning.
Fire Up the Fireplace
If you have a fireplace, light that sucker up. Wood-burning or gas-powered fireplaces are prime sources of warmth during a deep winter chill. Be sure to have some manual starter.
Only burn fires in fireplaces because they are built to ventilate.
Create an Airtight Space
You will want to close all the windows and doors so you aren't letting warm air just walk out of the room. Pull the drapes closed, too. It might not save much, but every little beat of heat counts if heat goes out in winter.
Choose a room and close off any unused rooms. You're trying to use the least amount of heat as possible.
Roll up towels or other fabric and stuff it under the door to prevent leakage.
How cold will house get overnight without heat?
Without heat, a home can get as cold as 25°F overnight. Typically, it will lose 2 to 3 degrees more when it's freezing or below outside.
Of course, factors like size, the number of people, and insulation play a factor. But it's always dangerous when it's freezing outside.
Baking Is Fun & Useful
Cooking will not only bring joy during a stressful situation, but it will bring in some extra heat to reinforce the existing warmth.
Who doesn't want some warm cookies on a gloomy day?
Portable Heater
You first want to double-check that any portable heater is indoor-safe. Anything that does not state that clearly may not be safe and can lead to carbon monoxide buildup.
Types of Portable Heaters
Ceramic space heaters
Fan space heaters
Infrared space heaters
Oil-filled space heaters
Propane space heaters
Panel space heaters
Staying Warm When the House Is Cold
Winter has come, and you've lost the battle. But, you can take steps to stay as warm as you can as you wait impatiently.
Layers, Layers, and More Layers
Throw on as many clothes as possible—underclothes, dressing gowns, sweaters, oversized coats, etc.
Don't forget your socks, hats, and mittens. A lot of heat leaks from those spots, and once feet and hands go numb from cold, bad things are already happening.
It's Time to Use Your Emergency Kit Candles
Safely placing candles close to one another will join forces and help create a good bit of warmth. Decorative candles work just fine if you don't have an emergency to-go bag.
Keep in mind to avoid lighting them near flammable materials or where they can fall over. And, blow them out before bed.
Bedding and Sleeping Bags
Big comforters and blankets add extra layers to your ten pounds of clothes, so pile them on. Don't forget to tuck in your four-legged family members.
All sleeping bags are specifically made to insulate their inhabitants and make cozy little pockets while you wait out the heat loss.
Jumping Jacks
You can raise your body temperature by doing a little exercise. Even five minutes will warm you up some.
It's helpful to expel pent-up energy for adults and kids.
Make a Pillow Fort
Simply put, no one is too old to build an indoor fort. You're also creating an even tinier space to hold in the warmth with more bodies that produce heat.
Your Car as a Last Resort
Under zero circumstances should you ever sit in an idling car while it's in the garage.
During any emergency, having has in your car tank is necessary. But, sometimes, it does get dangerously cold.
Sit in your vehicle while idling for short periods to get your body's temp up.
How do I keep my house warm when the heat goes out?
You will want to close all of the windows and secure all the doors.
Create the tiniest space possible, and block cracks and crevices with towels.
Give the fireplace a go when safe and possible.
Bake a cake or two.
If ya got em, use a safe portable space heater.
Your emergency kit candles were made for this.
A Few More FAQs
What happens to a house with no heat in the winter?
Your home will start to leak out heat immediately. It only takes 8 to 12 hours before it cools off significantly. 
Over a couple of days, it will continue to seep heat. A home can get as cold as 25 degrees when it's below freezing outside.
Can I have heat without electricity?
Portable heaters that don't rely on electricity are the best way to fight grid failure. But you want to ensure they're safe to use indoors by reading the instructions.
Can I boil water to stay warm?
When you can, warming boiling water on the stove does provide additional heat. And you can fill hot water bottles and stuff them in your sleeping bag to keep your feet warm while you sleep.