Why Are They Doing Rolling Blackouts? Here's How To Prepare.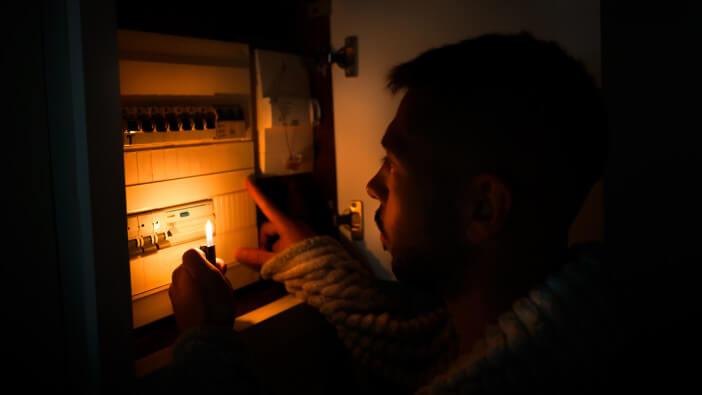 Disclosure: As an Amazon Associate, this site earns from qualifying purchases. Thank you!
Rolling blackouts are annoying, but they also get pretty dangerous. Generally, a rolling blackout happens during extreme cold and heat because of the demand on the electric grid in addition to storms & other natural disasters.
High energy demand is the 6th leading cause of power outages, and just like weather events, there isn't much we can do about it except prepare.
We will explain how to roll with a rolling blackout, so you aren't caught in the dark.
Why are they doing rolling blackouts?
We all share energy, and when a grid isn't adequately protected against potential overloads, it causes damage that results in a complete shutdown.
Your eclectic company will cut off one part of the region and then another and another for a few hours at a time.
Ideally, a rolling blackout will protect against an overall failure of the grid and come with some notice.
How long does a blackout last?
The unpredictability of blackouts makes it hard to gauge just how long they will last. It could be one hour, or it could be three.
While utility companies try to alert customers, excessive demand can happen in a split second, and they must take fast action.
The entire process of initiating a blackout depends on where you are in the country. In most regions, the regulator for electricity orders them once they've detected a problem. According to law, the utility companies must comply.
Brownout vs Blackout vs Rolling Blackout
Brownout. A utility company uses brownouts in an attempt to prevent a total blackout. A common solution is to cut overall voltage by 10-25%, and they give you some sort of timetable.
Blackout. Blackouts sometimes happen with zero notice and can last an undetermined amount of time. It is why preparation is vital during extreme temperatures.
Rolling blackout. A utility company will give customers a notice that they are performing rolling blackouts to prevent a complete blackout. They usually last 1 to 3 hours.
How do you survive a rolling blackout?
The thing about rolling blackouts is the high possibility they will lead to a complete longer-term blackout. And you should prepare for a rolling blackout just like you would prepare for any power outage.
Stock Up 
If your lights are out, the corner stores are likely, too. You will need to have supplies for at least two full days.
Basic toiletries
Pillows and bedding
Children's snacks
Toys and games
Baby supplies
Pet supplies
Lots of water
To calculate how much water to stock up on, make sure you have at least a gallon a day per person for drinking and cooking.
Think About Evacuation
Rolling blackouts happen during extreme weather, so evacuating is necessary for some. For others, the uncomfortable extreme heat or cold sends them elsewhere.
Either way, it is best to plan where to go in the case of any type of blackout. It will include how to move pets, people, and other essentials.
Generator Safety
It's not unusual for people to own generators, especially in regions that experience unpredictable and dangerous weather. But not everyone can use a generator safely.
Under zero circumstances should you run a generator inside a home, garage, or basement.
If you invest in one, you must understand the ins and outs and buy a CO2 detector at the same time.
Flashlights 
Flashlights mean more than shedding light in a dark situation. It lifts morale and spirits when people can access non-flammable lights easily.
It's never a bad idea to have backup light sources like candles and oil lamps. But try to use flashlights when possible.
Battery-Powered Radio Keeps You Connected
Battery-operated radios are handy to have in any emergency. It keeps you up to date on notices and announcements. 
Even better, you don't have to worry about losing connection with the outside world if it has a crank or solar panel.
Don't Forget Appliances
Power surges are a possible threat during blackouts. You can reduce the chances of shorting out an appliance by unplugging it. The last thing you want is a fire.
Helpful Tip: Don't open your fridge or freeze during rolling blackouts to keep the contents cooler longer.
Batteries 
And, of course, stock up on batteries. You will need them, and sometimes when you least expect it.
You will also want to make sure all of your devices and cellphones are charged fully. Any backup power you can get is helpful during any emergency.
Call 911 Only in the Case of an Emergency
A rolling blackout is generally a planned sort of thing. But, a planned rolling blackout always has the possibility of lasting more than the promised 3 hours.
Call 911 only in the case of an emergency. You want first responders free to respond to actual emergencies.
If you have questions about power outages, you can monitor and communicate using utility company apps, websites, or by phone.
How do I make the time go faster during a rolling blackout?
First, you will want to save your cellphone battery for emergencies. We know it's hard, especially with kids. But there are fun things you can do to entertain the family for a few hours.
Board games and trivia
Coloring books
Puzzles
Games of charades (it's a chance to act silly and release stress)
Exercise and yoga
Arts and crafts
Build a fort
And if all else fails? Take a nap. It speeds up time, and you can get some rest, too.
FAQs about Rolling Blackouts
Why are there rolling blackouts in South Africa?
What is a rotating outage?
Rotating power outages are like baby rolling blackouts. They are shorter in duration and alternate between small regions to reduce the stress on the power grid.
How long will my house stay warm without power?
As we've seen in the US, power outages can be deadly during freezing weather. An average house will keep warm for 8 to 12 hours after your electricity goes out. 
After the 12-hour mark, a house will gradually cool over days.
Why don't solar panels work during a blackout?
You'd think that they would kick in when a rolling blackout occurs. But, the panels are shut down too to protect any utility workers or emergency personnel that may have to respond.
Solar panels as a sole energy source will (generally*) not work during a blackout.
*yes, you can still run solar panels into a home battery, but not through the grid. This will all depend on your own setup.
What is it called when you lose power for no more than a few seconds?
Those momentary annoying power outages have an official name – power flickers. They usually last no more than sixty seconds, which is why they cause an eye roll. It is just long enough to turn off appliances and restart devices.
How long would the power last in a zombie apocalypse?
We have bad news. When the world ends, you're only looking at about 24 hours of electricity.
Without people running electric systems, they would cease to function. 
Microgrids are an idea that's floating out there that will fix our reliance on humans to run power grids.