Why Do Pipes Burst In The Winter? Here's How To Prevent It.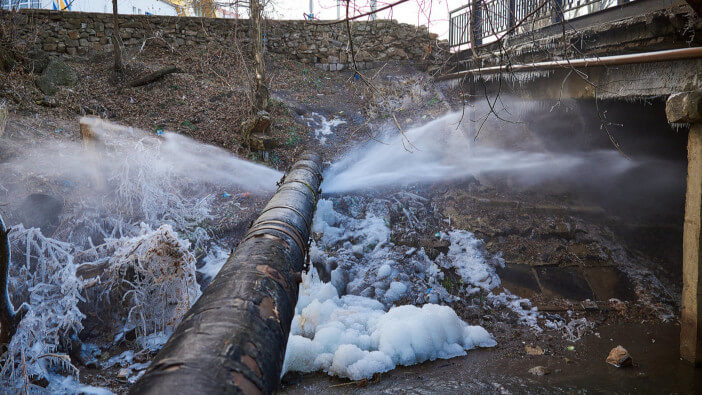 Once you've seen signs of frozen water pipes, it's sometimes too late to prevent them from bursting entirely.
Let's look at why pipes burst and the steps you can take to prevent thousands of dollars in damage.
Disclosure: This site earns commissions from listed merchants at no cost to you. Thank you!
Why do pipes burst in the winter?
The science of it is that when water freezes, it expands. The water flowing outside the home is much cooler than it is during the hotter months.
It doesn't matter if the pipes are metal or plastic. The cold water starts to turn into ice and expands, putting pressure on the pipes until they rupture.
How do you stop pipes burst in winter?
Prevention is a whole lot easier than thawing frozen pipes during a mid-winter storm.
Wrap the Exposed Pipes
When the temperature outside hits 32°, you want to start thinking about wrapping all the water pipes. At 20°, pipelines begin to freeze and become a threat to rupture.
It is super cheap and easy to insulate pipes (both copper and CPVC); it just takes a quick stop at the hardware store. You can winterize using foam or even fiberglass.
If you're completely off guard, old newspapers are a go-to.
Focus on Unheated Areas
Crawlspaces, basements, and garages are exposed to the cold far more than indoor plumping.
You'll want to wrap and insulate those pipelines before focusing on any indoor pipes. It also helps to direct any warm air into those areas.
Say Goodbye to Leaks and Drafts
You want to seal up any gaps and leaks between the cold air outside and the warm air inside. Even without a winter storm, you save tons of energy bills when you eliminate the air's escape routes.
Window and door frames, electrical wiring, and dryer vents. Once you've identified the problems, use caulk or add insulation and seal them up.
Keep the Water Running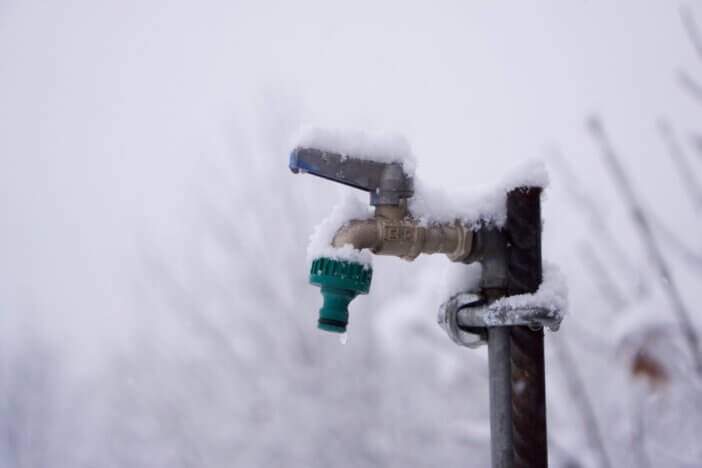 The constant drip is a tried and true method of preventing pipes from freezing in the first place.
It only takes you to turn on one or two faucets to create enough of a water flow to fight against the ice build-up.
Don't Forget Outside Faucets
You want to disconnect all water hoses from the outside faucets. The water may not drain out of the bib and freeze.
Crank the Heat Up
You're not trying to conserve energy during a cold snap. It just isn't gonna happen.
Turn up your heat and maintain that temperature to keep your pipelines safe from a freeze. You are doing your best to keep the home above freezing.
If the power goes out in the winter, you want enough heat to last until the lights come back on.
Open Cabinet and Closet Doors
Pipes are hidden behind your walls, and by opening cabinets and closets, you're exposing your pipelines to the warmth of your home.
Your exterior pipes are more apt to freeze than those indoors, so any cabinets or closets located along the outer wall should get the most attention.
Having Heat Tape Handy
Buying heat tape and storing it in your winter emergency kit puts you ahead of the ice game.
You just apply it, and it warms the freezing pipes to keep them from bursting.
What temperature makes pipes burst?
While freezing temps are 32°, your pipes aren't in danger until they get into the 20s.
At 20°, your water pipelines will start freezing, and you may have a problem on your hands unless you've taken preventive measures.
Call a Plumber
If you aren't comfortable DIY'ing it, reach out to a plumber to get a quote.
Hiring a professional plumber now to prevent bursting pipes will save you from having to call them after the worst has happened.
How long can pipes be frozen before they burst?
You have about 4 to 5 hours before the threat becomes an imminent probability.
If Your Pipes Freeze
Maybe it's too late, and your pipes are already freezing or frozen. You do have options when it comes to thawing.
Keep the Faucets Open
Water may not be coming out, but you don't want to turn off your faucet. When the water starts to thaw, it needs somewhere to go, or bad things can happen.
DO NOT Use an Open Flame
Under zero circumstances, should you use an open flame to thaw out frozen pipes.
Blowtorches
Propane heaters
Kerosene heaters
Charcoal stoves
Any other open flame device.
And don't use a space heater unless you've cleared the entire area of fire hazards.
Stuff Around the House
Things around the house can go a long way when thawing out frozen pipes.
Wet towels
Hot water bottles
Heating pads
Hair dryers
Open Everything
Open cabinets, closets, and other doors so that warm air can get to the pipes and at least start somewhat of a thaw. Keep the warm air flowing to reach as many pipes as possible.
Patience
It's easy to jump straight to freak out when the pipes freeze. But patience goes a long way in this situation.
Just apply the heat you can and wait for the water flow to return. When the open faucet starts dripping, you'll know that what you're doing is working.
You want to check pipelines for cracks or leaks before the water returns to full force. You don't want a huge mess on your hands.
FAQs about Frozen Pipes
Can pipes burst in warm weather?
Any extreme weather puts pressure on your water pipes. During the summer months, the high demand for water can weaken already vulnerable pipes to the point of bursting.
Can pipes burst if its cold?
The second it starts to fall below freezing, pipes are in danger of rupturing. You can take preventive steps to keep your pipelines from freezing in the first place.
How do I tell if my pipes are frozen?
The surefire sign that your pipes are frozen is if you get a dribble or less water when you turn your faucet on. And, if you see bulging or frosty pipes, you may want to go ahead and call a plumber.