3+ Reasons Why You Should Have An Emergency Action Plan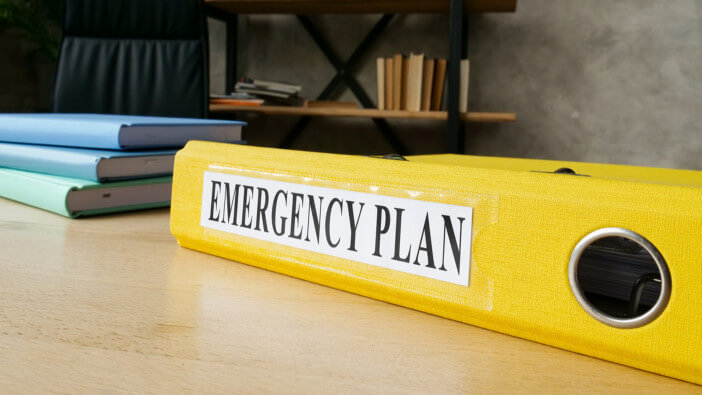 Snow, tornadoes, hurricanes, tsunamis, earthquakes – having an emergency action plan is vital to surviving any disaster in one piece.
If you already have, it never hurts to update it and remind everyone what to expect, including the unexpected.
Let's run through why you should have an emergency action plan and where to start when creating one.
Disclosure: This site earns commissions from listed merchants at no cost to you. Thank you!
What is an emergency action plan?
An emergency action plan, or EAP, is a requirement by OSHA. It is a written document meant to facilitate and organize the actions of all people during a workplace emergency. It's different than general emergency preparedness for individuals.
If you live on the west coast, your EAP will be different from someone living on the east coast.
We are going to take a little time and look at how you can benefit from an emergency action plan – at work and at home.
3 Reasons Why You Should Have an Emergency Action Plan
The first few minutes of any emergency are the most critical. A well-developed emergency action plan lets everyone know their roles and responsibilities during an event.
An Emergency Action Plan Has Immediate Benefits
Implementing an EAP provides insta-benefits to an organization. The implementation of the 3 Cs must be backed up with robust training if done for OSHA compliance.
communication
consistency
compliance
Communication
Before anything else is done, the communication part of an emergency plan is how people understand what is expected of them during a disaster.
Part of that communication is establishing an alert system to warn those in the building to take action. It should be efficiently and accurately disseminated to employees.
Protocols and procedures must be in place to alert first responders, including public services, 911, and those in the building with first aid training.
Establish how you plan to communicate with employees and management in an emergency.
Consistency
OSHA compliance requires training and establishing procedures that everyone in the organization understands.
Everyone needs to be familiar with all aspects of an emergency, including detection, alarm, communications, etc. It means that drills and exercises are necessary to keep an emergency action plan consistent.
Compliance
OSHA compliance is pretty straightforward. When a company has 11+ employees, an emergency action plan must be in writing, and employees have the right to read and review the document.
An EAP can be orally communicated to small businesses with 1 to 10 employees.
In the Case of an Emergency
The entire point of an EAP is to have a plan in place in case something horrible happens.
For a company, a well-thought-out and implemented emergency action plan minimizes the risk of injury to employees and reduces the chances of severe injuries.
An organization also minimizes the risk of structural damage with an EAP.
Who is responsible for creating an emergency action plan?
According to OSHA, an employer is responsible for creating a well-thought-out emergency action plan that meets their requirements.
Protective Actions Saves Lives
Much of an emergency action plan lays out proactive actions for life safety.
evacuation
sheltering
shelter-in-place
lockdown
Evacuation
The evacuation stage of any emergency event is chaotic.
You must have a signal to let those involved know that there is an emergency and it's time to evacuate in a safe and controlled manner.
In that plan, there needs to be an evacuation team leader that acts as a floor warden to ensure no one is left behind. The appointed person will also track every person that evacuates safely for OSHA compliance.
Sheltering
Sheltering happens most commonly in the event of a tornado. There's not a whole lot that anyone can do but follow the emergency action plan.
The weather alerts or a civil message will go out and signal those in the building to take shelter in a safe and designated location. (basements, storm shelter)
Shelter-In-Place
A shelter-in-place plan addresses emergencies like exterior explosions and nearby fires. When public emergency officials order a shelter-in-place, everyone needs to understand the next steps and follow the EAP.
Public officials will announce when it's safe to evacuate or return to work.
Lockdown
Lockdown alerts come when there's a suspected active shooter. In an orderly fashion, employees and managers must know how to seek safety in a room, close and lock the door, and barricade the door as quickly as possible.
What should be in an emergency action plan?
Every EAP has the same basic components, whether at work or at home.
Evacuation process and procedure, including escape routes and building floor plans.
How to report and alert public emergency authorities.
Alerting staff and those in the building that there's an emergency.
The method of accounting for those after the EAP goes into effect.
When and how to notify parents, next of kin, contact person, etc.
Identify the media contact person for post-emergency.
Policy and procedure on training new staff concerning the EAP.
Policy for updating and staining the emergency action plan.
What is the most important part of the emergency action plan?
Communication is the most important part of most things. And it applies to an emergency action plan, too.
Without the ability to communicate, chaos will reign supreme during a disaster or event.
Emergency Action Plan Checklist
Designate the leaders so that others know who to follow. You want the hierarchy clearly laid out to avoid any confusion.
Make clear the methods of reporting emergencies such as fires, including 911, internal emergency numbers, fire alarms, etc.
Develop a clear evacuation plan, including clear and easy-to-follow pathways.
Have a procedure in place to back up any computer hardware, software, or information database to avoid any long-term loss.
You will want to provide guidance on clear communication during and after an emergency.
After EAP Implementation
What good is an emergency action plan if it's just filed away after you've complied with OSHA?
All employees should know the EAP so they can actually follow it when an emergency arises.
Managers and organizational leadership must provide the resources they need to help workers follow the plan.
An emergency action plan should be reviewed so that improvements can be made.
Training, training, training. Physical exercises and drills allow staff to see the EAP in action, making it easier to follow in the future. It also allows leadership to see gaps in the emergency action plan and update it on an ongoing basis.
Types of Emergencies
Within the building – fire, active shooter, etc.
Outside of the building – hurricanes, tornadoes, extreme heat & cold, etc.
Health-related emergencies – flu outbreak, heart attacks, slip and falls, etc.
Technology-related hazards – power outage, blackout, etc.
EAP Resources