6+ Best Rifle Safe Options For The Money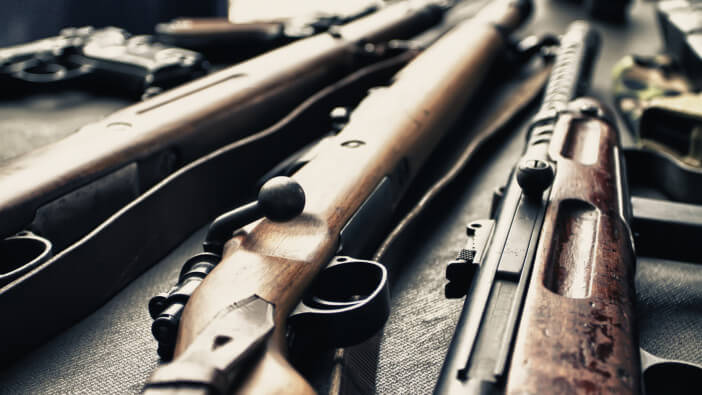 You'll buy a bunch of guns over your lifetime, but you'll likely only invest in one or two gun safes. With that sort of investment, you want the best bang for your buck.
We will explain all you need to know about rifle safes and run through your options.
Disclosure: This site earns commissions from listed merchants at no cost to you. Thank you!
Is a rifle safe worth the money?
Gun safes are definitely worth the investment, and they fulfill multiple needs.
Sometimes, a gun owner needs a rifle safe to fulfill legal requirements. Usually, you can meet that requirement with an inexpensive firearm locker.
Of course, you want your rifle in reach in case of an emergency, but you also want to ensure your kids are safe. You have the option of biometric and quick access safes if you're willing to invest a little more.
You may want to store a firearm in your office or another open space, and you need to restrict access to only yourself. Hidden gun safes are effective, and they keep everyone safe. And they are cheaper than full-on gun rooms.
6 Best Rifle Safe Options For The Money
Rifle safes are slightly different from traditional gun safes, mainly due to their size. And it certainly gets overwhelming when you're looking for the best safe option.
The Liberty 72 is sorta like a limited edition rifle safe because you can only find it at Tractor Supply. But, you don't have to pay bougie prices to secure your guns.
What else we like:
incredibly thick
electronic keypad
fire-resistant for up to 60 minutes at 1200°F
If you don't have a Tractor Supply near you, they are more than happy to ship it.
What we don't like so much:
Can you put a rifle safe in your car?
Vehicle rifle safes are bigger than your typical handgun safe, but if you can put one in your vehicle, go for it. You always want your long gun secure, but in a place you can access it in an emergency.
You do want to be prepared for a not-so-easy installation.
The RS500i has all the bells and whistles you expect with any Vaultek product. And the 14-gauge steel safe is extra deep so that it can hold all of your optics and inserted magazines.
What else we like:
biometric access
a keypad
backup keys
battery backup
WiFi access
The RS500i can store up to 20 fingerprints.
You can manage codes and fingerprints using the Vaultek app.
You'll get an alert if the conditions inside of the rifle safe change.
What we don't like so much:
no Bluetooth
The Vaultek RS500i isn't fireproof. It's not going to save your firearms from a housefire.
It claims to hold five-plus long guns. But, you'll likely only have room to store 3 to 4 AR-15s
The RS500i might be too small for your needs, but Vaultek offers other gun-safe options.
The Stack-On rifle safe is as affordable as it comes, and you can find it at your local Walmart.
What else we like:
extremely affordable
shipped flat
easy to assemble
The Stack-On 8 Gun Cabinet will keep kids away from your rifles.
What we don't like so much:
not fireproof
The 8 Gun Cabinet is pretty easy to break into with the right power tool.
How much should I spend on a rifle safe?
It's always a personal choice, especially when you are making this sort of investment.
You're looking at somewhere between $1000 and $2000 for a reliable rifle safe. Of course, you will find inexpensive models ($500) and others that are as much as a used car ($5000+).
Tactical Walls Concealment Mirror will do the job if you're looking to stow riffles secretly.
What else we like:
doubles as a literal full-length mirror
hinged or sliding options
N52 rare-earth magnet to disengage the hidden lock
You have customizable options, including LED lighting, accessory hooks, and more shelving.
What we don't like so much:
It's a lot to install because it is effectively a renovation project.
What is the most secure rifle safe on the market?
If you want something a bit more simple and affordable, the Securelt Agil 52 combines aspects of a firearms locker and a traditional rifle safe.
What else we like:
easy-to-use electronic keypad
backup keys
high-quality steel
The Securelt Agile 52 is shipped deconstructed and flat. It saves on shipping and installation costs.
The CradleGrid system was developed by the U.S. Army Special Forces.
What we don't like so much:
no fire protection
The Agile 52 doesn't give you a ton of clear guidance about assembly.
The keypad system only allows access to one person.
SecureIt: Agile Model 52 Pro Gun Safe - Holds Rifles, Shotguns, Pistols & Other Handguns - Intelligent Home Firearm Storage w/Keypad Control, Easily Wall Mounted - 52" H x 20 1/4" W x 15 1/4" D
Tough, Flexible & Customizable: Designed with the same professional-grade craftsmanship we use for the U.S. military, this steel gun safe is durable yet lightweight; weighing 105 pounds, two people can easily position the safe around the home, condo or office
Organized, Adaptable Storage: CradleGrid Technology delivers reconfigurable storage that allows for multiple combinations of long guns and handguns, including firearms with optics, without the need to re-zero
Unsurpassed Security: A keypad control prevents unauthorized access and a hidden key override provides back up, ensuring all your weapons, gear and gun accessories stay secured yet accessible
Easy Installation, Fits Well Anywhere: The Agile Ultralight Model 52 has 4 pre-drilled holes in the bottom and the side, allowing you to securely attach the safe to any wall or floor in your home
Never Compromise on Gun Safety! With 20 years of military armory experience, SecureIt is the global leader in weapon storage; now, we're using our expertise to deliver best-in-class gun storage for families, businesses and more
The first thing you should know about the Ironworks AIW6033X is that it's awfully pretty to look at. Oh, and it's pretty damn secure, too.
What else we like:
size up to up to 72″ x 56 (lordy)
10 gauge steel
130 minutes at 1400°F
What we don't like so much:
eye-popping price
super heavy and bulky
Who makes the best home gun safes?
The consensus is that Cabela's Gun Safes by Liberty Safe® are the best home gun safes.
You should expect a heavy investment if you go with even Cabela's most basic rifle safe options.
What should I look for in a rifle safe?
You've arrived at the more technical part of long gun-safe knowledge. Let's run through what to look for when you're making the investment.
Gauge
When you read or hear the word gauge, all it stands for is the thickness of the safe's metal. It is mostly like steel, but there are exceptions.
The higher the number, the thinner and smaller the metal is.
But, the thickness of the steel only tells part of the story. Many safes have multi-layers, making them harder to break into.
Are rifle safes bad for guns?
You can't just leave a gun in a rifle safe and not expect it to degrade or rust; just like if you were to store it anywhere, in a garage, or in a closet, you must maintain your firearms according to the firearm manual.
Fire Rating
The fire rating isn't as cut and dry as the gauge. And, a fire-resistant safe doesn't mean fireproof. You're just buying time with a heavy-duty quality safe.
You'll need to double-check the fire protection. Most of the time, you are told whether or not a rifle safe is fire resistant. But, you don't want to assume or take someone else's word for it.
A rifle safe fire rating reflects the higher temp and the fire duration.
Example of Fire Rating
2.5 hours of certified fire protection at 1200º F."
Type of Locks
The type of lock on the best rifle-safe option is important, but it's not quite as important as you think.
Electronic & Digital Locks
For the most part, electronic locks have a mechanical backup in case the batteries go caput. So, you don't have to worry about being locked out for good, and you can still get in relatively quickly.
With an electronic lock, you get access to tools like biometrics, so you don't have to remember combo codes. In some cases, you can access your rifle safe when you're not even at home through app alerts.
Biometric or Fingerprint Locks
Speaking of, biometric locks have too many drawbacks at the moment to call them an actual option.
Sure, they're cool, but for a small portion of the population, they aren't going to work. And, they are apt to malfunction and reject a fingerprint for no rational or reasonable reason.
Mechanical Locks
Mechanical locks are a little harder to open, but that's not always the case. But, easier accessible mechanical locks are easier to break into than electronic locks.
When you go with a mechanical lock, you choose the more reliable way to secure your long gun safely. It doesn't depend on batteries or WiFi; it just locks up your safe.
Redundant Lock
A redundant lock means that it's both a mechanical and electronic lock. It's a great option just because you can utilize the electronic lock and not worry about the battery power because a mechanical one is a backup.
Is a rifle safe worth it?
Absolutely, a rifle safe is worth the cost. You can find all sorts of models that are affordable and secure.
At the same time, if you're looking for a Fort Knox tight safe, you're going to spend a bit more.
Where should I put a rifle safe in my car?
It depends on your preference. A gun safe typically goes on the inside of the car door or in the trunk.
Types of Gun Safes
We've covered the best rifle safe options. Let's look at what else is out there to secure our firearms.
Handgun Safes
The handiest of all safes are those for our handguns and sidearms. They are typically small and portable, and you can use them in a house or in your car.
Firearm Locker
The most basic of safes, a firearm locker works well when meeting legal requirements and is cheap and lightweight.
A firearm lock will not have anything other than a key lock, so don't expect a ton of extras.
Hidden Safe
You can find all sorts of hidden safes that double as pieces of furniture – nightstands, under drawers, etc.
While they're super cool, hidden gun safes aren't the most secure gun safes and aren't fire-resistant.
Truck Safe
When possible, don't leave a firearm in your vehicle.
If you do, you need to invest in a vehicle firearm safe. It can go on the console, under the seat, etc.
How big of a gun safe should I get?
Go with double what you think. You want to leave enough room to store scopes and other equipment. So, you'll likely want to take a measurement to get it right.
You know you're going to buy more guns, and you want room for those, too. Having to purchase multiple quality gun safes adds to an already expensive venture.
Keep Your Guns Safe
Would-be thieves and burglaries look for firearms because they are quite valuable on the streets.
You want to make sure your guns are secure to avoid having your firearms stolen.
Keep all vehicles and home doors locked.
Invest in an alarm system. (at the very least, you can put a sticker or placard on your property)
Never share that you own guns; for example, avoid using NRA stickers.
Always teach children to stay away from your firearms.
FAQs
Do all gun safes have lifetime warranty?
We wish, but for the most part, they do. Other brands and models may come with a five or ten-year warranty.
Always ask about the warranty on your rifle safe, and read the fine print. Certain working parts, like the lock mechanisms, may have a shorter warranty than the safe itself.
Are Liberty Safes worth the money?
Liberty safes are some of the best quality on the market. And they are entirely made in the United States using premium parts and components.
Should I bolt my safe to the floor?
You will always want to anchor your gun safes to the floor. Even the heaviest models can somehow walk themselves out of the door. It's quite amazing, actually.
You also don't want a gun safe to fall or tip over to someone.
Do thieves steal safes?
Safes, gun or otherwise, guns are the first thing that any criminal looks for. The size of it isn't going to matter, especially if they have the right tools.
Of course, the heavier the gun is safe, the less likely they will take the entire thing. But that makes choosing the right lock that much more vital.
If you do have a firearm stolen, report it to the authorities ASAP. It's the only way you have a chance to recover the gun, and if it's used in a crime, you certainly don't want it coming back to you.
What is best gun safe brand?
The best gun safe brand is American Security (AMSEC), which offers two main types of safes: Residential Security Containers (RSCs) and TL-rated safes.
What is the best gun safe for hunters?
For hunters, the best gun safe would be one that can accommodate long guns, such as the Barska Keypad Long Gun Safe or the Verifi S7000 Biometric Long Gun Rifle Safe.
What are the top rated safes?
The top-rated safes include the Barska – Biometric Safe for Rifles and Shotguns, which has over 2,101 ratings across retailers.
How much should I spend on a safe?
When considering how much to spend on a safe, it's suggested that a good safe will cost from $900 to $2,500 depending on the size and features offered.
Why are some safes not good for guns?
Some safes are not good for guns because the amount of moisture in general safes can cause rusting and water damage over time.
What are the toughest safes?
The toughest safes, according to the information provided, include the Fort Knox Legend 7261 and the Diamond TDR Series.
Are cheap gun safes worth it?
Cheap gun safes may not be worth it as many safes that cost less than $500 will offer less than 45 minutes of fire protection, which is the minimum necessary to survive a house fire.
What gun safe brands are made in USA?
Gun safe brands made in the USA include American Security, Liberty HDX-250 Smart Vault Biometric Safe, Browning Medallion Series, Fort Knox Vaults, and V-Line Quick Vault Safe.
Where is the best place to put gun safe?
The best place to put a gun safe is in a location that offers multiple layers of secrecy, such as a closet shelf or drawer.
Are Fort Knox gun safes good?
Fort Knox gun safes are considered good, having been in business for over 35 years and known for their high standard of construction.
Do gun safes rust guns?
Guns can rust in safes due to the moisture content, which is why it's important to check that any safe you buy has a seal.
What is the best budget gun safe made in the US?
The best budget gun safe made in the US, according to most retailers, could be the Barska Keypad Long Gun Safe.
Where is the best place to put a gun safe?
The safest place to keep a gun safe is in a location that offers multiple layers of secrecy, such as a closet shelf or drawer.
Are Liberty safes made in the USA?
Liberty safes are indeed made in the USA.
What are the hardest gun safes to break into?
The hardest gun safes to break into include the Fort Knox Legend 7261, which is made of 10-Gauge Stainless Steel and has 1/4″ Thick Steel, Uni-Body Construction.
Do burglars break into gun safes?
Burglars do break into gun safes, and most gun safes are pretty easy to break into due to clever marketing and design tricks.
Should gun safes be in office or bedroom?
Whether a gun safe should be in an office or bedroom depends on personal preference and the specific security needs of the individual.
Where is the safest place to keep a gun safe?
The safest place to keep a gun safe is in a location that offers multiple layers of secrecy, such as a closet shelf or drawer.