Why Are Tsunamis So Dangerous? Here Are 5+ Reasons Why.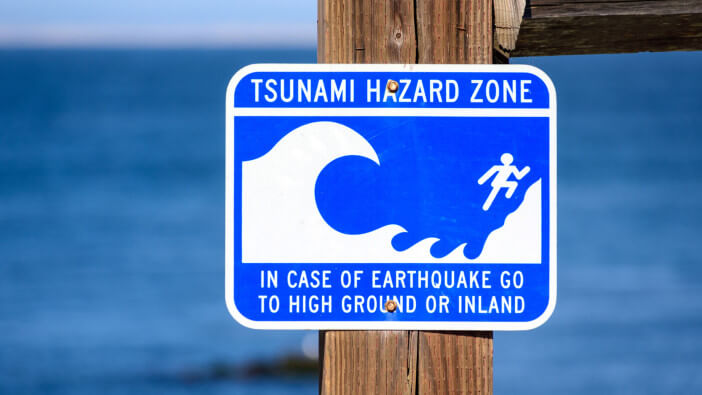 Just because you don't feel an earthquake doesn't mean it didn't happen. Thankfully, most at-risk coastal regions have tsunami sirens, and the internet keeps the world connected with push notifications. But that doesn't mean it's a 100% surety that you will get a fair warning.
If you receive a tsunami warning, immediately find higher ground as far inland as possible.
We will go in-depth about tsunamis and explain the reasons why are tsunamis so dangerous.
Disclosure: This site earns commissions from listed merchants at no cost to you. Thank you!
What is a tsunami?
Earthquakes happen below or near the ocean floor. Sometimes when they do, it causes sizeable and sudden ocean displacement that leads to waves extending as long as 60 miles (100 kilometers).
Wind does not play a factor in tsunamis because they simply move the topmost layers of water.
A tsunami consists of columns of water that form from the ocean floor to the surface. And while an earthquake is a primary cause, it isn't the only one.
Landslides on the ocean floor
Land slumping into the ocean
Volcanic activity and eruptions
5 Reasons Why Tsunamis are Dangerous
Don't let the size of a tsunami fool you, either. Even the baby ones can cause damage to people and property.
Extreme Flooding
Flooding is the most dangerous part of most weather and naturally occurring events. It's the rushing water inland that knocks people off of their feet and buildings off of their foundations.
A tsunami can last hours, meaning the flooding will remain dangerous for hours after that.
Wave Impacts
The massive wall of water is what comes to people's minds when you talk about tsunamis. But it's what it brings with it that is the most dangerous.
It's the wave that knocks you down, but it's the flooding that carries you away.
4 Warnings Before the Wave
Ideally, there are four levels of tsunami alerts. Whether it's the first or the last, all warnings should be taken seriously. People should avoid standing around and filming a tsunami wave; death isn't worth the clout.
Tsunami warning. It is the most critical alert and means that there has been a tsunami sighting near you. Go inland and take the higher ground.
Advisory. You are being advised that there are tsunami waves near you or are causing dangerous conditions.
Watch. Even a tsunami watch is nothing to play with. It means that one may impact your area in the near future.
Information statement. This statement is the first sign of trouble. It means that the conditions are tsunami-friendly.
Erosion
A tsunami causes insta-erosion the moment it impacts the shore. Rapid erosion and deposition of sediment can dramatically alter an entire coastline.
After the wave impact, the threat of erosion remains. It displaces vegetation and leaves ocean debris inland, which will further the erosion process, and makes mudslides an ongoing threat.
Strong Currents
Strong currents can happen miles and miles from the actual tsunami. Even the fish can't fight against the water's will and are often displaced.
Swimmers, divers, surfers, and boaters should evacuate the waters as soon as the first information statement is issued. You're not going to see strong currents, or at least not until it's too late.
Dangerous Debris
You've beaten the wave, and you're fighting the currents. It means nothing if debris strikes you in the head.
Tsunamis can carry entire cars and homes with them. The last place you want to be is clinging to a tree and waiting it out.
Why are tsunamis so dangerous?
Water is the most dangerous part of a tsunami. The columns of ocean water rush towards land, steadily growing in strength and can come miles inland.
Impact waves and currents bring water that remains after the tsunami retreats back to the sea.
Can you survive tsunami?
We mention that sometimes people don't get the warnings or are just so close to the affected area that they can't retreat.
You can survive it, but do your best to avoid having to try.
Higher Ground
You might not get much warning time, and you've got to think on your feet to decide the best course of action.
You want to try and get about 2 miles away from the coast and find a place 100 feet above sea level.
How strong is tsunami?
Crest to crest, a tsunami can measure hundreds of miles in length. What's scarier is that the deepest part of a tsunami can move over 500mph.
That's as fast as a jet plane.
As the ocean floor gets shallower, a tsunami slows down to about 20 to 30mph. But that's still too fast to try to outrun, much less outswim.
Disaster Kit
It can not be stressed enough that there is nothing wrong with disaster preparation. Expecting the unexpected not only sometimes means saving yourself, but it means saving other humans.
Why are tsunamis scary?
The scariest part of tsunamis is the lack of control we have. One has the power to kill hundreds of houses of people almost instantly, leave atomic bomb-level destruction, and can submerge entire buildings.
Take Shelter
Inland and upward are not always possible in the event of a tsunami. Sometimes, all you can do is find a secure shelter.
Many coast land towns and villages have private or community tsunami shelters.
A Stump May Save a Life
Debris is dangerous, but it can also save a life. The waves and currents drag you under, and you need a way to fight against them. Grabbing onto a stump or floating debris will work as a floating device.
Understanding the Risk
As with any natural or weather event, knowing the tsunami risk level in your region is a must. You can better prepare by doing quick drills and packing a well-stocked emergency kit.
What is the most dangerous part of a tsunami?
Tsunamis cause dangerous flooding.
Wave impact destroys everything in its path.
Causes instant erosion.
The currents carry it all.
A tsunami creates waves of large and dangerous debris.
FAQs about Tsunamis
Is it possible to survive a tsunami?
It is possible to survive a tsunami, although the majority of individuals do not survive being swept into one. However, there are several ways to safeguard yourself from these natural disasters. The effectiveness of your specific strategy will vary depending on your location, and it will greatly benefit from prior planning.
Where is the safest place to be in a tsunami?
The safest place to be in a tsunami is to identify a safe location at least 100 feet (30 meters) above sea level or at least 1 mile (1.6 km) inland if your community does not have a tsunami evacuation plan. It is important to be prepared to move quickly to higher ground or inland without waiting for an official alert, especially if you are near the coast where a tsunami could occur after an earthquake.
What to do if a tsunami hits you?
If a tsunami hits you, the best course of action is to grab onto something that floats, like a raft or tree trunk, if you are in the water. If you are in a boat, it is important to face the direction of the waves and head out to sea. If you find yourself in a harbor, it is advisable to go inland.
How many hours can a tsunami last?
A tsunami can last for several days in certain areas, with its highest point typically occurring a few hours after it hits and gradually decreasing afterwards. The time interval between each crest of the tsunami, known as its period, can range from about five minutes to two hours. The hazardous tsunami currents have the potential to persist for multiple days.
Has anyone ever ridden a tsunami?
Someone has claimed to have surfed a tsunami. Felipe Pomar, a big wave surfer from Peru, asserts that he rode a tsunami that hit the coast of Punta Hermosa, Peru, in 1974. According to him, the wave he surfed during the tsunami had a visible front and he was able to maneuver on it.
Can you survive a tsunami if you can swim?
Surviving a tsunami solely based on swimming ability is unlikely. Tsunamis differ from regular surfing waves as they flood the land forcefully, similar to a rushing river or fast-rising tide, rather than curling and breaking. Moreover, tsunamis carry debris, significantly increasing the risk of injury, property damage, and even death.
Will a life jacket help in a tsunami?
A life jacket can potentially save numerous lives during a tsunami, as drowning is the primary cause of death in such situations.
Should you run towards a tsunami?
In the event of any unusual occurrence such as the sudden retreat of the sea or an earthquake while at the beach, it is recommended to immediately take action. Move towards an area that is at least 100 feet above sea level, head a mile inland, or if necessary, seek refuge on the upper floors of a tall, reinforced concrete building.
How long can it take for a tsunami to hit?
The time it takes for a tsunami to hit can vary depending on its source. A local tsunami, which originates near the coast, can arrive in less than one hour, leaving limited warning time and posing a greater danger. On the other hand, a distant tsunami, generated far away from the coast, provides more time to issue and respond to warnings.
Why are tsunamis so scary?
Tsunamis are so scary because they can reach heights of 35m or more, equivalent to a 10-story building. However, the most terrifying aspect of a tsunami is its wavelength, which determines how far it can travel inland. While a storm-generated wave may have a wavelength of up to 150m, a tsunami can extend up to a staggering 1,000km.
Is it safer to be in the ocean during a tsunami?
It is safer to be in the deep ocean (> 100 m) during a tsunami as boats are less likely to be damaged compared to being moored in a harbor. However, it is important to prioritize your safety and not attempt to navigate your boat into deep water if the tsunami is approaching. Keep in mind that there may be traffic congestion and many other boaters trying to head out to sea, so be prepared for potential delays.
Are you safe from a tsunami underwater?
When a tsunami occurs near shore in shallow water, it has the potential to completely destroy any vessel in its path. Additionally, tsunamis can be extremely dangerous for various underwater life forms, including divers who may find it nearly impossible to survive due to the powerful and turbulent currents that can ensnare them.
How long does a tsunami last?
The duration of a tsunami varies, but large tsunamis can persist for several days in certain areas. Typically, these tsunamis reach their maximum intensity a few hours after they hit land and then gradually diminish. The period between successive crests of a tsunami ranges from around five minutes to two hours. It is important to note that hazardous tsunami currents can endure for days.
How tall was the biggest tsunami?
The biggest tsunami ever recorded occurred in Alaska. It reached a height of 1,720 feet and struck the tall banks of Lituya Bay in Southeast Alaska in 1958. Tragically, two individuals lost their lives, while four managed to survive.
Why is a tsunami so powerful?
A tsunami is incredibly powerful due to its ability to inundate coastal areas with a massive wall of water, resembling a sudden rise in sea level by several feet or more. This phenomenon can result in devastating flooding and the formation of strong currents, capable of effortlessly sweeping away individuals, vehicles, and even structures.
Is it safe to be in the ocean during a tsunami?
It is not safe to be in the ocean during a tsunami. It is advised to stay away from the water and seek higher ground to ensure personal safety.
How long will a tsunami last?
A tsunami can last for several days in certain areas, with its highest point typically occurring a few hours after it hits and then gradually diminishing. The period between each crest of the tsunami, known as its period, can range from around five minutes to two hours. It is important to note that hazardous tsunami currents can persist for days.
How long does it take for a tsunami to hit?
A tsunami takes varying amounts of time to hit land depending on its location and source. Once formed, a tsunami wave can travel at speeds exceeding 800 kilometers per hour in the open ocean. These waves can traverse the Pacific Ocean in less than 24 hours. If a tsunami is locally generated, it can reach nearby coastlines within a matter of minutes.
How tall can a tsunami get?
The maximum vertical height that a tsunami can reach onshore, known as the run-up height, is typically no more than 100 feet above sea level. However, there was a remarkable case in 1958 when a landslide in a narrow bay on Alaska's coast triggered a tsunami with a wave over 1,700 feet tall, making it the largest recorded tsunami in history.
Are there any benefits to tsunamis?
There are indeed benefits to tsunamis. They generally result in the redistribution of nutrients in coastal regions, the formation of new habitats, alterations to the landscape, the emergence of new economic opportunities, and the availability of study opportunities.
How tall is the average tsunami wave?
The average height of a tsunami wave can vary depending on the location. In certain areas, tsunamis may result in a vertical sea rise of just a few inches or feet. However, there have been instances where tsunamis have surged as high as 100 feet (30 meters) above sea level. Nevertheless, the majority of tsunamis typically cause the sea to rise no more than 10 feet (3 meters).
What triggers most tsunamis?
Most tsunamis are triggered by the sudden movement of slabs of rock on the sea floor during large earthquakes, which causes the water above to also move. As a result, waves are generated and propagate away from the location of the earthquake event.
What's bigger than a tsunami?
The answer to the question "What's bigger than a tsunami?" is that megatsunamis, which are triggered by landslides and impact events, can displace massive amounts of water and generate waves that surpass the height of a typical tsunami by tens or even hundreds of meters.
Where does the water from a tsunami go?
The water from a tsunami goes to low lying coastal areas, flooding them for hours and extending inland by 300 meters or more. This inundation covers large expanses of land with water and debris, representing the horizontal, inland penetration of waves from the shoreline.
How fast is a tsunami in the open ocean?
A tsunami in the open ocean can reach speeds of over 500 mph (800 km/h), similar to that of a jet plane, and has the ability to traverse entire oceans in less than a day. The wavelength determines the distance between waves.
Who has the strongest tsunami?
The largest tsunami ever recorded occurred in Alaska. In 1958, a massive wave measuring 1,720 feet hit the tall banks of Lituya Bay in Southeast Alaska. Tragically, two individuals lost their lives while four managed to survive.
What are tsunamis and why are they dangerous?
Tsunamis are dangerous natural phenomena characterized by a series of ocean waves that propel massive surges of water onto land, often exceeding heights of 100 feet (30.5 meters). These immense walls of water can inflict extensive devastation upon coastal areas upon impact. Typically triggered by significant undersea earthquakes occurring at tectonic plate boundaries, tsunamis are awe-inspiring and pose a significant threat to human life and infrastructure.
What causes the most deaths in a tsunami?
The most common cause of death in a tsunami is drowning, while injuries caused by debris are responsible for a significant number of medical emergencies immediately following the disaster. Crush injuries, fractures, and various types of wounds can be inflicted by falling structures and the turbulent waters filled with swirling debris.
What happens to sea animals during a tsunami?
Sea animals are affected by tsunamis in various ways. The landscape is altered as the tsunami displaces trees, plants, and disrupts the habitats of animals, including nesting sites for birds. The impact on marine life is twofold: land animals may drown, while sea animals face the risk of pollution if hazardous chemicals are carried into the ocean, resulting in the poisoning of marine organisms.
Where do tsunamis happen the most?
Tsunamis occur the most in the Pacific Ocean and its marginal seas.