9+ Best Emergency Foods To Stock Up On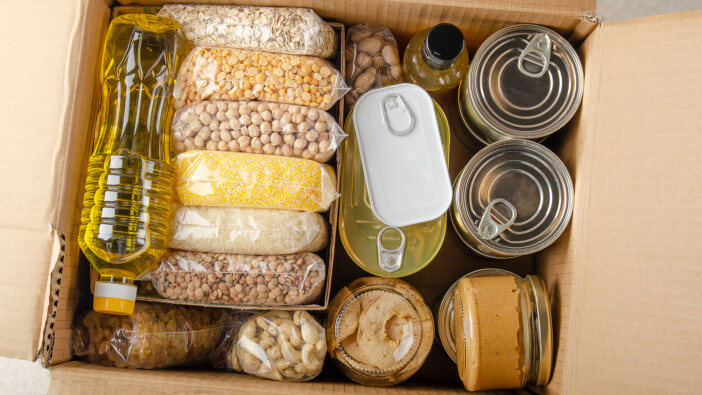 Disclosure: As an Amazon Associate, this site earns from qualifying purchases. Thank you!
Life is too unpredictable not to have at least some emergency food on hand at all times. It's not an overreaction; it is preparedness.
We will take a closer look at the best emergency foods to stock up on and how to safely maintain it.
What are emergency foods?
Emergency foods are food items that do not require refrigeration or cooking.
In terms of survival, emergency foods are foods you store in the case of an emergency. Stocking shelf-stable supplies ensures that if you and your family are cut off from food supplies, you have enough to last at least 72 hours.
9 Best Emergency Foods To Stock Up On
Options for emergency foods range more than you think. And, always keep in mind what your family will eat and what they won't.
Jerky
Jerky hits the shelves, already dehydrated and resistant to microbes. It's also a tasty and high-protein emergency – a powerful duo.
Beef jerky is the most common variety, but you can find all sorts of flavors out there.
beef
venison
alligator
mushrooms
The expected shelf life of any store-bought jerky is around a year.
Beans & Legumes
Beans are a go-to for most families, but be sure to change it up some. Legumes are just as much of a plant-based source of protein and fiber.
Don't forget to stock brown and white rice. By pairing rice with beans, you're creating a complete protein that you'll need in an emergency.
Stay up to date on expiration dates. You will need to rotate the cans out every two to five years.
Sodium vs Low Sodium
Canned foods have this habit of having far more salt than any one food needs. You can shop around and find low-sodium emergency food items.
You want to skip taking too much sodium because it can raise your blood pressure, and during a disaster, it's already sky high.
Nuts & Seeds
You want some calorie-dense foods in your stockpile. Nuts and seeds are easy-to-eat staples with tons of benefits.
It has tons of calories for such a tiny snack.
Rich in fiber, which is essential.
Healthy fats keep your body in a high-functioning mode.
You eat them anywhere at any time.
By adding them to a meal, you're leveling a meal up in terms of nutrients.
The nuts and seeds' shelf life depends on how they're packaged – 12 months if bagged, 24 months if canned.
Nut & Seed Butter
Spreadable butter has the same goody goodness in the nuts and seeds themselves.
You can spread it on taste, make a sandwich, or even a nutrient-filled smoothie from nut and seed butter.
The butter version of nuts and seeds has about the same shelf life – 6 to 24 months if unopened, 2 to 3 months after it's opened and stored at room temp.
Canned Tuna
Canned tuna and meat last longer than people may think. But it's not always a good thing.
If you're sticking to healthy and quality emergency foods, you'll want to look for low sodium and low mercury canned tuna.
Tinned tuna will last you about 2 to five years. Always check your emergency food stock regularly to ensure nothing has expired.
Canned Veggies and Fruit
Canned vegetables and fruit have sodium for preservation, but not the huge amounts of other canned goods.
And, there is no nutritional difference between frozen and canned veggies and fruit. Eating straight out of the can is simple and will pack you full of energy during an emergency.
You can expect the canned variety of fruit and vegetables to last 1 to 5 years, depending on the acidity.
Dried Fruit
Dried fruit does lose some nutritional quality during the process. But having some available for a quick and healthy snack works whether it's an emergency or not.
You can buy ready-made dried fruit, or you can DIY to create the perfect bite.
Store-bought dried fruit will last about six months unopened and a month if you've opened it.
Powered Milk
Stable-shelf milk has the same nutritional value as cow's milk and is far easier to store.
You can add it to just about anything or drink it by adding water.
If you're vegan or lactose intolerant, unsweetened oat milk is a great alternative.
Dry milk can sit on a shelf for 3 to 5 years as long as it's stored at cool temperatures.
What to do with expired emergency food?
You'll want to use or toss out any expired emergency food. Some foods you can donate to organizations that will quickly put them to use.
Canned Broth & Bouillon
Surviving doesn't have to taste bland. Vegetable, beef, and chicken stock make good flavoring additions. At the same time, the broth variety is a warm comfort on a cold day.
Bouillon cubes are useful because they flavor otherwise tasteless food staples.
You can expect dry billion to last around 2 years, while the canned broth and stock can stay on the shelf for 2 to 3 years.
Which is the best tasting emergency food?
It doesn't matter what anyone else thinks tastes good; you always want to consider what you and your family actually enjoy eating. Y'alls tastebuds are the only ones that matter.
You can sweeten, salt, or flavor any meal to your preference using emergency food staples.
Flour and Sugar
White flour and sugar aren't the healthiest foods unless there's an emergency. You're going to need both to create meals for the entire family.
And they do give boosts in energy level, though it burns off fast.
Sugar supposedly doesn't spoil, but you should check for bugs. Some recommend replacing it after two years, but that's up to you. In contrast, flour lasts a very short time – 3 to 8 months.
What is the longest lasting emergency food?
Some think honey is as precious as cold in a survival situation. It's calorie dense and pretty well lasts forever.
The big bonus of honey is that it acts as a natural antibiotic and can add super sweetness to anything.
Honey does crystalize, but don't toss it out just yet. Heat it up in hot water or microwave the honey to return it to its yummy form.
Ready-Made Emergency Food Supply
You can forgo the shopping and storage process altogether if you invest in ready-made emergency food buckets.
You'll probably need to fill in the nutritional and preference gaps, but a compact ready-made emergency food supply is a good starting point.
ReadyWise emergency food supply has a shelf life of 25 years, and all you have to do is add water to enjoy 13 different meals, including lasagna, tortilla soup, and beans and rice.
You can buy a fruit and vegetable bucket separately to add to the quality of your emergency food supply.
Sometimes all you need is to supplement the stock you already have.
The Harmony House dehydrated vegetable sampler provides vegetarians and nutrition-conscious people an alternative. Every pouch is resealable and gluten-free.
Do's and Don'ts
You will always want to check your emergency food supply regularly to ensure nothing is expired or has gone bad. You don't want to get caught mid-emergency with a shelf of spoiled food.
The Do's
Keep all emergency food in covered and sealed containers, regardless of what it is.
You'll want to store sanitized eating and cooking utensils in a clean space.
Any food that comes into contact with contaminated water needs to be thrown out.
You will need to discard any food that's been sitting out for more than 2 hours at room temperature.
Bad smells, weird colors, and unusual textures are all signs that something has gone bad, and it's not worth chancing food poisoning.
The Don'ts
Don't eat from swollen, dented, and corroded cans are all red flags of spoilage.
Don't eat food that smells even a little off.
Why is emergency food important?
Emergencies happen; there's no way to really avoid them. So, stocking the best emergency foods is a huge step toward readiness and preparedness.
You want at least 72 hours of food and water. In the case of hurricanes and other extreme weather events, you need enough to last until emergency services can respond.
And having a well-stocked emergency food supply closet just puts everyone in the family at ease. There's no last-minute stressful rush to the grocery store when a hurricane changes its path.
What foods should I stockpile for survival?
Protein
Some foods chock full of protein have a pretty long shelf life.
Peanut butter
Canned tuna & other meat
Jerky
Beans and legumes
Canned Foods
All sorts of food come in cans. But remember to check expiration dates because they don't last forever.
Canned fruits
Canned vegetables
Canned soup, broth, and stock
Drinky Drinks
You'll want plenty of water – one gallon for each person per day. But, you don't have to stock only water.
Gatorade or other sports drinks
Powdered milk or milk alternative
Bottled flavor water
Tea
Juice
Finding the Right Flavor
Food can still taste good when you're surviving an apocalypse.
Spices and herbs
Salt and pepper
Honey
Sugar
Cooking oil, olive oil, shortening
Fillers
You want to keep the growling stomach at bay as much as possible, and that's going to take fillers and staples.
Cereal
Granola bars
Pasta
Spaghetti noodles and sauce
Nuts and trail mix
Chips
Rice
Crackers
Sweets
There are not a lot of dessert options during an emergency, especially after a day or two. But you can soothe your sweet tooth with a couple of easy-to-stock options.
Hard candies
Dried fruits
Emergency Food FAQs
What dried foods last the longest?
Legumes, flour, grains, and dried pasta will outlast most other staples as long as they're stored at cool and dry temps.
The longest lasting emergency foods are honey and canned meat because they can last years.
Can canned food last 20 years?
We don't know that you'd want it to last 10 years. Canned food will last you a few years, typically. But always check the expiration date and rotate your emergency food stock.
What 2 foods can you survive on?
We don't recommend this diet. However, you can technically survive years by eating just eggs and potatoes. 
It will likely lead to high cholesterol, but if you're surviving, that's the least of your troubles.
Can I survive on one meal a day?
A lot of people live off just one meal a day. Everyone's bodies are different and require different things. You should be good to go if you're not in any discomfort from hunger. It's the calorie consumption (not meal numbers) that matters.
But there are some risks to one meal a day, such as diabetes, but again, that's not a priority in a situation when you're trying to survive until help arrives.