5+ Best Emergency Radio Options To Have for Every Situation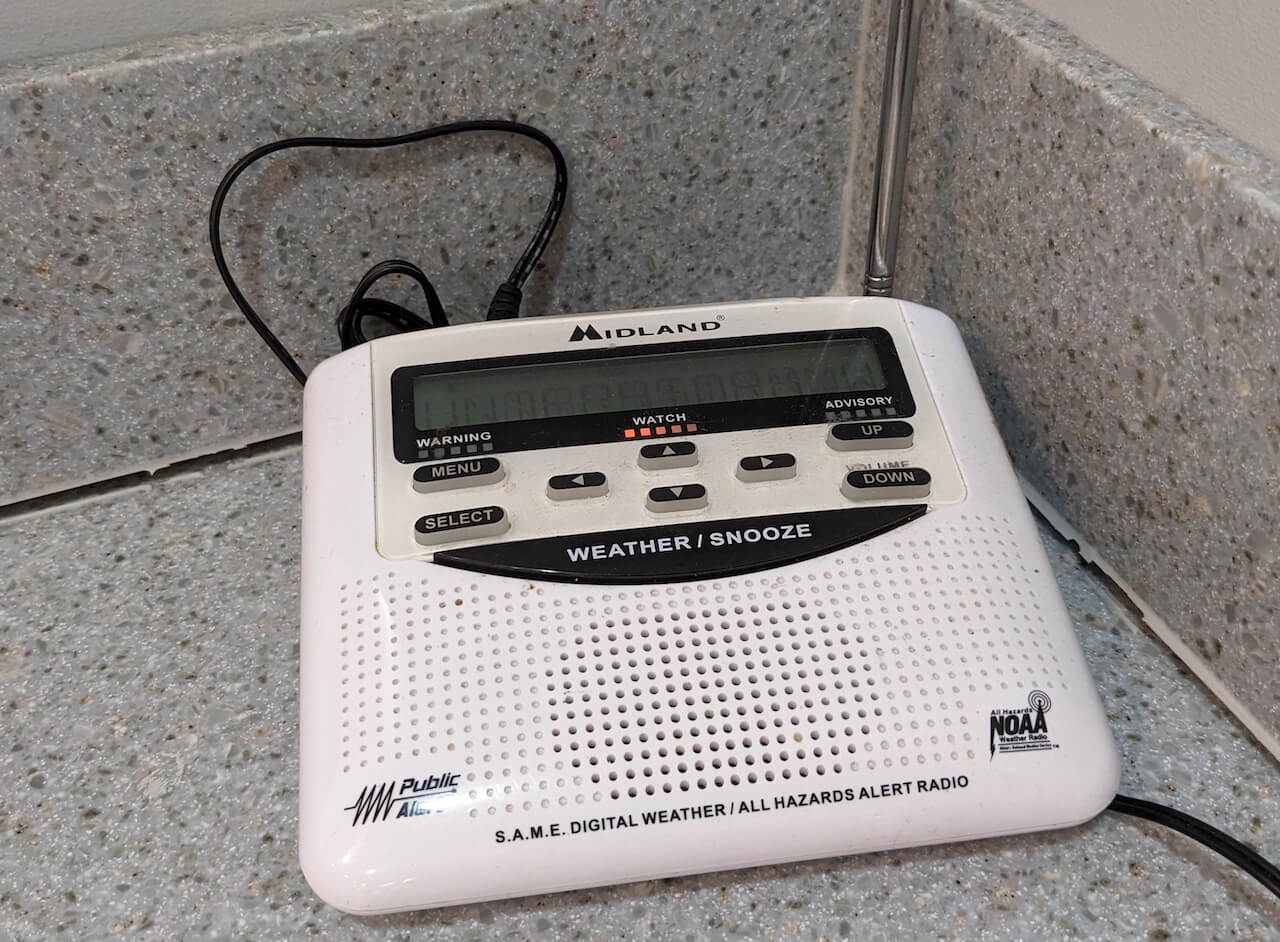 Disclosure: As an Amazon Associate, this site earns from qualifying purchases. Thank you!
Most disaster-preparedness kit checklists has an emergency radio listed. But what does that even mean? You type it into Google and are instantly hit with a million different options.
We will break down why an emergency radio is important and what options are out there that suit your survival needs.
Are emergency radios worth it?
Emergency radios are absolutely worth the investment. It is the only way to ensure you have contact with the outside world if it all goes to hell (or if your phone goes haywire or if your emergency action plan requires one).
And you can find one that fits any budget and still provide you with what you need to complete your emergency kit.
How much does an emergency radio cost?
You will find emergency radios for as little as $15. And while affordable, most perform their basic tasks just fine.
You'll like want one in the mid-range just to access some key features. Emergency radios that also work as charging stations, for instance, are going to cost around $50.
If you're looking to splurge a little, tons of radio options have bells, whistles, and can openers. But you're looking at a $200 investment. You can also look into true ham radios that allow you to speak instead of receive (if you have a license).
5 Best Emergency Radio Options To Have for Every Situation
Midland is a trusted and popular brand. The ER210 is certified by the National Oceanic Atmospheric Administration and purposefully made to be easy to use in the case of an emergency.
What we like:
The USB charger charges cell phones and other mobile devices.
The solar panel charges the weather alert crank radio fully.
Lightweight and easy to carry. (8 ounces)
What we don't:
The sole focus is operating like an emergency radio.
Some static on the AM/FM.
It doesn't have easy-to-understand instructions.
Do hand-crank radios work?
Hand-crank radios not only work, but they might be the last thing that does in the event of a disaster. But you'll likely never have to rely on forearm muscles to charge your emergency radio.
Most hand-crank radios are chargeable in a variety of ways, including micro USB cables and solar power.
At less than 20 bucks, Esky makes survival affordable with the two-in-one radio and flashlight.
What we like:
Multiple charging options – Micro USB cable, solar panel, hand crank
Pocket-sized, making it easily portable.
LED flashlight
What we don't:
The flashlight doesn't have any other mode.
No shortwave reception
No weather alerts
How long do hand-crank radios last?
A hand-crank radio has a lifespan of five to ten years, which makes it worth the investment.
The trick is to keep it dry and clean where it isn't handled so often that it gets dropped or damaged.
The Eton American Red Cross radio is specially built to receive AM/FM and NOAA broadcasts to keep you up to date on what's happening outside.
What we like:
Multiple charging options – USB charger, an integrated solar panel, manual hand crank
Lightweight – less than a pound
So much in such a tiny package- a headphone jack, LED flashlight, cell phone charger
What we don't:
It's sometimes hard to tune in to the weather stations.
The flashlight button is finicky and hard to press.
Lacks easy-to-read instructions
Part of weather preparedness is making sure that you have access to at least NOAA and AM radio for updates and alerts. ROCAM has incredible reception and makes dialing into all seven weather band stations easy.
What we like:
The SOS signal is so loud it will threaten eardrums.
Super clear and strong reception
The flashlight has a reading light mode.
What we don't:
The reading light doesn't auto shut off, which eats the battery.
It's not as durably made as other weather radio options.
The solar panel alone will not charge the radio enough to really use it.
The C. Crane Skywave weather radio has all of the bells and whistles and is easily portable, too. But, it is a hefty investment.
What we like:
Multiple charging options – a hand crank, solar panel, micro USB cable
Powerful LED flashlight
The Skywave weather radio has an attached aluminum carabiner loop and a bottle opener.
What we don't:
It could have better battery capacity. (800mAh battery)
Super expensive
Soft muting feature that affects ease-of-use
Manual hand cranks are great to have, but so are solar panels. It may save you manual labor during a disaster by relying upon the sun to do a little work.
What we like:
The battery capacity of 5000 mAh
Radio, power bank, flashlight, SOS alarm
USB power source
What we don't:
It takes a bit of time to charge.
It lacks a bit of ease-of-use
Reception could be better.
What should I look for in an emergency radio?
Your emergency to-go bag will always reflect the specific needs of you and your family. The same goes for the emergency radio you choose to stock it with.
But there are a handful of things everyone needs to consider when choosing an emergency radio.
Power Sources
Of course, you will want a radio with a manual hand crank option. You may be the only power source in a worst-case scenario.
Some emergency radio options can use AAA batteries, but that assumes you have a stockpile. So, ideally, you will want one with a rechargeable internal lithium-ion battery (that is safely installed).
The top radios offer more charging options, including micro USB cables, adapters, and solar panel charging.
The Types of Alerts
At the very least, you want an emergency radio with the ability to tune into AM/FM stations and the US NOAA weather radio. It is the only way you will receive weather and natural disaster updates.
Specific radios automatically stay on standby mode, which will alert you automatically about inclement weather in your region. Generally, radios with this feature can be paired with Area Message Encoding (SAME).
What is the SAME standard for emergency radios?
SAME technology allows some receivers that will enable them to give alerts about where you are located. Now, a lot of people opt not to use this feature for privacy reasons. But, it can turn out to be something useful in an emergency.
The most general SAME code will be your country code. You don't want weather alerts from across the world because – annoying.
Emergency Features
When you can get multiple tools in one, it's worth the investment most of the time.
The vast majority of emergency radio options will also have an LED flashlight that doubles as a reading lamp. When the electricity goes out for any reason, a hand crank radio with a flashlight may be your only light source.
On the pricier end, some radios will act as a charging bank for other devices such as cell phones and tablets.
Look at the Labels
The easiest way to avoid getting a crappy emergency radio is to check out the labels. We will translate all of the acronyms without you having to use some sort of cipher.
NOAA (National Oceanic and Atmospheric Administration)
NOAA has seven different channels they use to broadcast in North America. The NOAA Weather Radio All Hazards logo signals that the emergency radio is certified to receive alerts from several agencies.
IPAWS (Integrated Public Alert and Warning System)
The FEMA (Federal Emergency Management Agency) maintains the IPAWS system. It is used for very specific warnings.
Imminent threats
Presidential pronouncements
FEMA uses frequencies 14220-14222 and 14228-14230 kc bands during the first thirty days of any civil defense emergency.
NWR (National Weather Radio)
National weather radios pick up regional broadcasts that transmit weather-related information 24/7.
EAS (Emergency Alert System)
EAS broadcasts news regarding national emergencies as well as regional alerts.
The Public Alert label on an emergency radio means that it was developed by the Consumer Electronic Association in partnership with the National Weather Service.
EAS operates across seven VHF frequencies between 162.400 MHz and 162.550 MHz.
All of the Extras
Flashing light. A flashing light is helpful when trying to flag someone down on a dark night. A lot of the emergency radio options have a flashlight. But it only blasts LED brightness.
Speaker options. During an emergency, sleep is an integral part of survival. You may want to look at radios with headphone options, so whoever is on the watch can monitor while everyone else rests.
Listener language options. It allows you to listen to broadcasts from around the world that aren't in English.
Digital clock. How else will you know what time it is day 100 of the Apocolypse?
Waterproof case. You want an emergency radio that survives extreme weather conditions, including rain and flooding.
Durable case. If you drop it forty times, you want it to survive all forty times.
How long does an emergency radio keep its charge?
A fully charged hand-crank radio can last upwards of ten hours. The best emergency radio with a hand crank allows you to use supplemental power sources.
USB adapter
Solar panel
AAA batteries
Hand crank
Warranty
It's always good to get a warranty on any equipment, especially if you've invested a good chunk of cash in it. Most emergency radios offer a 1-year warranty, and some even come with a lifetime policy.
Check in with your radio every once in a while to ensure it's working correctly for your safety and to take advantage of the warranty if it's not working right.
Regular Radio Vs Emergency Radio
Regular radios will receive updates from the NOAA, but they will not likely give 24/7 constant weather updates. And, the radio station antenna can take damage and go down.
An emergency radio doesn't work that way and will continue transmitting when everything else goes down.
How do emergency radios work?
Most emergency radios double as weather radios. It means they stay tuned into NOAA weather radio stations to keep up with updates about weather, natural disasters, and other horrible things.
Picks up AM/FM radio stations, shortwave, aviation, etc. You can't communicate back, but you can hear live and reliable sources relay vital information during an emergency event.
Your emergency radio can send an SOS signal. While you can't transmit a verbal plea for help, most radios can send an SOS signal when paired with SAME.
You can use an emergency radio during an event without a license. One-way incoming communication is a cheap and easy method of accessing critical information without obtaining a ham license or public radio training for two-way.
Tips for Using an Emergency Radio
You've bought the emergency radio and added it to your bug-out bag. But there is more to it than that.
The radio needs to be stored in an airtight and waterproof case. Even minor damage while being stored can keep it from working when you need it the most.
If it needs batteries, make sure you have plenty, and it is also stored safely. Keep up with expiration dates, too.
You will want to check and make sure it works every so often. Always check the radio before you go camping or hiking.
Read the instructions and make sure you know how the emergency radio works. Every radio works differently, and some are more complicated than others.
Always have an emergency plan. Show your family how to use the radio in case you aren't there during an emergency.
FAQs about Emergency Radios
Do I really need an emergency radio?
Extreme weather events aren't the only emergency that can happen. An emergency radio will keep you updated on non-weather disasters and other emergencies.
We rely on electric grids and other technology so much that we often don't stop and consider what to do when it all goes down. Buying a $20 emergency radio makes you more prepared, even if nothing ever happens.
Who makes a good emergency radio?
Founded in 1959, Midland Radio started producing quality emergency radio options. The company remains the most trusted and popular brand and is in home emergency kids worldwide.
What's the best hand-crank emergency radio?
You will find the Midland ER210 Weather Alert Crank Radio on nearly every product review list and with good reason. It's lightweight and gives static-free access to shortwave signals and weather alerts.
What is the best emergency radio out there?
The best emergency radio out there is the one that suits you. Your top radio could be $15 and perfect for your emergency kit. If you're looking for one with all the bells and whistles, the C. Crane Skywave SSB AM, FM, Shortwave, NOAA Weather + Alert works like a radio, a flashlight and has a can opener. 
How far will a shortwave radio reach?
One of the coolest things about shortwave radios is that you can listen to channels from thousands of miles away. You can listen to someone broadcast from an entirely different continent at any point.
Do solar panels require direct sunlight to charge?
Solar power does require contact with direct sunlight. But only to charge up. Solar panels absorb energy from the sun and convert it to power so you can use your emergency radio when it's dark.
When fully charged, solar panels can offer fifteen hours of sunshine without having any sunlight for eight hours.
Where should you put an emergency kit at home?
You want your emergency kit where you can get to it in a hurry but still keep it secure and dry.
A first-floor closet will be your best bet for storing it. Basements and attics are two of the first places affected by disasters.