Extreme heat is gross and exhausting. And it feels just about impossible to escape the scorching temperatures.
Let's look at what you can do on a 100-degree day and ways to sidestep the heat.
Is 100 degrees too hot to be outside?
While it's not always possible, you will want to avoid going inside and exposing yourself to temperatures above 90°F. So, absolutely, 100 degrees is too hot to be outside.
What to do in 100 degree weather?
It may feel hopeless in the sweltering temperature, but there are ways that you can beat the heat at least enough to get through it.
Wear the right clothes.
Loose and white are the rules of thumb when dressing for high temps. Hot days are typically sunny, and dark clothes suck that warmth up. Tight clothes naturally don't allow you to sweat as much as you need to to keep cool. Cotton and light colors
Stick to light colors and linen or cotton-like fabrics when it's 100° outdoors.
Sun-protective clothing
The heat isn't the only danger on insanely hot days. You want to protect your body as much as possible from UV rays. Tightly woven fabric or synthetic fibers like polyester and rayon work as natural sun-blocking clothing.
Umbrellas are cool accessories in more ways than one, too.
Throw on some sunglasses.
Sunglasses have the benefit of being functional and fashionable. Throwing a pair on before you go outside will protect your corneas from heat and UV rays.
You will want to invest in a pair that blocks 99% to 100% UVA and UVB rays.
Don't forget your head.
Find a hat matching your sunglasses to keep the practical but pretty theme going. Wide-brimmed caps prevent UV rays from reaching your sensitive face. The recommended brim or brill size is at least 3 inches wide for adults and 2.5 inches for infants and toddlers.
Heat also enters at the top of your head, making hats much more critical. You don't want to get stuck outside on a 100-degree day with some head protection.
Sunscreen
Sunscreen is necessary for short-term and long-term health, especially your skin. Anytime you're outdoors, you want to use sunscreen with an SPF of at least 30. For days spent at the pool, use higher-rated and waterproof sunscreens.
Apply sunscreen thoroughly to your nose, ears, shoulders, and the back of your neck. For lip protection, use an SPF-rated lip balm or chapstick.
Stay hydrated
The most significant danger of going outside on a 100-degree day is the threat of dehydration. Not drinking enough water does more than make you thirsty. Dehydration can cause organ failure and become fatal.
Sip water throughout the day.
Go with sugar-free juices.
Avoid alcohol
Eat the right stuff.
Some food has natural properties that keep you cool on a 100-degree day.
Fresh and frozen produce (watermelon, strawberries, gazpacho, tomatoes, coconut water)
Spicy food (salsa, cayenne pepper)
Low-fat & low-salt meals
Ice cream
Play in the water.
The kids are home during the summer, and when the heat keeps you locked inside, things can start to feel crazy. Slather the kids with high-quality sunscreen and turn on the water hose and sprinkler.
Water balloons and water guns add another layer of fun and much-needed relief from the heat.
Not in the mood to get soaked? Fill up a spritz or spray bottle and keep your face and neck damp.
Know when to stay out of the sun.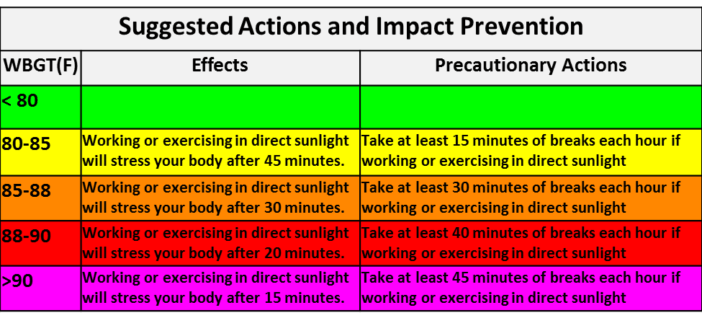 During the peak hours of sunlight, the temperature and UV rays are at their worst. You will want to avoid going out between the hours of 10 am and 2 pm.
If you have to go out during those hours and overheat, get inside, drink water, eat a bite, and cool down. Sometimes, you may want to take a quick nap to refuel.
What to do when it's too hot outside?
Sometimes, regardless of the precautions you take, going outside in dangerous temperatures isn't possible. (Unless you have no choice.)
But taking a day to stay in isn't all that bad if you make the most of it.
Watch a movie set in a cold environment.
Make some cool and fabulous mixers.
Chomp on ice.
Cold showers will cool you off.
Throw a cold or frozen towel on your head or neck.
Make a snowcone.
Don't leave the couch.