What You Need to Know About Buying a Home Freeze Dryer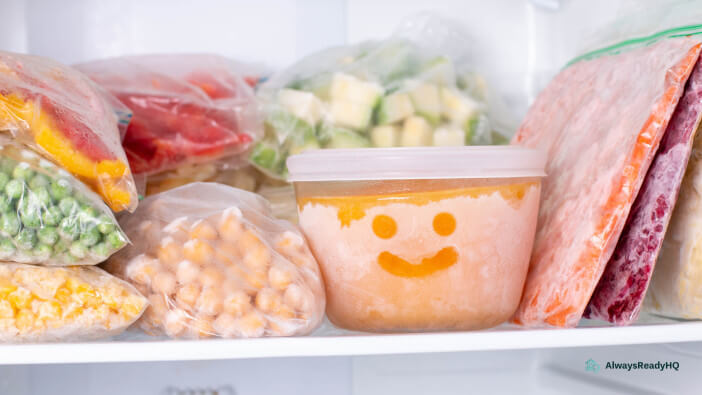 I'm always looking for new ways to store food for the long-term. Having a reserve of food on hand is a great way to stay prepared when the power goes out for a couple of days or more serious natural disaster strikes. One thing I have been thinking about a lot lately is using an at home freeze dryer to prepare food for storage.
There's a lot of misconceptions out there about having an at home freeze dryer and I wanted to clear things up. I'll be covering everything from the basic science behind freeze drying all the way over to the best foods for freeze-drying at home. 
Let's go over everything you ever wanted to know about freeze-drying food at home.
Disclosure: This site earns commissions from listed merchants at no cost to you. Thank you!
What is Freeze Drying?
Freeze drying, or lyophilization as it's technically known, is a way of dehydrating food without destroying color, texture, or nutritional value.
Free drying first freezes food and then uses the process of sublimation to remove water. This leaves behind food that can be stored for much longer than fresh, or even conventionally frozen, foods.
Most home food dehydrators heat food during the dehydration process, but this can change the color, flavor, and texture of the final product.
A freeze dryer leaves food largely intact. This means you can still get great culinary and nutritional value out of well-preserved foods when you freeze dry.
Freeze drying got its start as an industrial process. This was used to create novelty foods, like astronaut ice cream, and to preserve foods for sale or use at a later date.
However, home freeze drying is emerging as a popular alternative to other home preservation
How Does a Freeze Dryer Work?
A home freeze dryer works in the same way that a commercial freeze dryer operates. In a basic sense, a freeze dryer rapidly freezes a food product and then creates a vacuum that allows it to remove water through the process of sublimation. This occurs in three separate steps.
Freezing Phase
The freezing is the most important step in the entire process. A freeze dryer rapidly lowers the temperature of food so that large ice crystals can't form.
Large ice crystals destroy the cell walls of food products and render them mushy and jeopardize their texture and nutritional value.
By freezing foods rapidly, ice crystals stay small which preserves the quality of the final product.
A freeze dryer takes the temperature of food far below what a conventional refrigerator or freezer is capable of. This is necessary to achieve the near total dryness that we see with freeze-dried products.
Primary Drying—Sublimation
I know I've mentioned sublimation a few times, but this is really what makes freeze drying so unique.
Sublimation is the scientific term for when a solid converts directly into a gas without entering its liquid state.
In our case, your freeze dryer is turning ice crystals directly into water vapor without them ever melting. This allows the freeze dryer to extract the moisture from the food you're trying to preserve.
Sublimation is achieved by freeze drying thanks to the vacuum that these devices create. The now frozen food is in an airtight vacuum which lowers the pressure causing the ice to instantly vaporize. The freeze dryer will then extract the water vapor leaving the food mostly dry.
This process removes most of the moisture from the food, but it's not entirely dry by the time the sublimation process is complete.
Secondary Drying—Absorption
This is the final phase of the freeze drying process. No matter what make and model of freeze dryer you ultimately purchase, it's sending food through all three of these phases in order to get it completely dry.
This phase heats the food back up. As the food heats, the freeze dryer is extracting any remaining water vapor. Freeze dryers are capable of trying foods to 1 to 5% residual moisture levels.
How Much Does a Freeze Dryer Cost?
Talking about the cost of a freeze dryer gets a little complicated. Freeze dryers are now available for home use, but this is still a new technology to see in the home.
This means that we're paying a premium to get cutting-edge technology to help us prepare foods for long-term storage.
The cost of a home freeze dryer is largely dependent on the volume of food that it can dry in a single batch.
A home freeze dryer that can dry less than a gallon of food at a single time typically costs around $2,000 to $3,000.
There's always some give-and-take when it comes to features, branding, and the overall reputation of the freeze dryer in question.
However, that $2,000 benchmark is the floor for a high-quality freeze dryer that you can use at home. One thing to keep in mind is that the cost of a freeze dryer only goes up from here.
The next step up is a freeze dryer handles a greater volume of food. If you're looking for something that can handle the volume of 3 gallons, which comes out to several pounds at a single time, you are looking to spend somewhere between $5,000 and $7,000 on this freeze dryer.
Then there's always the option of having a commercial freeze dryer in your home. Now, this isn't a factory level freeze dryer.
These are freeze dryers that are aimed at small food and beverage companies rather than industrial level use.
These freeze dryers are capable of handling high volumes and frequent use. They can dry up to 30 pounds of food at a time, and they're expected to run multiple times in a single day without having mechanical problems. These freeze dryers will run you up to $30,000.
Best Home Freeze Dryers for Any Situation
One thing I always mention when people shop for the best all-around freeze dryer is that this is a new technology. Remember when personal computers, smartphones, and laptops first hit the market?
They all cost thousands of dollars more than they do today. The same will likely be true about freeze dryers as they get more popular.
If you're looking for the best home freeze dryer for any situation, there's really only one game in town.
Harvest Right is a company that moved freeze dryers into the home appliance market. These are, essentially, lightweight commercial freeze dryers with an "at-home" style upgrade.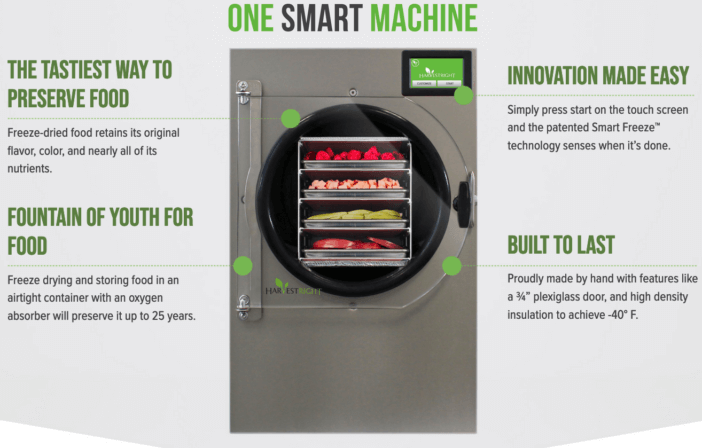 Harvest Right offers three different brands of their home freeze dryer. They have a small, medium, and large version.
Each of these is identical except for the volume of food that can be freeze-dried in a single time or over the course of a year.
The small freeze dryer handles 4 to 7 pounds of food per batch which comes out to 860 pounds per year.
The medium model does 7 to 10 pounds per batch and 1,450 pounds per year. Their largest home freeze dryer can handle 12 to 16 pounds per batch and a whopping 2,500 pounds per year.
The small and medium freeze dryers are ideal to fit on your countertop. It might be a little bit larger than some of the countertop appliances you're used to, but they can fit pretty well in a medium-sized kitchen.
The largest freeze dryer offered by Harvest Right could still fit on a countertop, but it might be better off in a kitchen that has a little extra room.
Is Buying a Freeze Dryer Worth It?
This is a question I get all the time. People are always looking for new ways to improve their home preparedness and freeze dryers are at the top of the list. This could be a great way to help improve your food reserves, but is it worth it?
I think freeze dryers are a great choice providing that you have the extra cash, the storage space, and you like cooking with freeze-dried foods.
I'll go over three big reasons why you should get a freeze dryer and the one big reason why people should think before making this purchase.
You Do a Lot of Freeze Drying
If you're planning on doing a lot of freeze-drying, then buying your own freeze dryer just makes sense.
You can have this appliance in your kitchen just like you have a microwave or a blender. Freeze drying is arguably the best way to preserve food for the long term and taking care of it yourself will save you money over the same length of time.
Buying freeze-dried food out right can be expensive. Especially for things not commonly available like freeze-dried mushrooms or mixed produce.
Getting your own freeze dryer is a great choice for people who love freeze-dried food.
Independent Freeze Drying
Having your own freeze dryer also gives you an extra layer of independence. This is a great choice for people who are looking to live an energy independent lifestyle.
This gives you a way to keep food preserved in the event of a disaster. If you have your own power supply, you'll now have a way to keep food preserved for yourself, your family, and even your neighborhood if you get one of those larger models of freeze dryer.
This is an indispensable resource for handling a wide number of catastrophes.
No matter what difficult situations we face, we need food, water, and shelter. Having your own freeze dryer is a great way of ensuring that you can keep food safely preserved even after access to commercially prepared frozen foods shuts down.
Freeze Drying Your Own Foods
I mentioned just a bit ago that some freeze-dried foods aren't as common as others. Sure, you can head to your local store and find some options for freeze-dried fruit, but it's a lot trickier to find other freeze-dried produce.
At home freeze-drying also helps with another problem that all of my friends who garden have to deal with. Inevitably, you're going to grow more produce than you can handle on your own.
Freeze-drying gives you a way to preserve these foods whether you're looking to give them to families and friends down the road or you want to add them to your food reserves.
One Big Reason To Avoid Buying a Freeze Dryer
There is one big thing that you should consider before buying a home freeze dryer.
You should consider whether or not you even like freeze-dried food when making this purchase. This might seem a little silly, but there are plenty of people who rush into new trends without considering the basics first.
Part of preparedness is having a realistic plan and if cooking with freeze-dried food just doesn't work for you, having your own freeze dryer is going to take up valuable financial resources that you could be using elsewhere.
Here's my recommendation. Buy some freeze-dried food and see if you like it. You can get freeze-dried food that you're meant to snack on without cooking and freeze-dried food that you have to cook before you enjoy.
Try both options and see if it's right for you before committing to an at home freeze dryer.
How Long Do Freeze Dryers Last?
There's good news when it comes to how long a freeze dryer lasts. This good news largely comes from the fact that freeze dryers are still mostly industrial technology that are just making their way into home use.
When you buy a freeze dryer, you're getting a machine that's designed to stand up to laboratory and food and beverage industry standards.
This isn't a big box store branded microwave that's going to run down in a year and a half. It's an industrial machine and that can last for decades.
The general wisdom seems to suggest that at home freeze dryers will last summer between 10 and 15 years. With that said, you can find plenty of stories of laboratory and industrial freeze dryers lasting for decades before they completely break down.
You will need to service and maintain your freeze dryer. You can think about this like any other large appliance.
Every now and then, you need to call an appliance repair technician to come and fix your washer and dryer. The same is going to be true for your at home freeze dryer.
Then there's general wear and tear we need to consider. You're at home freeze dryer is going to break down much quicker if you're using it every single day.
Freeze drying cycles can last between 24 and 36 hours. Continuous running of your freeze dryer could run it down quicker, but it's also what your freeze dryer was built to handle.
Is Freeze Drying Food Safe?
There's a lot we need to unpack when we're talking about the safety of freeze-dried food. It's not as straightforward as whether or not freeze drying is safer than canning, salt drawing, or other means of preservation.
We need to look at freeze-drying on its own and determine whether or not this process creates food that can be safely stored for the long term.
Let's unpack a few of the big questions around the safety of freeze-dried food.
How Long Does Freeze Dried Food Last?
Now this is one of the toughest questions. You're going to get different answers depending on who you're asking when it comes to how long freeze-dried food lasts.
This simply comes down to a quick technical look at what happens to food during the freeze drying process.
Here's the reason why freeze-drying works. When you remove nearly all of the water content from food, bacteria, mold, and fungi can no longer grow in that food.
Those three common types of spoilage all need water to ruin our food. This means freeze-drying creates food that is incredibly resilient.
On the whole, properly stored freeze-dried foods can last for up to 25 years. They might even last longer given ideal storage conditions. However, it's those ideal storage conditions that we need to talk more about.
How To Store Freeze Dried Food
We just talked about how freeze-drying is so successful because it removes the water from food, but what happens if the water gets back in?
Improperly stored freeze-dried foods can spoil almost instantly. Freeze-dried food left in the open-air on a counter spoils slower than its fresh counterparts, but it will still spoil. This is because water is reintroduced from the air into the freeze-dried food.
Unlike other methods of food preservation, freeze drying does not kill or remove bacteria, mold, or fungi.
Those potential sources of spoilage are still inside the food, but they can't do anything because the food has been completely dehydrated.
In order to successfully store freeze-dried food, it needs to be in an airtight container. You can use plastic storage, mason jars, or any other type of storage so long as it remains entirely airtight.
This prevents water from being reintroduced to your freeze-dried foods and halts the spoilage process.
You can think about it this way. Your freeze-dried foods are aging in ultra slow motion compared to their fresh counterparts.
You're going to want to regularly inspect your freeze-dried foods for signs of spoilage. Here's how you can tell if a freeze-dried food went bad.
How To Tell If Freeze Dried Food Went Bad
Freeze-drying isn't a perfect system. It still requires proper storage and can spoil if the conditions are wrong.
There's a few important things you need to look out for to make sure that freeze-dried food is still fresh and good to eat.
I'm going to start off at the most obvious sign of spoilage first. If you see any mold or fungus growing on your freeze-dried food, then it's gone bad.
This means that water was reintroduced at some point, and it was just enough for fungus to start growing on your food.
This can look like a white or green fuzz growing on your freeze-dried food or if they could even start to sprout little mushrooms over time.
It's best to play it safe and throw away the entire container rather than trying to dig for any food you can salvage.
There's another obvious sign that your freeze-dried food has gone bad. If your freeze-dried food is starting to ooze, sweat, or liquefy, it's going rotten. This is a sign that cellular decay is happening inside the frozen foods.
This is likely because there was a problem during the freeze drying process and a lot of the internal water was not successfully removed. This also might be a sign that your at home freeze dryer is in need of some professional surfacing.
Then there's a few harder ways to tell that your freeze-drying food has gone bad. The first of these is a changing texture.
Freeze-dried food should be crisp and snap easily. If your dried food feels rubbery, or has had its texture change from what you're used to, this could be a sign that it's gone bad.
One thing I'm always reminding people is to trust your gut instinct and your senses. Our sense of smell and taste gives us plenty of information about the quality of food.
If something smells off or tastes off about your freeze-dried foods, why risk it?
Is Freeze Drying Food Healthy?
There has been a lot of research into the nutritional value of freeze-dried foods. The science suggests that freeze drying your food preserves around 90% of its fresh nutritional value. This puts it ahead of traditionally frozen foods when it comes to nutrition.
Freeze drying preserves vitamins and minerals by not damaging the foods. Food is damaged during cooking and preservation through heat or freezing which destroys the cell walls.
Freeze drying, on the other hand, leaves your food completely intact. This means fewer nutrients are lost in the preservation and storage process.
Advantages of Freeze Drying
There are plenty of advantages to consider when it comes to freeze drying your food at home.
The biggest advantage with free drying this home is that this can handle a wide variety of foods. Freeze drying at home handles low acidity foods, dairy, and eggs.
Those are three types of food that traditional preservation methods struggle to handle safely.
Freeze drying at home also preserves the natural qualities of the food and where other storage methods just don't.
This includes preserving the taste, nutritional value, and ease of cooking that you don't get with other preserved foods.
Even though the start-up costs are pretty high, an at home freeze dryer can actually save you money in the long run if you dry enough of your own food.
Here's a quick rundown of all of the advantages of freeze drying at home.
It's easy to use these new at-home freeze dryers. Most have smart interfaces and beep when they're done like a microwave
Freeze drying preserves dairy and egg products which traditional storage can't handle
It's very easy to store freeze-dried foods
You'll retain most of the food's original nutritional value
The food will taste, and cook, very similar to its fresh counterparts
Freeze drying at home saves you money in the long run if you go through bulk freeze-dried foods fairly often
Disadvantages of Freeze Drying
Freeze drying is not without its disadvantages.
The biggest disadvantage with freeze-drying is the machinery itself. Freeze dryers are very expensive and require a large, upfront financial commitment to get started. Freeze dryers are also large machines that require considerable countertop space.
Your at home freeze dryer is also going to be just about as loud as your vacuum cleaner, and it needs to run for 24 to 36 hours in a row to freeze-dry a batch of food.
Then there's the food itself to consider. Cooking with freeze-dried food isn't exactly commonplace and that means that you'll be going through a lot of trial-and-error to use those free dried mushrooms just like you would other fresh mushrooms from the store.
You can always eat freeze-dried food raw, but some people find that freeze-dried texture to be a little off-putting.
The last big drawback is that freeze-drying is the single most energy-intensive way of preserving food. It gets amazing results, but you're definitely going to feel it in your electrical bill.
Here's a quick rundown of the biggest disadvantages to freeze drying at home.
The equipment cost is very high
Freeze dryers are about as loud as a vacuum cleaner while running
Cooking with freeze-dried foods isn't common and requires a lot of trial and error
The texture of freeze-dried foods, until cooked, can be off-putting to some
Not everything can be freeze-dried
A freeze dryer also consumers far more energy than other preservation methods
What Types of Foods Should You Freeze Dry?
The last thing we need to talk about is the types of food you can freeze dry. You'll be surprised at the wide variety of foods that can handle the freeze drying process.
Nearly everything we eat on a day-to-day basis can stand up to freeze drying, but there are a few important foods that just don't work for this preservation method.
Let's start by talking about all the things that do work with free dry including a few that might surprise you.
Freeze Drying Fruits
Freeze-drying is an excellent way to preserve fruits. In fact, most of those dried fruit mixes that you can find at the store have been freeze-dried. This works on everything from whole blueberries all the way over to sliced bananas.
Freeze-dried fruit also stores very easily. You just need to make sure the container is airtight and your freeze-dried food can last you for literal decades.
These fruits can even be used in recipes later on if you reconstitute them with a little hot water.
Vegetables for Freeze Drying
Freeze drying was practically made for vegetables. One of the biggest problems with storing vegetables is that the cell walls can be damaged by storage methods.
This can compromise everything from nutritional value to flavor, but freeze-drying leaves everything intact.
You can use freeze-dried vegetables in recipes and cook them later on, or you can just snack on them raw.
The only downside is that freeze-dried vegetables retain most of their original size and shape which makes storing them much more challenging and then storing other preserved foods that can be compressed.
Can You Freeze Dry Meat?
This is one of the questions I could ask all the time about freeze drying. Can you freeze dry raw meat?
You can freeze dry raw meat as well as cooked meat products. Freeze drying works for beef, pork, poultry, and fish. This is an ideal way to store just about any kind of meat product.
You'll need to make sure that the storage method that you choose is particularly secure. Freeze-dried meat products are more prone to spoilage than other products (see notes on Spam for example).
You need to make sure that they are stored in a way that has a low oxygen count as well as a moisture tight container. This prevents these foods from spoiling during storage.
Freeze Drying Eggs and Dairy
Freeze drying is one of the few methods that can handle preserving dairy and egg products. There are few dairy products that cannot handle the freeze drying process, but we'll talk about those in just a little bit.
For now, it's enough to know that you can freeze dry everything from eggs all the way over to milk.
The question about freeze-drying dairy always comes back to the topic of cheese. I've got great news for you cheese fans out there. You can freeze dry just about any kind of cheese to preserve it for the long term.
Juice
Yes, you read that right. You can freeze dry juice.
Orange juice, apple juice, and other fruit and vegetable juices are ideal candidates for freeze-drying. They'll be reduced to a firm, chalky powder that you can reconstitute later using water.
This doesn't spoil any of their flavor and allows you to have an instant juice mix on hand whenever you'd like.
While I'm on the topic of juice, you can freeze dry soup. This might sound counter-intuitive, but it actually works out really well.
When you freeze dry soup, you reduce it to a powder that can be reconstituted with hot water. This is the best and healthiest way to make instant soup at home.
Complete Meals
You can even freeze dry complete meals and leftovers. You just need to make sure that all of the components of the meal are candidates for foods that you can freeze dry. You also have to consider your storage options carefully.
You can buy containers that allow you to freeze dry your meals together, or you can freeze dry the components separately and store them individually to be recombined later.
What Not to Freeze Dry?
Now we need to talk about a few of the food products that do not freeze dry well at all. Some of these cause an issue when it comes to food storage, but most of them honestly don't need freeze drying.
I'll start off at the one I get asked about the most. People seem to be curious about whether or not you can freeze dry honey, but as it turns out, honey just doesn't need it.
Honey is packed with plenty of natural preservative power which means that it can last on a shelf nearly indefinitely. You just do not need to freeze dry honey in order to safely preserve it for long-term use.
Remember a little bit ago where I mentioned that there was a dairy product that can't be freeze-dried? Butter does not stand up to the freeze drying process very well.
This is because butter is packed with plenty of natural fats and oils and those love holding on to moisture. Freeze drying just can't remove enough moisture from these products to safely store them.
This leads us to the next category of products that can't be freeze-dried. Anything with too much oil won't be able to stand up to freeze drying.
The freeze drying process removes the water, but not the oil. This creates products that are not safe for long-term storage and will just create a mess in your freeze dryer.
The last category of foods that can't stand up to freeze-drying are nut butters and chocolate.
Peanut butter, almond butter, and other nut butters are just too full of healthy oils for the freeze drying process. Chocolate, as delicious as it is, also has the same problem where it is too oily and fatty to be successfully freeze-dried.
How To Rehydrate Freeze Dried Food
We talked about a lot of freeze-drying topics, but now we need to talk about how to rehydrate the food that we've dried.
This is a key part about cooking with freeze-dried foods. While you can enjoy them as a nice crunchy snack, you also might want to rehydrate them for cooking.
Veggies
Did you know that you don't even need to rehydrate your veggies to enjoy them? Freeze-dried veggies are a great candidate for dusting with some salt and spices and enjoying as a nice crunchy snack. It's a healthy alternative to a lot of those big bag chips that leave you feeling weighed down and tired.
You also might not need to do anything specific to rehydrate your veggies. If you're making soups, stews, or even chili, all you need to do is put your freeze-dried vegetables into the pot, and they will naturally rehydrate with some of the juices in your meal.
You might need to add some extra to compensate for the oyster that these vegetables will soak up.
Leafy greens require specific treatments to get them to reconstitute. All you need to do is lightly mist them with water and then place them in a sealed Ziploc bag.
They should naturally reconstitute in a few minutes to a few hours depending on the greens we are talking about.
Fruits
Fruits are also a great candidate to just eat raw and freeze dried. You can even smash them up and sprinkle them on meals like oatmeal, yogurt, and other breakfasts.
You can reconstitute freeze-dried fruits by soaking them in water. All you need to do is fill a bowl with warm water and place your freezer dried fruits inside the bowl.
They will slowly start to reabsorb water and will be fully reconstituted in just a matter of hours.
You can also reconstitute them using the method we talked about above with vegetables. You can throw your freeze-dried fruits into a recipe and just compensate by adding a little bit extra liquid to offset the liquid that these fruits will absorb.
Other Freeze-Dried Foods
Reconstituting other freeze-dried foods is going to depend on how you want to use them.
If you're reconstituting juices, soups, or milk, all you need to do is add some hot water and stir until your food is reconstituted. This might be best served with lightly simmering water on a stove top.
Red meat is some of the hardest food to reconstitute. You'll need to have water lightly simmering so that you can get moisture deep into the tissues of the meat without cooking it any further.