Home safety is important, and no matter how low crime drops, that concern is still omnipresent. Even homeowners or renters in a small town feel these concerns, logical or not.
However, just because you want to be secure, does not mean you need to be paranoid about it. There are steps that you not only can take, but should take, to improve apartment door security.
10 Proven Strategies for Increasing Apartment Door Security
It is important to know that a lot of the strategies are written with inward-swinging doors in mind. So if your door is outward-swinging (usually an inside door), be mindful of that.
Talk to your landlord
Honestly, this is the first thing you should do in any apartment. No matter your opinion on landlords, the fact is, you have to be able to rely on them. This is no less true for your apartment's safety than anything else.
Depending on your landlord, they may be more or less willing to be open with you about apartment security.
Talk to your landlord about the kinds of measures they take to deal with security issues.
Do they have a security system?
If so, do they have camera surveillance?
If they have cameras, where are the cameras pointed?
What kinds of locks do they install into their apartment doors?
These are just a small handful of questions you should ask your landlord. You may worry that these questions will be annoying.
till, if you're paying them money, they owe you their time. Don't go out of your way to annoy, but if they get annoyed by you asking questions, it sounds like you have a bad landlord.
Beyond the actual security measures taken, you should also ask what crime is like in the area. Not just in the apartment, but also for nearby areas.
If there is a nearby convenience store, do they know if this store gets hit by robberies relatively often? Is there much in the way of drug dealing going on in the area? Based on how much crime near the apartment, you can assume that there's some risk of crime.
Install extra locks
This is a security approach that everyone should use. Not only is it not very expensive, but it's a simple process to get done. Let's say that someone tries to pick the lock on your apartment door.
If you only have one lock, that's the only barrier they have to get through puts the safety of you at risk. By having a deadbolt installed, a thief is not able to simply use a screwdriver to get into your apartment.
You may also want to look into extra security, such as a strike plate to make your deadbolt even more secure. If your door does not have a deadlock, talk to your landlord about getting one installed.
A less common option is to invest in a keypad lock. This kind of lock uses a customized password to unlock the door. This means that most people would have to have that knowledge to actually unlock the door.
Another option would be to use a smart lock, which you can unlock using a phone linked with the lock. These kinds of locks do use batteries, so make sure that you keep up with the charge.
One of the simplest solutions to keeping your home secured is to use a chain lock. This lock prevents intruders from entering without significant effort. This is great for when you are at home, because they will not be able to get in without making a ruckus.
Sash jammers
These are simple devices that screw into your door frame. Despite how simple they are, they are still an important asset in home security.
Far from it, in fact, and they create an extra layer a thief would have to get through.
Anyone trying to get in would have to take off the whole frame (or tear it from the frame) to gain entrance. And if I had to guess, that's not a very likely outcome.
Door braces / Security Bars
These tools are the equivalent of propping a door in front of your door under the knob to prevent entry. You can get portable ones, which is nice for when you're staying at a hotel.
If you're looking for a more permanent option, you have… well, options. You could, for example, install a security bar for your door. This kind of security system is an age-old one, and while you don't see it often, it's still excellent.
All you need is to install a pair of brackets on either end of your door, and put a secure bar through them. In doing so, a thief would have a heck of a hard time breaking in. This kind of installation could be a simple D.I.Y. job.
All you would need is a solid piece of wood or metal, a pair of brackets, and some screws. Yet, unless you are confident in your D.I.Y. skills, leave any installation up to a professional.
A more complicated option is to get floor bolt locks. These do a great job to provide more security on the lower part of the door, which may be lacking. The lock goes into the floor, which provides a lot of apartment door security.
What this means is that in order to break down the door, they either have to break it from the top (difficult), or break the floor or lock (even more difficult!).
Check the wood quality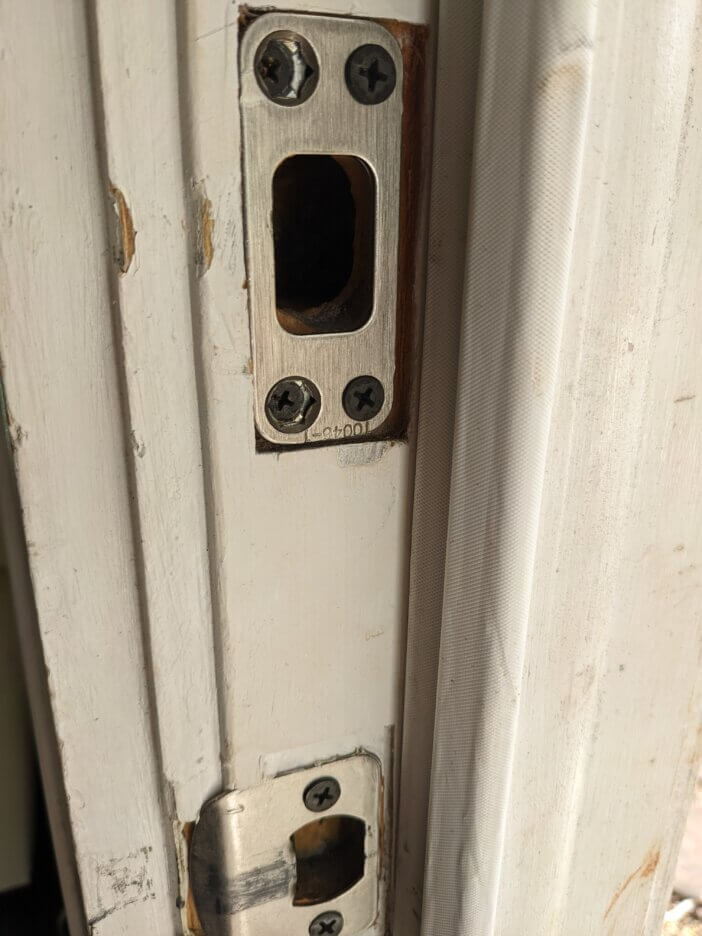 This is often a thing that people completely miss out on when securing their apartment. A lot of apartments are in dire need of upkeep, often in ways you don't even realize. Perhaps the door seems secure, but how good is the door frame?
Any number of problems could be affecting it. The wood could be old, or there could even be mold that is weakening the wood. If either of these are the case, your landlord has an obligation to hire a specialist to fix the problem.
Even if you can't repair the door frame, you can easily swap out the screws. Many jambs have 1 1/4″ inch wood screws. Go to your local hardware store and buy some 3″ or 4″ screws that will screw through the jamb into the actual wall studs.
Invest in a security system
One of the best ways to improve your apartment door security is to invest in a security system. A good apartment should have it already, but what should be isn't necessarily what is. There are many types of security systems you may consider.
Systems work by detecting certain abnormalities in your home. For example, a broken window is an obvious concern, and will thus alert you in some way or another.
A common method of alert is to set off an alarm, which is usually a good solution. It alerts you while deterring a home invader from going any further.
Depending on the system, it may also send a report of the incident to a monitoring service. For instance, if it detected a broken window, it alerts a monitoring company.
Once alerted, they will send the proper authorities to help. In this case, they would call the police (given your prior authorization to do so).
Security systems also track other issues. If a fire alarm goes off, the security system will inform the monitoring company. Then, they will alert it to emergency services, who will send fire fighters to the location.
This is especially important, as a fire in one apartment may grow to a whole building fire. Monitoring systems either get a hold of a company, or they get a hold of you. Self-monitored systems are cheaper, and easier to install and uninstall than company-monitored systems.
Wireless systems are a great fit for an apartment, especially if you won't be there long. This is because they need only little effort to install or uninstall.
That means you won't have to make much effort to take it with you when you do move. You don't even have to drill any holes in the wall to get this set up! Plus, if someone does get in, they can't disable the system by cutting wires.
The major downside of wireless systems is that interference is possible. You would do this by signal blocking with large objects, or electrical interference. You also run the risk of someone hacking your security system, though there are ways you can avoid that.
Wired systems, meanwhile, don't operate with a signal. This means that such hacking and interference is not a concern.
Security camera
Cameras are incredible tools to deter criminals. A cautious thief will think twice before they even think about victimizing you! The footage is super useful for tracking down a thief, but that's not the extent of its usefulness.
Just the sight of a security camera is usually enough. Security cameras also have the benefit of checking those at your door. Something like a Ring doorbell provides a solid perspective of the front of your door.
If someone looks suspicious, you can choose to disregard, or call the police if you are worried.
The big problem people have with this is that installing a security camera is not cheap. A good landlord would have them, but unfortunately, most landlords are not very good.
If you can't fit a security camera system into your budget, don't worry: you don't even have to get a real camera! That's right, you can get an inoperable camera and mount it near your door. In doing so, you have created the impression that a thief won't be able to get away with causing you trouble.
Plus, it will make your neighbors feel secure thanks to you warding off thieves from their floor.
Door stop alarms
While you may think that you have to fork out a pretty penny for an alarm system, that's not true. Some systems may be expensive, but cheap alternatives, like door stop alarms, exist.
You position the door stop alarm on the inside of your door. If the door opens far enough and makes contact with the switch, it will then sound off. They are inexpensive, but most important, they are loud.
Door stop alarms alert everyone in the house of an intruder, so if they're too quiet, they won't be very successful. Yet, the sound, even if it doesn't alert you, may cause them to flee out of confusion or fear of getting arrested.
Don't leave a spare key near your apartment door
When you get locked out of your apartment, having a spare key accessible is such a saving grace. People often put one under a fake rock, or a welcome mat, or in even a more obscure spot.
Yet, any thief with an ounce of sense would think to look in those obvious spots to find the key. Having a spare key hidden somewhere is not a terrible idea.
Still, you either need to know that no one would check that spot, or that someone would not know where the key goes.
If you need to have a spare key to your apartment, keep it in your car. This way, you have the key in a secure location that you can access.
Be mindful of packages
"Try to ship [your package] to a store … depending on what retailer, ship it to the local retailer. That would potentially be a safer place to have it kept in close hands until you go pick it up from that retailer. You could have it shipped to your local post office and then pick it up from the post office. That's another option a lot of people are taking."

— Better Business Bureau spokesperson Garet Smitherman
If you get a lot of packages at your door, that may make you a target. Not only because of porch pirates, but also those who think you may have something worth stealing. If you get a lot of packages, consider investing in a P.O. box.
This will give you a more secure option to have your packages delivered. Another option would be to ship it to a store (if possible), or to your post office. You may also make a delivery notice that you not have packages left at your door.
If you are not home to accept the package, the package would be undeliverable at that time.
How do I secure other entrances into the apartment?
For whole apartment security, it's important to look beyond just the door.
Window bars and grills
While people don't want to go too far with protecting their windows, it is sometimes necessary. One approach to take is installing window bars or grills. This will force anyone trying to break through your window to do more than break the glass.
They would either have to remove the bars or break them, neither of which are easy to do. This is especially true if the bars or grills are on the inside of the window.
Reinforce the glass
This is a good way to keep your window secure if you want to avoid affecting the aesthetics of your window. If you go this route, you should expect to spend up to 25 percent more than you would for your window's glass.
Reinforced glass is not only good for preventing thievery, as any number of things may break it. An errant baseball, your kids horsing around, a stray branch in a heavy wind storm.
Any one of these could do as much damage as a thief.
Don't let people see into your apartment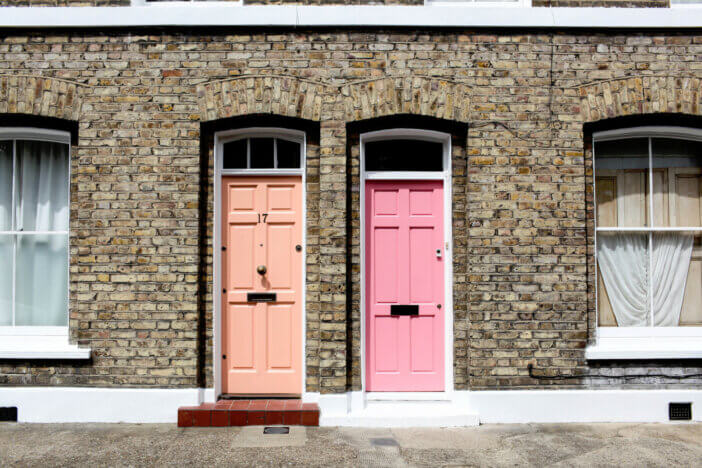 A common reason why someone may target a household is knowledge of what is inside the home. For instance, if a would-be thief was walking by and sees an expensive television on display.
Obviously, you should not have to keep that hidden from the world. Yet, if there is even a small risk that someone may try to rob you, you should take efforts to avoid that. A ground-level apartment is at greater risk of this, especially with the ease of access.
Next Steps in Apartment Door Security
Increasing apartment door security is a simple way to dramatically improve your life. Talk to your landlord about structural changes that can go a long ways, but also look into small changes like removable cameras, lighting, and removable door locks to help improve security.