High Security Windows for Homes in US Explained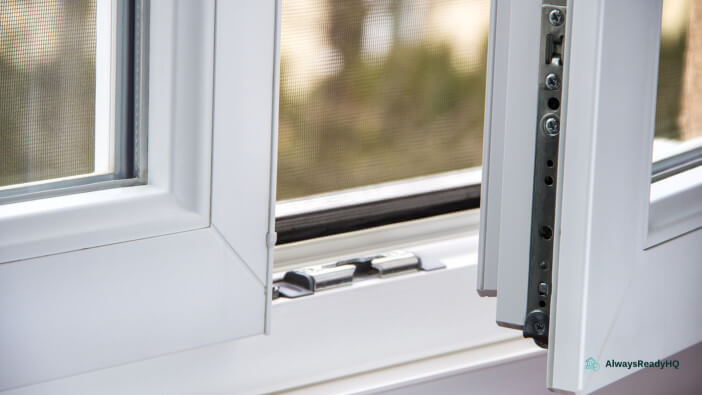 We see famous people behind high security windows every day. But, they aren't just for them. You have a right to be as safe as any celebrity or politician.
We think high security windows, and we picture shootouts, police stations, and maybe bulletproof glass or windows. That is not the reality of it. Bullet-resistant glass protects from all sorts of things, and yes, bullets, sometimes. (there is actually no such thing as genuinely bulletproof glass, bu there is such a thing as high security windows).
Let's take a deep dive into what high-security windows are so you can see through the information to make the best decision for you.
Disclosure: This site earns commissions from listed merchants at no cost to you. Thank you!
Types of High Security Windows
Not all glass is created equal and will do the job you want it to do. Obviously, high-security windows are a step above the rest, but different types do different jobs on different levels.
Tempered Glass
Professionals refer to windows made of tempered glass as security windows. The application process is super expensive, but it is superior quality glass.
The name of the glass reflects the process of strengthening it. Tempered glass is cooled and heated over and over again.
One of the quality characteristics of tempered glass is that it crumbles instead of shattering into a thousand tiny pieces when it breaks. For some families, that is enough to make them want to invest in high-security windows made of tempered glass.
Shattered glass is dangerous, messy, and still dangerous months later when your foot finds a random shard.
Plexiglas or Polycarbonate
The overall safest glass is Plexiglas. It is impact-resistant and around ten times stronger than regular old window glass. However, it is costly, and you wouldn't want to transition all of your traditional windows to those made of Plexiglas.
Polycarbonate is a step up from Plexiglas. It is a big word for something that, in reality, isn't really even glass. It is acrylic.
Ballistic Windows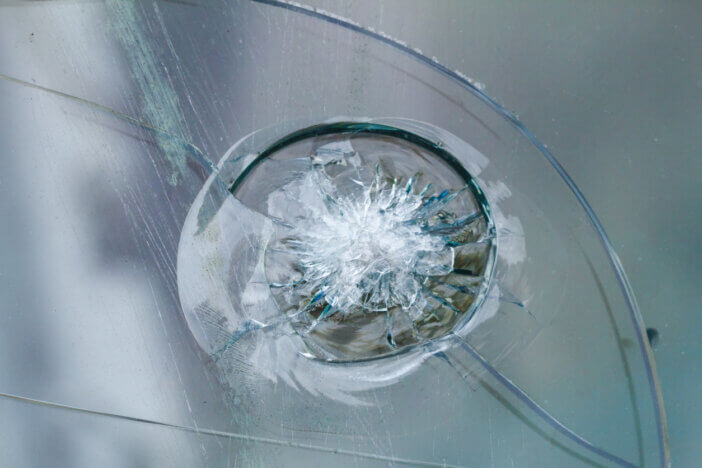 Or, as they are better known, bulletproof windows. Now, ballistic windows are simply not for everyone and are uber costly.
Bulletproof windows and high-end security windows go through a similar creation process. The biggest difference is the thickness of the glass, which the thicker it is, the better the blast protection.
Hurricane Windows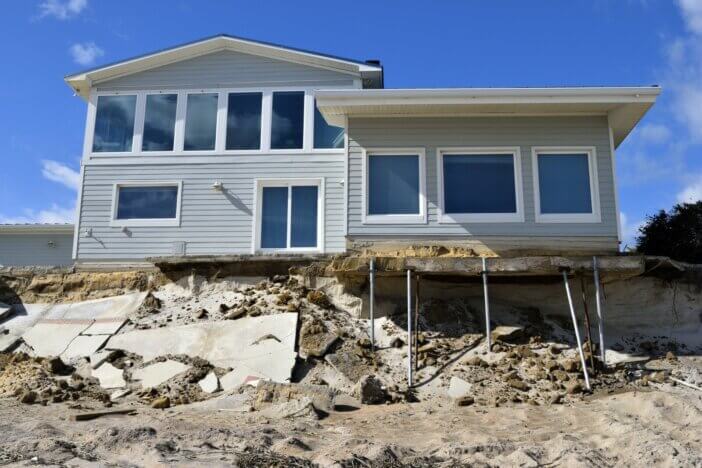 Alright, now we are getting to the more common types of high-security windows for homes in the United States. Firstly, if something says it is a hurricane window, it must meet specific specifications.
Hurricane windows have to stand up to intense water pressure, sustain high winds, and withstand flying objects. Typically, they consist of a layer of PVB (Polyvinyl butyral) or SGP (steel gas pipe) sandwiched between thermoset glass without the need for roll down shutters.
The purpose of PVB is to catch or trap the glass if it shatters. But, SGP is even better than PVB because it is just tougher. It is more expensive, though.
Why does safety always have to go back to money? But it does.
Actual Security Windows
Okay, so now is when it starts to get a bit weird and complicated. The intentions of security windows are the exact opposite of those of a hurricane window.
Hurricane windows are meant to keep out stupid weather. But, security windows are made to keep the bad guys out. The creation process is alike but uses different measurements of PVB or SGB and annealed glass.
Security windows have a wide range of prices. They can be as strong as you want or need them to be.
How to Locks Add Layers to Your High-Security Windows
Glass is only one layer of security for windows. It is jolting to think about how many accessible portals we have throughout the house (like doors, etc). One piece of glass separates us from the scary things outside that want to get us.
But don't panic and shutter all windows or board them up. You can add layers of security to your windows that can protect you and yours from bad intentions.
Window Locks
Right, most windows have locks. But have you tested them recently? Because it is easy to forget to update window security.
You can purchase all sorts of window locks online. So, I'm gonna break down the types so that when Google floods you with search results, you'll know how to narrow your search down.
Latch Locks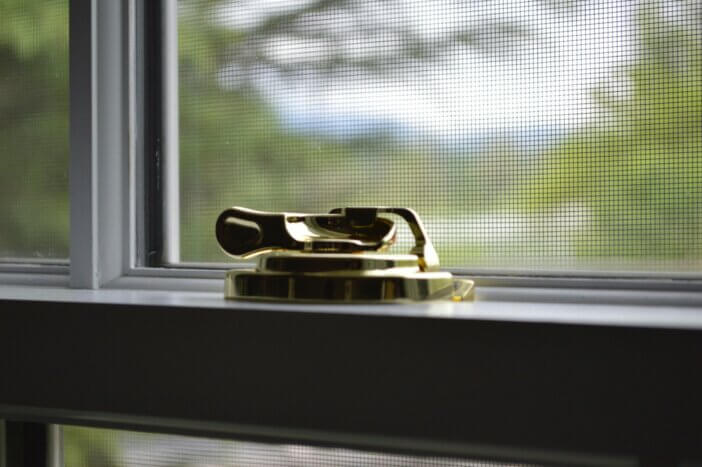 Latch locks are what most people have. It is standard and commonly installed on double and single hung windows. If you have one of these, really, really, consider upgrading.
Folding Locks
You will find folding locks most commonly embedded in casement windows. It is a standard lock and likely requires an upgrade.
Pin Locks
Window pin locks are affordable and super easy to install if you own a drill. They keep someone from opening the window wide enough to slither inside.
Another upside to pin locks is that they are one of the few locks that can be installed on casements.
Window Wedge
Sometimes you want just to crack a window, and sometimes you want to make sure a trespasser has an easy in. A window wedge is an easy answer.
Window wedges come in all sorts of forms – some slide up and down, others use velcro. You will want to choose one that works with your windows and addresses your concerns.
Keyed Locks
Keyed locks are great for a lot of reasons, but they can be inconvenient because they require a key just to crack a window.
Parents with children benefit the most from keyed locks. Yes, they are robust and add a level of security, but think about the times that you had to tell your kid to stop letting the cold air out of the house.
Typically they suit single and double-hung windows and sliding windows the best.
Sliding Window Lock
You can control how much a sliding window opens by using a sliding window-specific lock. If you're into DIY security, it might be for you.
You can find sturdy sliding window locks at your local hardware store or use the Google machine to look at several different designs.
More than Locks
Do you want even more security? You got it.
Window Sensors
Sensors on every entrance and exit are a good idea for tons of reasons.
You don't miss a kid slipping in and out without permission, you know when people come and go throughout the day, and you get alerts when someone is trying to break into your domicile.
And, those nifty alerts come straight to your cellphone or smart device, so you know the instant you need to call the police or your bad child.
Security Cameras
In 2022, there are millions of eyes in the skies. So, don't feel bad about setting a perimeter around your property to make sure that terrible people don't even have a chance to crack a window, much less send an alert off.
Windows make a perfect place to put your very own spies, and when your phone goes off, you can peak before freaking out.
Motion Lights
Motion lights are yet another layer that helps ease worries that seem to sneak up on us during the night's darkness. They are inexpensive and will illuminate your property while reducing your stress.
A lot of home camera systems come with motion lights to see what's out there by just looking at your phone.
Security Film
Security film comprises one or more layers of polyester film that's been laminated together with specific adhesives.
The thickness ranges, and the thicker the security film, the less likely it will be broken or punctured. The same technology is used in hurricane screens.
Window Bars
We are talking about some real-high security windows when you place add bars as an added layer of security.
Window bars don't have to be ugly, either. It is easy to think about these ugly iron bars in front of our lovely shuttered windows. But, there are tons of decorative options, and you can always go DIY and make a fashion statement.
Old Fashioned Thorny Bushes
Two mortal enemies we all have in common are thorns and glitter. But, we are going to focus on thorns for a sec.
What makes killer brush effective is that it is tried and true over centuries. It is hard to sneak up on a house at night when dangerous stickers are there waiting. One good puncture and the squeal is an intruder alert all by itself.
Further Things to Consider When Investing in High-Security Windows
High-security windows are not just about the glass they're made of. Before laying down your hard-earned cash, you will need to consider a few things.
Your budget. Again, it sucks that safety relies on money. While some of the security measures are cheap, others like the actual glass just aren't.
Contractor or DIY. You can save money if you're handy and know what you're doing. But, most of the time, hiring a glass window specialist ensures that the windows meet standards and protect you the way it is intended.
Safety. In theory, we would quadruple layer every entrance and exit to our homes. But, consider family safety and placement because, in case of emergency, you want to be able to get out, too.
How do I protect my windows from criminals?
Here is how to think about the problem and suit your own specific needs.
The first layer of defense is your window glass.
Comparing prices and getting quotes will be part of the process, but don't settle for less protection than you want.
Nearby security cameras are a way to keep an eye on your windows.
It is far less likely to spark panic when you can see a potential threat.
Re-evaluate your window locks and how you can upgrade.
Factor locks are not great. And, updated locking mechanisms won't break the bank.
Prime-Line U 9809 Sliding Window Lock for Vinyl Windows – Easy Installation to Keep Windows Securely Closed – Diecast Construction, White (2 Pack)
NOTE: Not intended for a patio door, windows only.
EACH PACK INCLUDES – (1) Adjustable jaw that fits all vinyl frame rail thicknesses from 1/16 inch up to 1/2 inch thick. "Vise like" grip holds securely and will not mar frame. Allows window to lock in ventilating position; cam style locking lever; no tools required. This is for Vinyl Windows only.
SECURELY LOCK WINDOWS – These U 9809 sliding window locks for vinyl windows help keep them securely closed. The locks feature an adjustable jaw that has a "vise-like" grip, and they are capable of opening up to 1/2 inch wide.
ADD EXTRA SECURITY – Use these sliding window locks to prevent unwanted intruders and avoid falling accidents –keeping your windows closed when you want them the most secure! Air and a breeze can get in, but not intruders.
FOR USE ON MOST VINYL WINDOWS – These sliding window locks are for use on horizontal sliding windows and most vertical sliding (single hung) windows as a secondary window lock.
Lighting is your friend and super affordable.
Here is the thing about motion and floodlights. Whether you are looking out of your window or an app on your phone, you won't be blind to what is outside and setting off alarms.
Security film is just an easy layer of defense that can go a long way.
It reinforces your glass and helps protect it from shattering. You can find security film on Amazon for an affordable price.
BDF S8MC Window Film Security and Safety Clear 8 Mil (30in X 24ft)
MINIMIZE PROPERTY DAMAGE by absorbing impacts from break-in attempts and holds shattered glass together
PASSES ANSI Z97.1 CLASS B, CPSC CATEGORY 1 testing requirements.
INCREASE SECURITY or add safety to tempered or non-tempered glass.
CRYSTAL CLEAR, high quality film with 99% UV REJECTION, this film is applied to the interior side of the window
STRONG ADHESIVES and film to slow down intruders
Window sensors do several important things.
You will know when they're open and closed, you can lock them remotely, and you can get specific window breakage sensors that let you know if things have escalated.
The perfect high-security window doesn't exist.
You can deter bad people from doing bad things, but they will find a way if they really want to. Price, the structure of your home, and even HOA are all things that can affect your high-security window options.
Layer your security as you can.
Don't invest and try to install every layer of protection at once. One at a time works just as well. Each barrier you put between yourself and potential bad actors is one more than you had before.
Just do what you can, and always have a plan.