What You Need To Know About Rolling Shutters for a Hurricane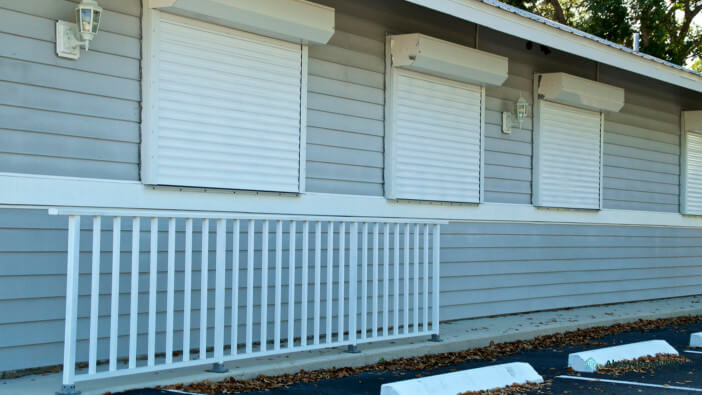 Hurricane season is always right around the corner for people who live on the east coast of the United States. The National Oceanic and Atmospheric Administration state that the 2022 hurricane season will officially begin June 1st.
It is essential to find ways to keep your home intact. Roll Down or Rolling shutters for a hurricane are one of the easiest solutions to hurricane safety, along with hurricane screens. 
There are various types of shutters for hurricanes, like hurricane panels, colonial hurricane shutters, accordion shutters, and Bahama shutters. Roll down hurricane shutters are the simplest solution for your window protection.
There is no drilling them in or pushing them to the side, they easily roll down over your window and keep them out of harm's way.
Roll down hurricane shutters can be installed to match your home and are effective during large storms, hurricanes, and regular privacy.
Disclosure: This site earns commissions from listed merchants at no cost to you. Thank you!
Do you need rolling shutters for a hurricane?
According to the National Weather Service, it is crucial to secure your home with some type of window covering during a hurricane (even if wind isn't the most dangerous part of a hurricane). Some homeowners find themselves wanting an easy, more cost-efficient solution to window protection.
Homeowners at times use plywood or similar materials at the last minute. Some even turn to tape when local stores are out of wood. However, this can cause a more damaging result as the glass can form large shards and can be difficult to remove.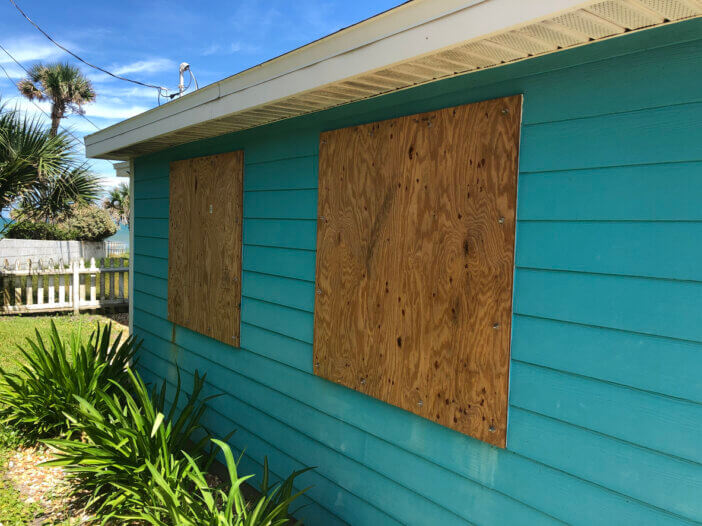 If you've used plywood in the past, you may know that the cost can add up quite quickly and your local stores may potentially be sold out during local storm preparation.
With each homeowner rushing to get supplies, you may end up paying more out of pocket at the store or even leave empty-handed.
It is important to plan ahead and find a permanent solution. If you prepare ahead of time, you will not be frantically trying to cover your windows while a hurricane is at bay.
Shutters meant for windows and glass doors can easily cover all glass and save you the hassle and chaos of last-minute hurricane preparations.
What are roll down or rolling shutters for a hurricane?
Rolling shutters or roll down hurricane shutters are both residential and commercial solutions to window and glass door protection. They are permanently fixed to the top of your windows and easily roll down when preparing for a storm.
The roll down hurricane shutter is somewhat hidden from view, sitting in a rectangular-shaped compartment above the window.
They are simple to use since they can be pulled down or even be controlled by a remote or button. Once they are rolled down, they are locked in place for extra protection.
Five reasons why you should consider roll down hurricane shutters.
There are multiple benefits to owning roll down hurricane shutters. Homeowners and business owners alike find themselves turning to roll down hurricane shutters due to their high resistance to storms and their ease of use.
Here are a number of reasons why you should consider installing them on your home or business windows.
1. They are impact resistant.
In 2017, the Sun Sentinal stated that roll down hurricane shutters "offer some of the best protection" against even the strongest eyewalls. Rolling hurricane shutters are made of polycarbonate or metal. These materials are able to be highly resistant against impact during storms and hurricanes.
2. They are easy to operate.
Roll down hurricane shutters can easily be pulled down when preparing for a storm. They can even be motorized through a remote or button. They are then locked in place so they can stay put during the entirety of a storm. When you are done using them or after hurricane season, they can be easily rolled up, back into their compartment.
3. You can cover more than just a window.
If you have a large patio with sliding glass doors or many windows, this can be difficult to cover during a last-minute hurricane preparation. A roll down hurricane shutter can cover the entire patio or large portions of glass.
Business owners are able to cover their entire storefront with one roll-down shutter. This creates an easy solution for homes and businesses with large amounts. Instead of finding large panels to screw into the wall, you easily roll down a minimal amount of shutters.
4. They can aid in privacy.
During long vacations or anytime your home is vacated, it is when your home is most vulnerable to intruders. A roll-down shutter can cover the windows, hide your belongings, and stop intruders from being able to break in at all.
They cannot attempt to break in since there is a barrier between them and the windows, and they cannot look inside to know what valuables homeowners hold.
Business owners are also able to benefit from the added privacy. Each day or night the business is closed, the storefront can be easily shuttered and closed.
The valuables in the store are hidden from view, and there is a layer of protection between the intruder and the store itself.
5. There are multiple different colors to coordinate with your home.
There are various colors and styles to choose from when installing roll down hurricane shutters. You can match your home paint color or even have them contrast with your home. The box above the window that holds the shutter can be stuccoed to match your home entirely.
The disadvantages to roll down hurricane shutters
Just like anything, there are some drawbacks to installing roll-down shutters.
They can be expensive. Roll down hurricane shutters can range in cost. According to the Hurricane Center, roll down hurricane shutters can cost from $30 to $55 per square foot.
Custom shapes may not be possible. If you have an odd-shaped window, a roll down hurricane shutter may not be able to be installed.
You may need a generator if your power goes out. If you decide to install motorized roll down hurricane shutters, you may need a backup power source. If the power goes out and the storm has passed, you won't be able to put your shutters back up if they are controlled only by a remote or a button. It is best to find some alternate ways to put them up if the power goes out. Either by owning manual roll-down shutters or a generator.
The compartment box may be a burden. The metal box that holds the rolling hurricane shutter when it is not in use must sit at the top of each window. The box may stick out and be a considerable size compared to your window.
The benefits of roll down hurricane shutters outrank their flaws.
While they can be expensive and might be a hassle when the power goes out, roll down hurricane shutters are the simplest solution to hurricane protection. They can be installed on any home or business.
They can be rolled down and secured by one person. With their overall effectiveness and ability to provide home security, they should be considered when deciding which window covering to use to prepare for a hurricane.
Aesthetically speaking, the box is permanently fixed above your windows. However, the box can be made to match or contrast with your home color.
The compartment can also be stuccoed over to match our house so it is less to worry about. Rather than worrying about each aesthetic or design feature, your home protection during a hurricane may be more important.
If you are considering roll down hurricane shutters, the next step would be to find a valuable local shutter contractor or company. It would be best to go over your wants and needs and how to proceed with the installation.