What Is a Civil Emergency Message & How To Respond?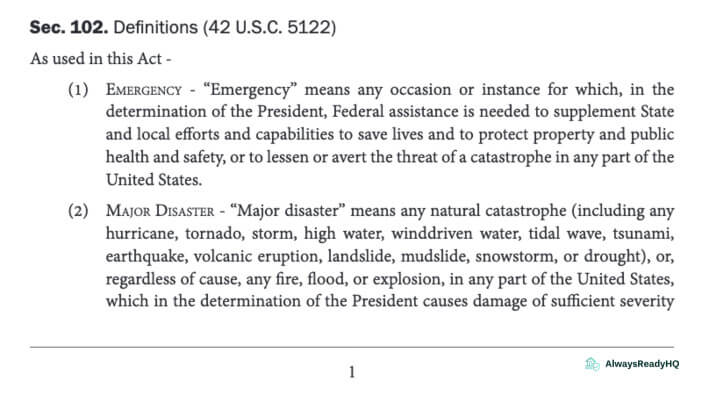 A Civil Emergency message is a warning issued by your local, state, or national government agency. The message warns the general public of threats that are either imminent or in progress.
The civil emergency message originates from the government agency that has the expertise to cope with the emergency. That warning can make a big difference in knowing what action you need to take to keep yourself and your family safe.
We have the technology, and no matter where you are, you can access those alerts through a variety of public services:
Local police and fire departments
City and State emergency managers
The National Weather Service (NWS)
The Federal Emergency Management Agency (FEMA)
The Federal Communications Commission (FCC)
The National Oceanic Atmospheric Administration (NOAA)
Private industry employers
Disclosure: This site earns commissions from listed merchants at no cost to you. Thank you!
What Qualifies as a Civil Emergency?
According to the Stafford Act, 42 U.S. Code § 5122, a civil emergency refers to
any occasion or instance for which, in the determination of the President, Federal assistance is needed to supplement State and local efforts and capabilities to save lives and to protect property and public health and safety, or to lessen or avert the threat of a catastrophe in any part of the United States.
Examples of civil emergencies include:
Terrorist threat or civil disorder
Approaching tornado or hurricane
Wildfire evacuation orders
Release of hazardous materials into the environment
Impending failure of a dam
Landslides, flooding
Pandemic outbreaks (e.g., COVID-19)
So, a civil emergency means that there is a danger or threat to you or your property through man-made or natural disaster. Those threats set in motion a series of government authorized civil emergency message alerts and disaster recovery measures which you should be aware of.
Also, remember that in the first moments of a civil emergency, you and your family may be on your own.
How Does a Civil Emergency Message Get Sent Out?
When emergencies occur, government public safety officials can now access reliable and swift communications systems to alert you. Civil Emergency messages spread the word through three main systems:
1. Wireless Emergency Alerts (WEAs)
With the proliferation of smartphones and cell towers, wireless emergency alert messages can be transmitted from alerting authorities (federal, state, local, etc.) to any WEA-enabled mobile phone in a targeted area. Check your Android or iPhone settings to enable WEAs, which are short (cost-free) text messages of no more than 360 characters.
2. Emergency Alert System (EAS)
This is a national public warning system for the president to speak to the nation within 10 minutes during any national emergency. Your state and local emergency officials can also use the EAS to pass on weather and other imminent threats as well as AMBER alerts on abducted children.
EAS emergency alerts are carried by radio and television broadcasters, cable providers, and satellite TV and radio providers. Those alerts are voluntary, except when the president needs to use the airways to alert the public.
3. NOAA Weather Radio (NWR) Alerts
NOAA (National Oceanic and Atmospheric Administration) Radio All Hazards (NWR) is a national network of radio stations broadcasting continuous weather information. The NWR sends official watches, warnings, and forecasts along with other weather hazard information 24 hours a day, 7 days a week. The NWR also broadcasts national security or public safety threats through the EAS.
Other Ways You Can Receive Emergency Messages
Local opt-in Emergency Alert Messages
At the local level, many city and county jurisdictions have voluntary, or "opt-in" public alert and warning systems. You must sign up to receive an emergency alert, and you will receive text or email messages about local emergencies.
For example, the AlwaysReadyHQ team's local jurisdiction of Atlanta, Georgia maintains the NotifyATL system that sends opt-in messages tailored for the City of Atlanta.
Those systems frequently allow you to choose the devices that will receive the alerts, along with the types of alerts. To see what your local jurisdictions provide in the way of emergency alerts, do a Google search with the name of your city or county followed by the term "alert."
Enhanced Telephone Notification (ETN)
Many local communities send emergency messages through ETN systems, like the popular Reverse 911®system. Those systems still include landline phone numbers, but some permit messages over internet protocol home phones as well as opt-in mobile phones.
Finally, some communities still employ sirens to alert people outdoors to take cover in the case of immediate danger. Check with your local authorities to see if a siren warning system is still used. Also, workplaces, schools, community- and faith-based organizations frequently have notification systems to warn you of emergencies.
"There's an App for that"
There are free mobile apps that come with local alert features. For example:
The FEMA app will plug you into severe weather alerts from the National Weather Service for up to five locations across the country. This free app is customizable and locates open shelters in the event of a disaster, along with driving instructions. Using this app, you can also upload your own disaster-related photo through the app's disaster reporter feature.
The Weather Channel App has free forecasts and push alerts warning of severe weather.
The American Red Cross App provides more than 35 types of emergency alerts and severe weather warnings. The app has a "Family Safe" feature that lets you alert your family that you have received a warning and check to make sure they are safe.
Note: The American Red Cross App has an especially valuable feature outlining what to do in the event of severe weather, including a before-, during-, and after-checklist. It also includes a locator list of open Red Cross Shelters.
What Should You Do When You See a Civil Emergency Message?
If you get an emergency alert message on your TV, phone, or radio, do the following things first:
Read, listen, and fully understand the alert.
Follow the directions given during the alert announcement—even if the announcement does not include complete information.
Stay away from the affected area and out of the way of rescuers.
If you are in the danger zone, let your loved ones know you are safe.
In the meantime, stay tuned to your television, radio, mobile phone or the internet for situation updates.
Modern meteorological science has come far since the disasters of yesteryear where thousands died simply because they have no alerts in place. For example, if the weather emergency involves a hurricane warning, you will have about 36 hours to either shelter in place safely, or head for a designated shelter.
The Galveston Civil Emergency
A classic illustration is the Galveston, Texas, hurricane. On the night of September 8, 1900, a hurricane with an estimated strength of Category 4– winds of 130 mph to 156 mph—came ashore. From 6,000 to 12,000 people died on Galveston Island as tidal surge and flooding swamped the area. It was the worst hurricane in U.S. history.
A young Texas man, William Bristol, rode out the storm in his mother's home. Said Bristol, "We knew there was a storm coming, but we had no idea that it was as bad as it was."
Today, with climate change and worsening weather, we still can't do much about the weather itself, but we can receive advance warning and head for shelter while there's still time. The first sign of a hurricane is that there is a hurricane watch in effect, followed by a hurricane warning.
A hurricane watch means that high-wind conditions are ripe for a hurricane to form. A warning indicates the onset of hurricane-force winds—74 MPH and above—could reach a given area within 36 hours.
So, if a weather alert system had been in effect in Galveston, a hurricane watch could have resulted in civilian evacuations in time to prevent all those deaths. But as William Bristol lamented, "You see, we didn't have a weather bureau to give us the dope that they got now…They had no airplanes to go up there and see how bad it was."
And back then there was no way to quickly alert the public with a civil emergency message.
Charles Dudley Warner, the editor of the Hartford Courant once said, "Everybody talks about the weather, but nobody does anything about it." It was an 1897 quip falsely attributed to Mark Twain, whose humor was usually far closer to the truth.
In its day, Warner's quip was a humorous, but pointless, bit of nonsense. You actually couldn't do anything about the weather, or even get reliable warnings.
That was before modern weather tracking could prepare the public for an impending tornado, hurricane or civil emergency. The best our ancestors could do was react, run, or try to help neighbors survive and recover after the devastation.
Next Steps
Think about the following:
Those and a multitude of other disaster preparation questions are answered in popular books available on Amazon and online. We especially like this concise online guide to emergency preparedness published by the Austin-County EMS.
So, for your family's sake, stop talking about the weather and do something about it.