Florida Evacuation Information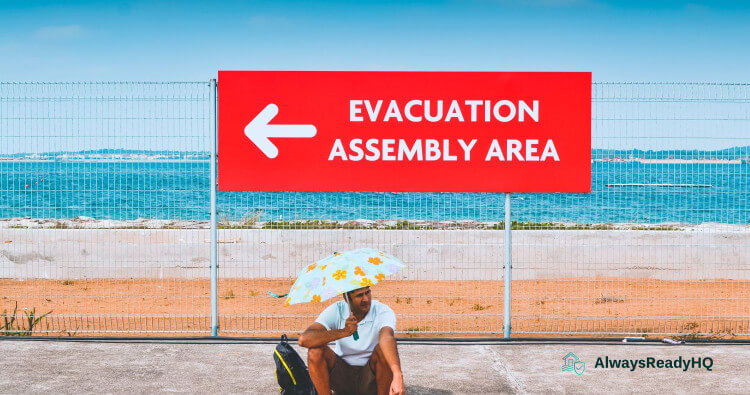 An evacuation in Florida almost always happens due to a hurricane, however, it can happen for a range of reasons as we recently saw with the Surfside Condo Collapse. That said, this resource will focus on Florid Hurricane Evacuation Information.
With so many new transplants and new residents, not everyone in Florida has practice with a real-life evacuation. A successful evacuation happens before the evacuation. Here's what to do.
Disclosure: This site earns commissions from listed merchants at no cost to you. Thank you!
How Evacuation in Florida Works
Evacuation starts with your answer to two questions –
Do you live in a vulnerable area (mobile home, high flood risk, directly on coast, barrier island)?
Have you been ordered to evacuate?
If you answer "Yes" to either question, find your Evacuation Zone here (or direct via Florida's ArcGIS app).
If you answer "No" to both questions, begin preparations for staying at home.
Download & print this Official Florida Evacuation Checklist to stay aware at all times.
Next, follow these steps & tips adapted from FloridaDisaster.org and FEMA's Ready.gov
Before The Evacuation
Recognize the different sorts of catastrophes that are likely to occur in your community and become familiar with the local disaster preparedness, evacuation, and shelter strategies for each specific event. It's not always a hurricane, even though that's what this guide is about.
If you are told to evacuate, make a plan for how you will leave and where you will go.
Check with your local officials to see if there are any shelter places available for this year. It's possible that the Coronavirus has changed the plans for your neighborhood from past years.
You should be prepared to bring cleaning products with you such as facemasks, hand sanitizers, disinfectant wipes, or general household cleaning goods in order to disinfect surfaces.
Prepare a list of places where you could go in an emergency, such as a friend's house in another town or a motel, and keep it handy. Choose locations in a variety of routes so that you will have options if there is a natural disaster.
Determine whether or not you will require a place to stay that will accommodate dogs. The majority of public shelters only admit service animals.
Make yourself familiar with alternate routes and other modes of transportation that will take you away from your current location. Do not assume you will have access to fast data speeds or mapping apps.
Always heed the advice of local authorities, and keep in mind that depending on the nature of the crisis, your evacuation route may need you to walk.
Come up with a family/household communication strategy to ensure that you stay connected in the event that you become separated; establish a meeting location and regularly update it based on the situation.
Assemble supplies that will be used during the evacuation. If you have a car, prepare a "go-bag" or "bug out bag" that you can carry with you when you escape on foot or by public transportation, as well as provisions for going longer distances. Make sure you have car-specific emergency kit as well.
If you have a car, make sure you have a full tank of gas in case you need to evacuate. Maintain a half-tank of gas in it at all times in case you need to depart unexpectedly in an emergency. During emergencies, gas stations may be closed, and gas pumps may be unable to operate due to power outages. Plan to travel with only one car per family in order to reduce traffic and delays.
Make sure you have a portable emergency kit in your car at all times!
If you do not have access to a vehicle, make a plan for how you will get away if necessary. To determine what services may be available to you, consult with family, friends, or your local emergency management office for assistance.
During an Evacuation
Download the FEMA app to get a list of open shelters in your area if there is a disaster in progress in your area.
Listen to a battery-operated radio and obey any evacuation instructions issued by the local authorities.
Bring your emergency supply kit or bug out bag with you.
Leave early enough to prevent becoming stranded due to inclement weather or flooding.
Pets are welcome to accompany you, however keep in mind that only service animals may be permitted in public shelters. Make a plan for how you will care for your pets in the event of an emergency right away.
If you have the opportunity, contact or email the out-of-state contact included in your family communications plan. Inform them of your intended destination.
Close and lock all of the doors and windows in your home to keep it safe.
Radios, televisions, and other small electrical gadgets should be unplugged before you start your project. Make sure to unplug your freezer and refrigerator unless you are in imminent danger of flooding. If there is damage to your home and you have been advised to do so, turn off the water, gas, and electricity before leaving the premises.
You should leave a message informing people of your departure time and destination.
Wearing sturdy shoes and clothes that offers some protection, such as long pants, long-sleeved shirts, and a hat, will help you stay safe.
Check with your neighbors to see if they need a ride.
Follow the evacuation routes that have been indicated. Avoid taking shortcuts since they may be blocked. You may need to travel all the way to Georgia or further, but you may also only need to travel locally or to the center of the state. It all depends on the strength and path of the hurricane.
Watch for road hazards such as washed-out roads or bridges, as well as power lines that have fallen. It is not safe to travel in flooded areas.
After an Evacuation
You should prepare for disruptions in your everyday routines if you are returning to a disaster-affected area after a large occurrence. You should also remember that coming home before storm debris has been cleaned is unsafe.
Inform your friends and family of your plans before you depart and when you arrive.
Charge your devices and think about purchasing backup batteries in the event that power disruptions continue.
To prepare for your journey, fill up your gas tank and consider installing a fuel app to keep track of outages along the way.
Supplies such as water and nonperishable food should be brought along for the automobile travel.
Stay away from downed power or utility wires, as they may be live and carrying lethal voltage. Stay away from them and notify your local power or utility company as soon as possible.
Generators should only be used outside and away from your home. Never operate a generator inside a home or garage, or connect it to your home's electrical distribution system.
Tips for a Florida Hurricane Evacuation
Prepare a hurricane preparedness plan for your family far in advance of a hurricane making landfall in your area.
In the event that your family's storm preparedness plan calls for evacuation to a safer place (not a basement in a hurricane) for any of the reasons listed on this website, it is crucial to keep the following considerations in mind:
If you are instructed to evacuate, do not hesitate or postpone your evacuation.
As soon as you are able, depart before local authorities issue an evacuation order for your neighborhood. Any delay in initiating your evacuation may result in much longer travel times as traffic congestion develops, which will result in even a minor delay.
If possible, choose an evacuation destination that is the closest to your home, preferably within the same county, or at the at least one that minimizes the distance that you must travel in order to reach your desired shelter place. Check to see if the shelter you choose can meet any special needs you may have because of your disability.
Consider that, in the event of a significant, multi-county storm evacuation event, the hotels and other sheltering alternatives in most inland urban centers are likely to be fully booked very soon, so plan accordingly when selecting your destination. Make sure they are aware of any special needs you may have due to a disability.
You should be prepared to wait in traffic if you decide to evacuate to another county or region from where you are currently.
A hurricane's high number of people in this state who must escape will almost certainly cause massive delays and major congestion along most designated evacuation routes; the more powerful a hurricane's winds are, the greater the likelihood of traffic jams and extended travel times. If at all feasible, make arrangements to stay with a friend or relative who lives in the closest proximity to your home and will not be required to leave. Discuss the specifics of your family's evacuation plan with your planned host well in advance of the start of hurricane season to avoid any surprises.
If you intend to stay in a hotel or motel as your final destination during an evacuation, make your bookings before you depart.
Once the evacuations commence, most hotels and motels will be completely booked. It is important to note that the longer you wait to make hotel/motel reservations, even if an official evacuation order has not been issued for your area or county, the less likely it is that you will be able to find available rooms, particularly along interstate highways and in major metropolitan areas.
If you are in need of accommodations during an emergency, VisitFlorida and our private sector partners in the state can offer you with information about available options through the Emergency Accommodations System. This collaboration aims to provide residents and visitors to the state with information about available accommodations at times when they are most in need of assistance. Go to www.visitflorida.com for more information about the state.
If you are unable to remain with friends or family and there are no vacant rooms in hotels or motels, you might consider seeking shelter as a last resort.
Please keep in mind that shelters are not built for comfort and do not typically welcome animals. Bring your DISASTER SUPPLY KIT with you when you go to the emergency shelter. Don't forget to fill up your car's gas tank before you head off!
In order to be prepared for a disaster, the first step is to put together a Family Disaster Plan.
You should become familiar with the emergency departments and services available in your neighborhood before preparing for a crisis of any kind. Before, during, and after a disaster, pay special attention to the information that is provided by the authorities. They will provide you with information about the disaster event, such as shelter opening and closing times, safety precautions to take, and procedures to follow to protect your safety in case of a disaster.
Try to use evacuation routes that have been pre-selected by local authorities whenever possible when you are evacuating. It is possible that taking shortcuts will result in evacuation delays if the routes are inaccessible, unsafe, or unintentionally closed. The following is a map of the area, as well as your assigned evacuation routes. Even routes that have been indicated previously by local authorities may be closed at any time without warning.
Pets and service animals are welcome to accompany you on your evacuation.
Do not leave your pets or service animals at home if you are forced to evacuate your home. Being prepared may be the difference between life and death for them. Pets are unlikely to be able to survive on their own, and even if they can, it is possible that you will not be able to locate them when you return. The FEMA Shelter Locator helps you find shelters that accept pets during an evacuation. Service animals are permitted to join you on all of your journeys.
Explore More AlwaysReadyHQ!